2016 November 28 • Monday
Piero Umiliani's music for Smog is the 441st Soundtrack of the Week.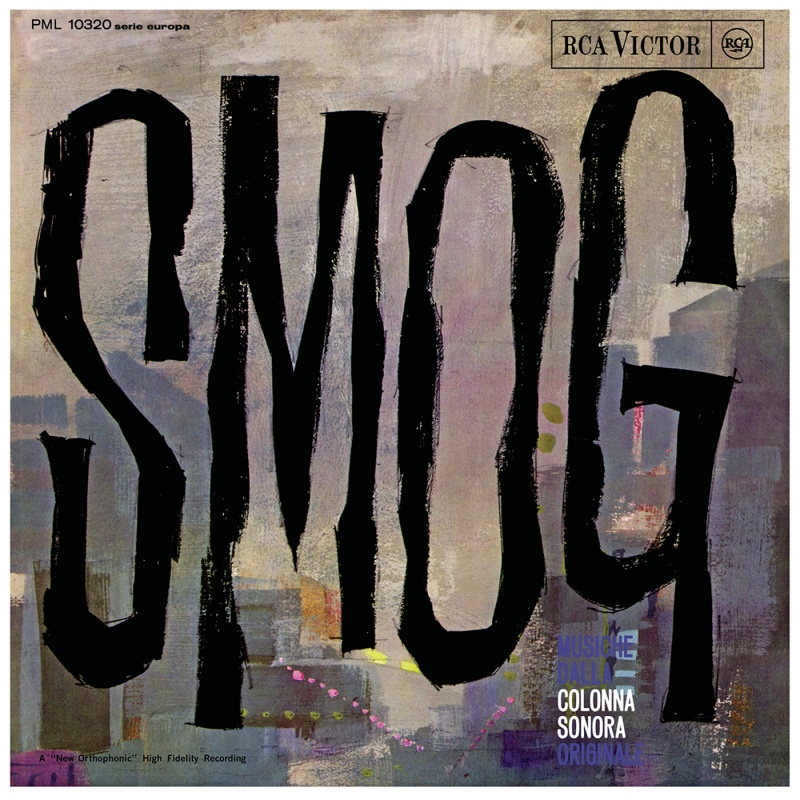 This score is a jazz-lounge confection, very much in the Mancini vein and with the added attraction of Chet Baker on some tracks.

"Neapolitan Phantasy" is an easy listening number that creates a gentle atmosphere with an Italian flavor. The brisker and bouncier "Bowling" sounds like the caffeinated response to this. It's followed by "Dawn", a ballad with lyrics sung by a female vocalist. If it reminds you of Mancini's "Dreamsville", that's probably not a coincidence. One of my least favorite devices is used in "Hollywood Tonight", something I always think of as the L.A. Jazz Chorus. Wordless group vocals in a very unswinging swing... Something about it makes me slightly ill. Nice soloing from the other instruments, particularly baritone sax. "California in the Summer" reminds me of Mancini in a groovy mood. It's a cheerful, swaying number A later tune, "Tops", sounds like a variation or reworking of it. The title song "Smog" is another soulful vocal ballad, lovely and restrained "Smog II" and "Smog Introduzione e Finale" are instrumental versions with trumpet soloing. Things get uptempo and driving, with some unexpected stops and starts in "Tension", which comes from the Elmer Bernstein The Man with the Golden Arm style of scoring. Chet Baker gets to stretch out a bit on this one. Trumpet also has a lot to say on the in-the-pocket jazz groove numbers "Twilight in Los Angeles" and "Thinking Blues". This record is probably of interest mostly to soundtrack enthusiasts and Chet Baker completists but it's really good.
---