2016 August 22 • Monday
The 427th Soundtrack of the Week is this compilation of Bollywood music from 1959–1972, Bombshell Baby of Bombay.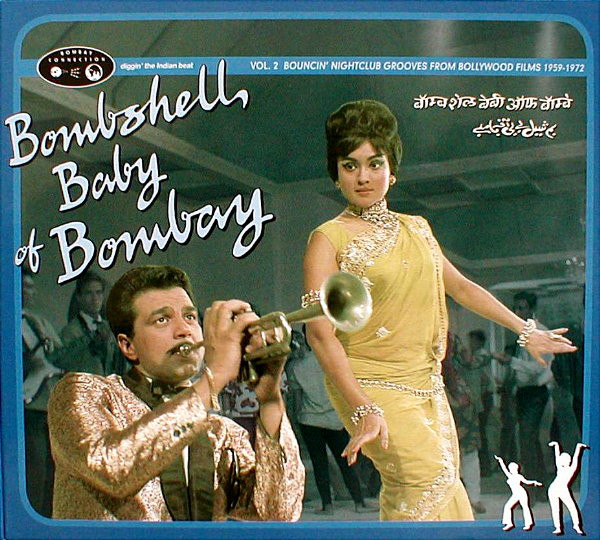 The first track, "Mera Naam Hai Shabnam", is by one of my favorite composers, R. D. Burman, but is surprisingly underwhelming. It's a curious choice for a CD with only 12 songs on it, and an even more curiouser choice as the opener. Burman is better represented here by his "Ek Bottle Hogal Mein", an outrageously slinky, surfy and loungey number.
The second track on the CD, Shankar-Jaikishan's "Jan Pahechan Ho", has a seriously deep groove. There's some stellar electric guitar playing and the melody and harmonic movement are both gripping. Shankar-Jaikishan is also represented by "1956, 1957, 1958", a somewhat kitschy song whose title is the chorus, and by "Bombshell Baby of Bombay", a number with early rock and roll touches and the source of this compilation's title. Neither of these is as good as "Jan Pahechan Ho", though.
The saxophone shares the spotlight with the electric guitar in O. P. Nayer's "One Two Three Baby", another toe-tapper that nods to the big band era. Jazz idioms (and surf guitar) are also successfully combined with Bollywood grooves in the next tune, "Kahan Hai Woh Diwana" by Laxmikant-Pyarelal. Asha Bhosle's voice is mesmerizing here and a perfect match for the sinuous and alluring melody line.
Also by O. P. Nayer is the main title music from Kismat (the same movie that "One Two Three Baby" is from). Again the saxophone is prominently featured but the groove is deeper and stronger.
Accordionand saxophone make Chitragupta's "Bum Pam Bum Pam Pa Ra Ra" a litle different from the other songs here, though the electric guitar is still the instrument given the most space (though there are accordion and saxophone breaks). Of course, all these songs are really vocal features.
"Sambhalo Sambhalo Apna Dil" is is by R. D. Burman's father, S. D. Burman, and has an airier sound, perhaps the result of using almost (maybe all) acoustic instruments. The use of shaker in the percussion section is especially important and at one point it sounds like one of the vocalists is trying to imitate a guica.
Finally there are two songs by Kalyanji-Anandji. "Priya" sounds like it was influenced by European "beat" music and features a massive 12-string guitar (or something!) solo as well as some kind of electronic organ that sounds great. Then there's the title music from "Bluff Master", a heavy groove with a saxophone solo and 12-string-guitar-sounding instrument on it again and the only instrumental number on the record (if you overlook some sporadic wordless vocalizing).
---