2016 August 01 • Monday
For the 424th Soundtrack of the Week we turn to a 1980s classic, Brad Fiedel's music for The Terminator.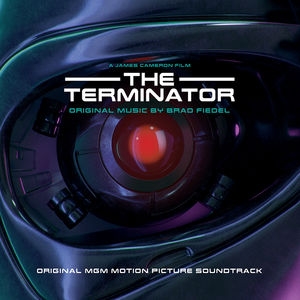 Sometimes a score saves a movie. Sometimes it ruins a movie or at least brings it down a notch. Brad Fiedel's score for The Terminator is one of those which are perfectly in harmony with their movies. The mood, the story, the general idea, the inner and outer worlds of the main characters are perfectly served by the music.

This is one of the best synth scores ever created. Fiedel did it all himself except for some electric violin parts performed by Ross Levinson.

The general strategy is to have a cold, industrial sound with a mechanistic rhythmic track underlying everything and pushing the music forward.

On top of this Fiedel adds all manner of colors and moods and figures, from atmospheric textures to long prog rock-like lines and jabbing horns and strings.

He also composed some lovely music for Sarah Connor, the only hope for the future of humanity and the heart of the movie.

Interesting, Fiedel's music for the big love scene between Sarah and Reese is mostly understated, using very few notes and lots of space before reprising the main title theme.

If you've seen the movie the music almost certainly was a big part of your experience. Having it on CD is a joy.
---