The 420th Soundtrack of the Week isn't a score but a collection of movie and television themes, as has been the case a few times before. This one is called When You Wish Upon a Star and it's the latest album by the great Bill Frisell.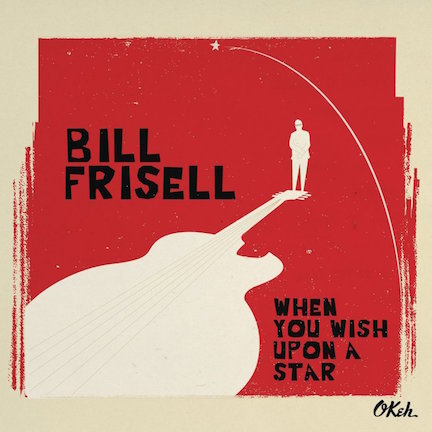 Bill Frisell is on electric guitar and accompanied by Petra Haden (vocals), Eyvind Kang (viola), Thomas Morgan (bass) and Rudy Royston (drums). This is a formidable band interpreting brilliant music. As a die-hard Frisell fan and a soundtrack fanatic, my expectations were high but the record doesn't disappoint.
I saw this band live, too, and the studio recording holds up very well to the concert experience. The sets I saw had some moments of spontaneous intensity, which is something that just happens, and I don't think those moments are on the CD. But the CD makes up for it with a strong, solid, beautiful presentation of an exciting program by some of the best musicians in the world.
The first two tracks are from Elmer Bernstein's To Kill a Mockingbird soundtrack, with the first creating a mysterious and beautifully ethereal atmosphere while the second gets into a deep groove that has a hint of reggae in it. The first track establishes right away that Petra Haden is something of a secret weapon here as her voice, whose virtuosity and versatility were already established in Petra Goes to the Movies (our 360th Soundtrack of the Week), slides into the arrangement and enhances and fortifies everything.
After this comes John Barry's "You Only Live Twice", from the movie of the same name. John Zorn's Naked City used to play this and I'd heard Bill Frisell play it in at least two different other contexts (duo with Thomas Morgan and trio with Tony Scherr and Kenny Wollesen). Hearing these instrumental versions with Frisell's guitar as the "voice" had me skeptical that I'd enjoy hearing a vocal take of it, even with Petra Haden singing. But it actually is quite lovely, with lots of room for Frisell to pay tribute to the melody, this being the thing that he really does so well and so intensely.
From one of my favorite songs by one of my favorite composers we go to music by my favorite composer of all time, Bernard Herrmann. Two pieces from Psycho are perfectly rendered by this group with Haden's voice once again being the right thing at the right time. The combo effortlessly navigates both the manic intensity and otherworldly beauty in the music.
"The Shadow of Your Smile" and the theme from Bonanza are both handled straightforwardly. Effort was apparently made to give the Bonanza theme a self-consciously "country" sort of sound. And again, Petra Haden's wordless vocals are a powerful asset.
One of Ennio Morricone's greatest scores, out of a long career of great scores, is without a doubt—everybody agrees—Once Upon a Time in the West. Morricone had the opportunity to compose the music first and director Sergio Leone created the film with the music as inspiration. The Frisell combo does three cues as a melody, with Haden making Edda dell'Orso's magnificent vocal part her own. There's ample room for Frisell to stretch out, particularly on the guitar-centric "As a Judgement". But like all the tunes, this is really ensemble playing. Every member of the band is crucial. Pick any moment and you'll find something incredible being done by Eyvind Kang, Thomas Morgan or Rudy Royston. Everybody's perfect, though Frisell and Haden are most often the lead voices.
There are three tunes that don't do much for me. The title track, "When You Wish Upon a Star", as well as "Moon River" and "Happy Trails". "Happy Trails" is a cute way to close their live sets, but the other two songs have always been a little too ooey gooey for me and I've heard Frisell play "Moon River" dozens of times.
Frisell's own Tales from the Far Side theme makes a welcome return here, twenty years after its composition, and Raksin's "The Bad and the Beautiful", another one that Naked City used to do, is also given calm but intense attention.
Finally there's nine and a half minutes of music from The Godfather. Frisell used to play this back in the late 1980s and it's a pleasure to hear it again, particularly with this group. This is one where the contributions from Kang, Morgan and Royston are particularly impressive.
So this makes two studio recordings in a row from Bill Frisell that I really loved! Usually it's only the live performances that I'm into. Can he make it three in a row?
---