2016 May 23 • Monday
Our 414th Soundtrack of the Week concludes a trilogy with Zbigniew Preisner's score for Red.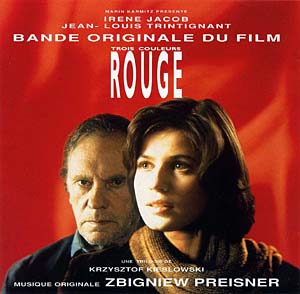 The third film in Krzysztof Kieslowski's "Three Colors" trilogy brings the main characters from all three films together, eventually, for the theme of Fraternity.

It begins with a Polish love song ("Love at First Sight") and then moves on to a stirring and inspiring theme which unites melodic elements of all three scores. Gentle and lyrical, it nonetheless has a power that will make you want to move.

As you might expect, this theme resurfaces several times throughout. There are some other more atmospheric cues and echoes of music from the other films. The love song is reprised at the end as well, but this time in French.
---