2016 May 02 • Monday
It's been, it is and it will be rainy here. So our 411th Soundtrack of the Week is Alex North's score for The Rainmaker.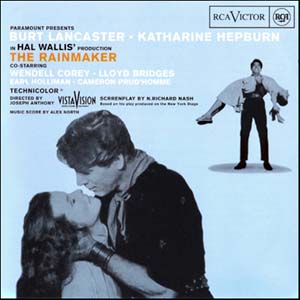 The record opens with a "Prologue" that's mostly sunny and upbeat, promising drama without trauma. This golden age of Hollywood mood is sustained in the sweet "Wet Socks" cue.

Things take a turn for the dreamy and atmospheric in "Golden Fleece". It mostly sounds appropriate for bedtime story music but veers off into some livelier territory and incorporates a waltz motif that sounds a bit off.

Echoes of that waltz are heard in "Starbuck Story", a long cue with numerous moods and sections. North blends instruments to create a thick sonic atmosphere. His writing for strings here is especially compelling.

"The Gentlemen" is a cue that at first sounds perilously close to a standard or a popular song, perhaps even "Unchained Melody", whose music North wrote. After a while, though, it's clearly its own thing. This is followed by a mostly tender, melancholic cue titled "The Vamp". The next track, "Starbuck's Confession", sounds like a continuation of it. A title like "Flipperti Gibbet" doesn't suggest anything especially heavy and sure enough, this is mostly jaunty-sounding. North does take it into lush and thoughtful territories, though. Stirring romance seems to be the mission of "The Tack Room", created mostly by lovely lyrical passages from the violins. "I'm Pretty" continues in the same romantic vein and the album concludes with the sprightly and cheerful "Young Lovers".
---