2016 March 21 • Monday
The 405th Soundtrack of the Week is a CD with music from three scores by Giovanni Fusco, for the movies Violenza Segreta, La Corruzione and I Sovversivi.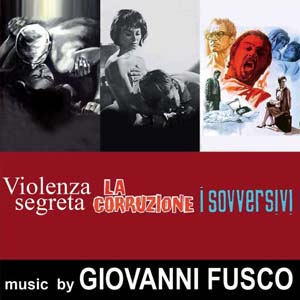 Violenza Segreta begins with an ethereal and atmospheric main theme for orchestra and chorus which recalls the exotica of Les Baxter. Then it's on to up-tempo jazz for "Star Bar", presumably source music. With vibes, clarinet and electric guitar in the combo it's like a frantic rock and roll version of Benny Goodman's famous groups with Charlie Christian and Lionel Hampton. There are also a swinging mambo-like tune, a beautiful love theme ("Regina"), a sultry, late-night bluesy number ("Ricordi"), a lounge vocal variation on the main theme ("Un Idolo Nero") and several restatements of the main theme. Next on this triple feature CD is music for La Corruzione. Not only did I see this movie and think it was great, I noted how good the music was at the time. It's great to hear it again! The first track is a beguilingly slinky cue with excellent electric guitar and saxophone playing. There's also a pretty sick organ solo. The organ is a key player throughout, often introducing anxious textural soundscapes with eerie or dissonant drones. Those apprehensive-sounding cues alternate with groovier more danceable numbers that exploit the potential of various pop and rock idioms of the day. Some of it was pop enough to warrant a single release, and both sides of that single are included here. Finally there's music from I Sovversivi. The first track has wordless vocals over an exotica-like stomp, an unusual combination of ideas that works extremely well. Then Fusco is back to more avantgarde territory with drones and stabs and what sounds almost like a cut-up method of composing, with different musical styles presented in short statements stitched together. Most of the music here follows one of those two approaches, though "Seq. 6" has a surprising appearance by a minimalist rock and roll cue.
---