Rob Price
Gutbrain Records
rob + gutbrain.com = email
---
The 445th Soundtrack of the Week (as well as the last one for 2016) is Paul Glass's score for Bunny Lake Is Missing.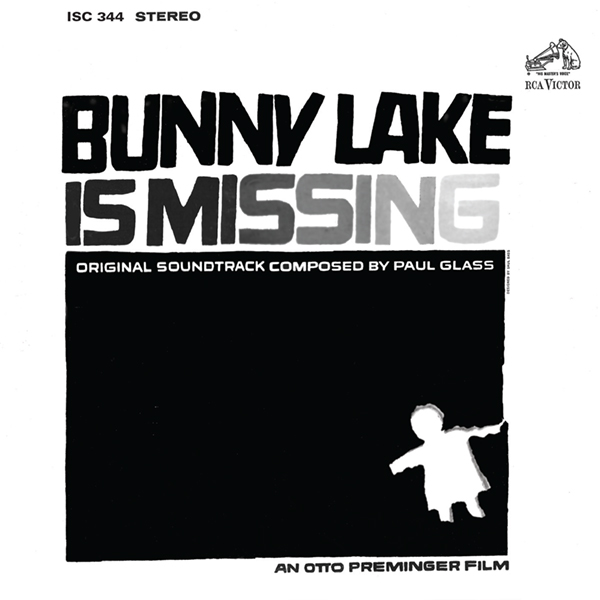 First the movie. I wasn't into it. It's one of several movies that could have been done as an episode of The Twilight Zone but at 100 minutes is just tedious. And I can't think of it without thinking of the Odd Couple episode "Bunny Is Missing Downm by the Lake".

It's also an Otto Preminger movie and I just don't like his movies. They ususally look good and have things going for them but they fall flat for me. I've never been able to watch Laura without falling asleep. Paul Glass's music for Bunny Lake Is Missing is curious in that it bugged me while I was watching the movie but I liked it while listening to the Intrada CD. The opening theme mixes pastoral moods with childlike and playful figures, allowing for some more sweeping and dramatic writing as well. This theme and its airy and frisky energy continue in "Chocolates for Bunny". There's also a waltz version of the theme called "Samantha's Waltz" Dissonance, space, tension and some very modern classical sounds start to assert themselves in "The Empty House at Frogmore End" and "Wild Games!" while "Bunny" and "A World of Dolls" return to the earlier atmospheres. The twist ending and the horror and insanity come to a boil for "Touching the Sky" and then Glass wraps things up with an end title that's a poignant recapitulation of the theme. One bonus is three songs by The Zombies. You see them performing on TV in the movie. Since the movie's about a missing girl, you'd expect to hear their biggest hit, "She's Not There" but they don't play it! The three songs on the CD are really great, though, for those of us who like this sort of thing: "Nothing's Changed", "Just Out of Reach" and "Remember You".
---
2016 December 19 • Monday
Another brilliant Italian score is the 444th Soundtrack of the Week: Stefano Torossi's exciting music for Omicidio per vocazione.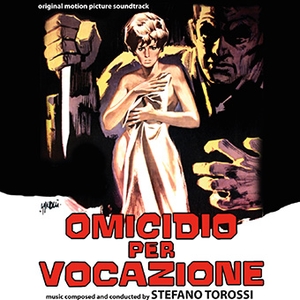 The main title comes blasting out with fuzz guitar, organ, xylophone, trumpet, flute, bass and drums, creating a multi-layered groove number. This theme returns in several different versions, most effectively in an eerily atmospheric "versione romantica" with ethereal wordless vocals.

The same ensemble then gets swinging in the 6/8 "Caccia all'uomo" while a heavier rock feel dominates "Prima dell'alba". That heavy groove gets a little funky for "Dietro l'orchestra" before things get much lighter with the ersatz old timey jazz of "Camion". "Fari" sounds like Torossi is channeling Sun Ra and early-'70s Miles Davis with its in your face organ slabs. The tension is then immediately discharged by the sing-songy "Fonogrammo fisso". Stefano Torossi is a new name to me and if this is typical of his work I hope I get to hear more of it!
---
2016 December 16 • Friday
Track the Man Down is a British crime film from 1955 that's notable for starring Petula Clark.

The other good thing about it is that so much of it is shot on location, capturing some of the time and the place.

In the 1950s the infamous twin brother gangsters Ronnie and Reggie Kray were variously absorbed by professional boxing, criminal activity and time in both prison and the army. Spotted in the background early on in Track the Man Down is a poster for boxing matches at the Royal Albert Hall, in which we can see that the Krays are scheduled to compete.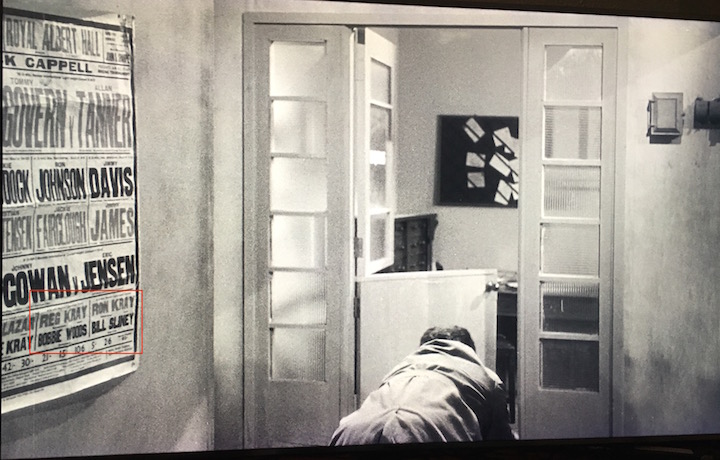 They're Reg and Ron instead of Reggie and Ronnie there. Perhaps because it would be harder to fit the longer names on the poster?
---
2016 December 12 • Monday
Here's a movie that is, sadly, more timely now than it's ever been since it came out in the early 1970s. The music by Peter Schickele (also known as P.D.Q. Bach) is the 443rd Soundtrack of the Week: Silent Running.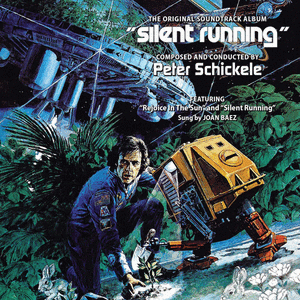 The inspiration for both Mystery Science Theater 3000 and WALL-E, Silent Running was an unusual science-fiction movie with strong statements to make about ecology and some of humanity's more toxic "values".

The music is best remembered for two songs sung by Joan Baez, for whom Schickele had already been working as an arranger. The title song and "Rejoice in the Sun" are both strong and ethereal with a hippyish driving pulse. Silent Running wasn't a long movie and Schickele didn't overscore it, which means that this CD release of the original album presentation (sourced from vinyl since none of the original elements survive) contains most of the score. It's too bad Schickele didn't score more movies. His selection and arrangement of instruments, involving shifting textures and relying on the use of subtle sonic elements such as overtones, combining electric guitars and harpsichords, create cues that impress with their vulnerability and integrity. Elegies for robots, love songs for forests, tension and dread as we march to our self-fulfilling prophecies of death and destruction.
---
2016 December 05 • Monday
The 442nd Soundtrack of the Week is Ned Rorem's music for The Panic in Needle Park, which we're hearing for the first time now as the makers of that film decided not to use that or any score.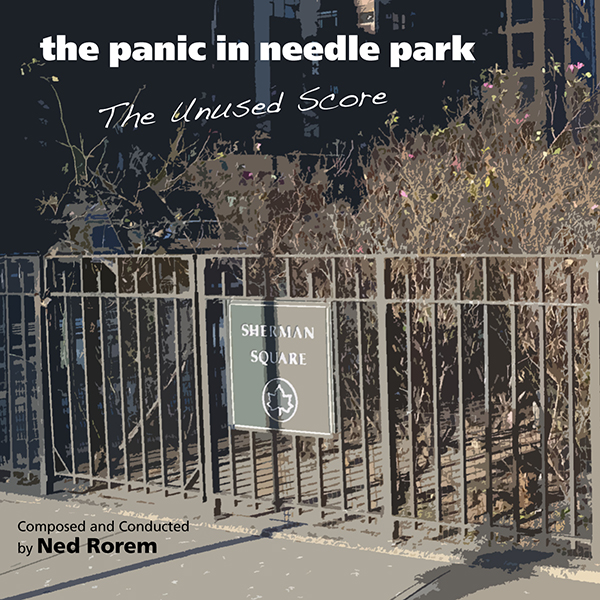 I haven't seen the movie but if the idea was that the score would undermine a documentary-like feel, then they were probably right not to use it.

The music is great, beautiful and strong, but it's very clearly a dramatic score that tracks with emotion and action. It's not gritty realism. It's a shame, though, because it's so good, a blend of styles and textures, creating atmospheres of various moods as easily as delivering a stirring love theme. Listening to the recording, with its prominent violin and trumpet voices and urgent orchestral arrangements, feels very much like hearing the structure of a dramatic story. Much credit is due to everybody involved in bringing this lost work to light!
---