Rob Price
Gutbrain Records
rob + gutbrain.com = email
---
Piero Umiliani's music for Smog is the 441st Soundtrack of the Week.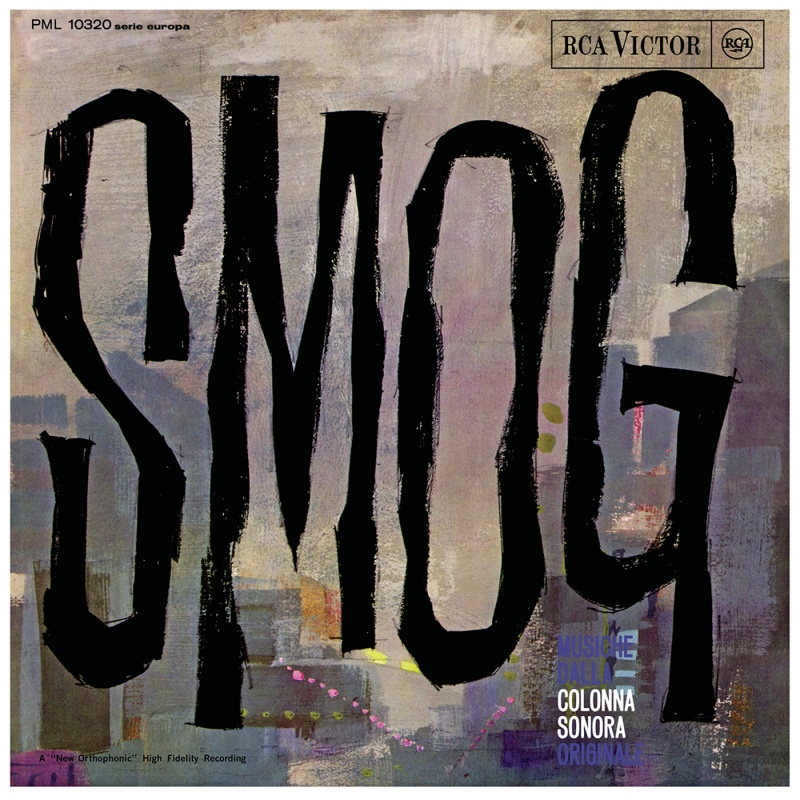 This score is a jazz-lounge confection, very much in the Mancini vein and with the added attraction of Chet Baker on some tracks.

"Neapolitan Phantasy" is an easy listening number that creates a gentle atmosphere with an Italian flavor. The brisker and bouncier "Bowling" sounds like the caffeinated response to this. It's followed by "Dawn", a ballad with lyrics sung by a female vocalist. If it reminds you of Mancini's "Dreamsville", that's probably not a coincidence. One of my least favorite devices is used in "Hollywood Tonight", something I always think of as the L.A. Jazz Chorus. Wordless group vocals in a very unswinging swing... Something about it makes me slightly ill. Nice soloing from the other instruments, particularly baritone sax. "California in the Summer" reminds me of Mancini in a groovy mood. It's a cheerful, swaying number A later tune, "Tops", sounds like a variation or reworking of it. The title song "Smog" is another soulful vocal ballad, lovely and restrained "Smog II" and "Smog Introduzione e Finale" are instrumental versions with trumpet soloing. Things get uptempo and driving, with some unexpected stops and starts in "Tension", which comes from the Elmer Bernstein The Man with the Golden Arm style of scoring. Chet Baker gets to stretch out a bit on this one. Trumpet also has a lot to say on the in-the-pocket jazz groove numbers "Twilight in Los Angeles" and "Thinking Blues". This record is probably of interest mostly to soundtrack enthusiasts and Chet Baker completists but it's really good.
---
2016 November 21 • Monday
The 440th Soundtrack of the Week is Alex North's music for Cheyenne Autumn.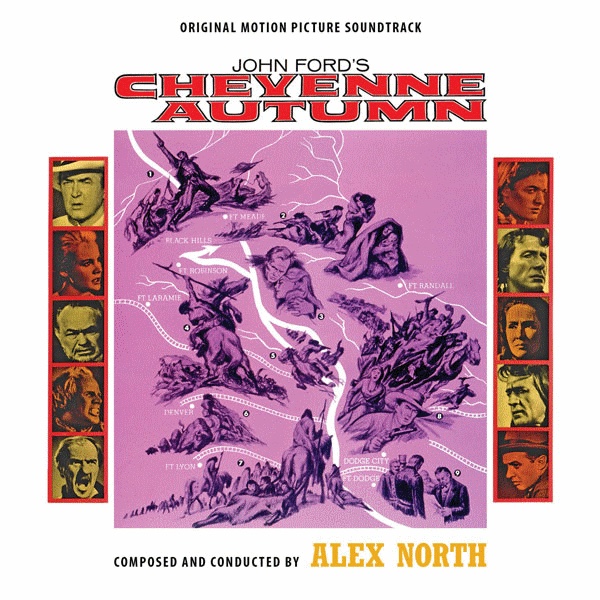 Intrada Records recently released this formidable 2-CD set of the music from the longer roadshow version of John Ford's film, complete with North's music for overture, intermission et al.

Included as extras are cues for drums and bugle calls as well as medleys of source music songs such as "Camptown Races" and "Skip to My Lou". The star of the show, though, is the score for the film itself, Aside from the cues mentioned above, it mostly doesn't sound at all like music for a western. For the most part it's brooding, intense, mysterious, rich and thick, though there are some gentler and lighter sections. It defies adequate description from me. I don't have the knowledge or the vocabulary. But it is brilliant.
---
2016 November 16 • Wednesday
Another one! Our old friend LIMITED FARM BILL FAVORED.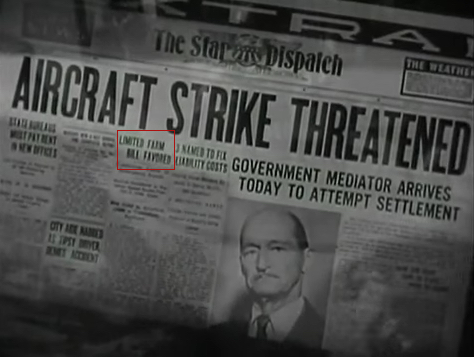 Three Girls About Town (1941)

Right next to 3 NAMED TO FIX LIABILITY COSTS and just a column away from STATE BUREAUS MUST PAY RENT IN NEW OFFICES.
---
2016 November 14 • Monday
The 439th Soundtrack of the Week is an early effort by the famous John Williams, or Johnny Williams as he was then known: music from the television series Checkmate.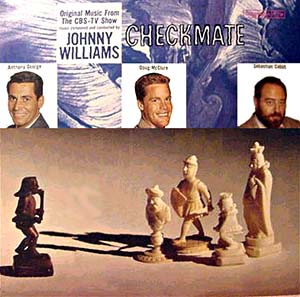 I liked this show. It was kind of a private eye show but with the twist that thsi group of investigators attempted to prevent crimes rather than solve them.

One of the best things about it was the music. The theme is in 12/8, which the theme from Get Smart is famous for. "The Isolated Pawn" is a tender love theme with some moody elements to it, followed by the briskly swinging "Cyanide Touch". The next two tracks channel Henry Mancini, first in a romantic mood with "Far Outside Place" and then with the toe-tapping "Hassle in the Castle". "En Passant" also sounds a bit like Mancini in lounge mood, and it's hard not to think of Mancini again with the next piece, "The Black Knight". Part of the reason for the similarity might be the shared pool of musicians. Shelly Manne is here, for instance, and did his own record of music from Checkmate. Also on board are Pete Candoli, Jimmy Rowles, Joe Mondragon, Ted Nash et al. Another couple of dreamy tunes, "Fireside Eye" and "Queen's Sacrifice", are next. "Shy Youth" stands out as a sweetly innocent composition on this record. The album wraps things up we have the propulsive and exciting "The King Swings". This early phase of Williams's career isn't especially well known and deserves greater attention than it's received.
---
2016 November 07 • Monday
This recent release of a score by one of our favorite composers is the 438th Soundtrack of the Week: Jagged Edge by John Barry.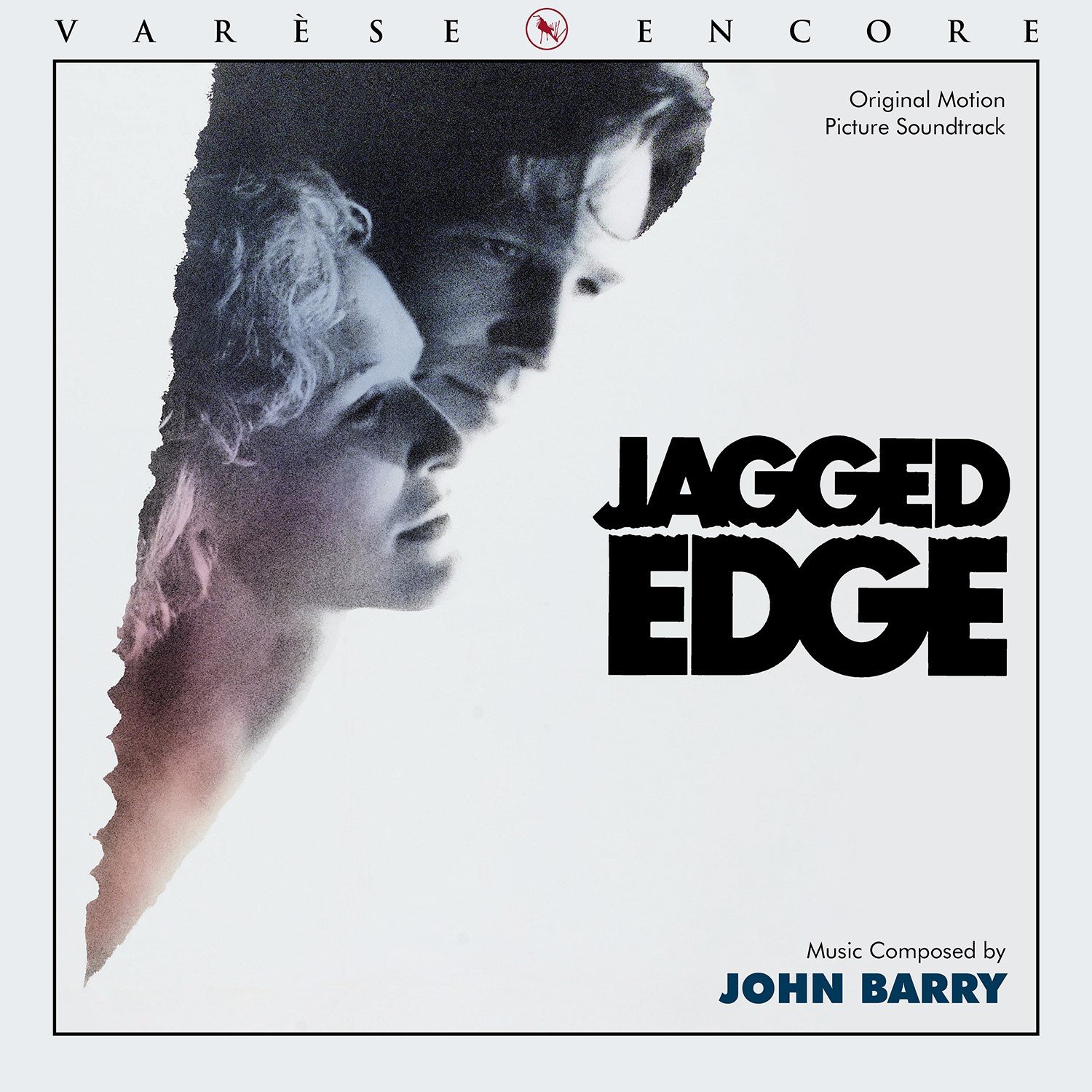 The music on this alternates between a simple but affecting love theme and a chilly, suspenseful atmosphere.

The love theme is very simple but effective, and a good example of how well Barry can use strings as well as create haunting melodies. Piano is a prominent voice here and synth and choir are employed sparingly, adding to a gratifying balance of colors and textures.
---
2016 November 02 • Wednesday
Sometimes I like to read the source novels for movies. For instance, I read the book that Jean-Pierre Melville's Army of Shadows was adapted from and I'm glad I did. It added to my appreciation of the film.
But I'm puzzled a bit by the provenance of another Melville picture, Le Samourai. It's well known that John Woo's The Killer is an uncredited remake of it. So in one direction, there's information that should be attached to Le Samourai.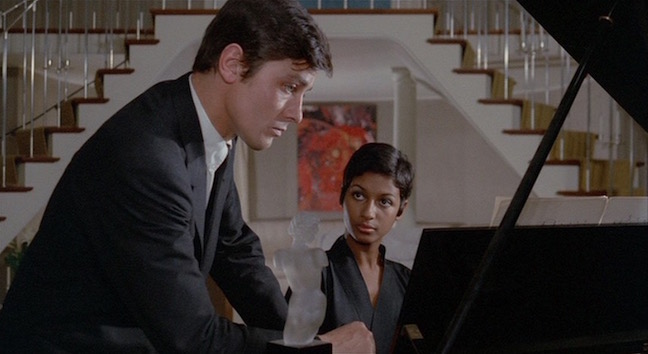 Going in the opposite direction, however, there's information that has been attached to Le Samourai that I believe shouldn't be.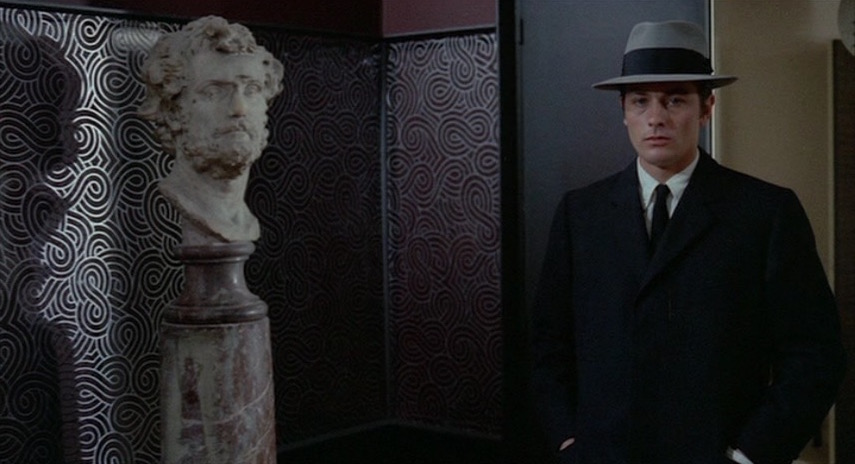 If you look up Le Samourai on the Internet Movie Database, you'll find that a novel called The Ronin by Joan McLeod is given as the basis for the film. I thought, well, I'll read that. But I can't find it. In fact, I can't find any evidence that this novel ever existed. The New York Public Library, for example, has nothing by Joan McLeod among the millions of items in its collection. There is a Joan "MacLeod" who's a Canadian playwright. But she was born in 1954 which makes her a little young to have written a novel that Melville made into a movie in 1967. And no such novel is credited to her.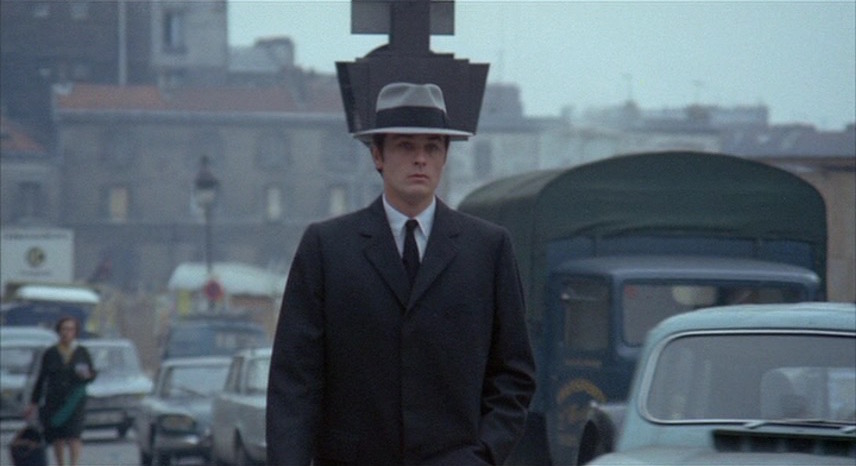 So I think the attribution is erroneous. And of course it's been automatically picked up and transferred from article to article, so you'll find numerous causal mentions of "based on the novel The Ronin by Joan McLeod" in online discussions of Le Samourai. This blog post about the movie supports that impression. A commenter noted that an article from the early '70s first made the claim about a source novel and it was picked up and repeated from that. So... which article?
---