Rob Price
Gutbrain Records
rob + gutbrain.com = email
---
For the 423rd Soundtrack of the Week we have a double feature CD: John Douglas's score for Crack in the World and Brian Gascoigne's music for Phase IV.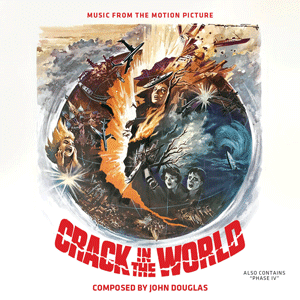 Crack in the World has one of those classic "movie" scores that give you an idea of what's most likely happening in the movie even if you haven't seen it. Main title, development of plot, introduction of characters, love them, discovery, menace, action, consideration of options...
The actual music is very effective, dividing the orchestra into different voices that tell a story together and then bringing the whole group crashing into a cue together.
The music from Phase IV is presented as four suites, most interesting in its use of electronic instruments, which frequently represent the horror of a mutant ant army taking over the world.
While the electronic sections are the strongest parts of the score, the music with more conventional instrumentation serves as excellent dramatic underscore.
---
2016 July 18 • Monday
The 422nd Soundtrack of the Week is Berto Pisano & Jacques Chaumont's score for Kill!.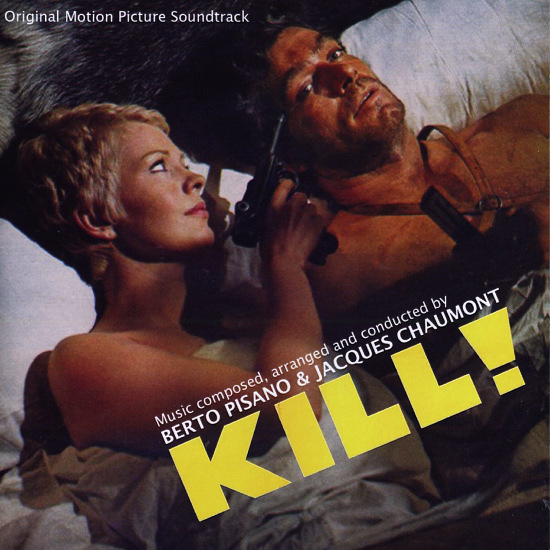 This is a really grooving and rocking record. The main title steals just enough rhythmic and harmonic energy from "The James Bond Theme" to create a similar feeling of excitement while creating its own identity. Blaring horns, fuzz guitar and pounding percussion. At the end of the record is a vocal version with lyrics sung by Doris Troy, who gives it a brutal energy.

"Nella Moschea" is a weird atmosphere with vibes, wordless vocals (the great Edda dell'Orso), vibes, and an electric guitar that sounds like it's somewhere between a sitar and a shamisen.

This is followed by the astonishingly beautiful "Hiasmina", which uses space and pauses in the pulse to create an off-kilter feeling in what would otherwise be a placid albeit moody 4/4 romantic theme. The use of strings on here is especially good.

The weird atmosphere comes all the way out for "Allucinazioni", as well it should. This is not a good trip. An undercurrent of antsy percussion creates a contrast for menacingly dark and brooding strings and occasional unexpected jabs from the horns.

After this comes "Inchiesta", a relatively straightforward fuzz guitar rocker with little bits of Hammond organ in it. Then there's imitation Middle Eastern music for "Khanpur" and, a little later on, the weirder "Souk Tawil", which starts out more or less normal but then leaves the planet with a celestial choir and organ.

The "Hiasmina" melody is simply too lovely to leave alone so it returns in an upbeat lounge version called "To Jean". Both versions recall Henry Mancini's Silver Streak theme but I only noticed it in this groovier rendition.

"Senza Tregua" is another weird atmosphere piece and "Il Deserto" is an appropriately desolate cue that reprises the "Hiasmina"/"To Jean" theme. When you come up with something that good, you should get the most out of it!

Rounding out the record are alternate versions of the three main themes. Really an excellent soundtrack album! I'd like to see the movie!
---
2016 July 15 • Friday
In The Bad and the Beautiful Dick Powell plays James Lee Bartlow, an author whose first novel, The Proud Land, is a best seller.
At this website, you can see a scene from the movie in which Bartlow considers a window display featuring copies of his novel. Noted also are the use of Proud Land as a title of a theatrical performance advertised in posters in the movie The Band Wagon.
One commenter added that the actual book is seen on book shelves in the movies Torch Song (1953) and The World, the Flesh and the Devil (1959).
To this short list of The Proud Land appearances you can add the Twilight Zone episode "Escape Clause".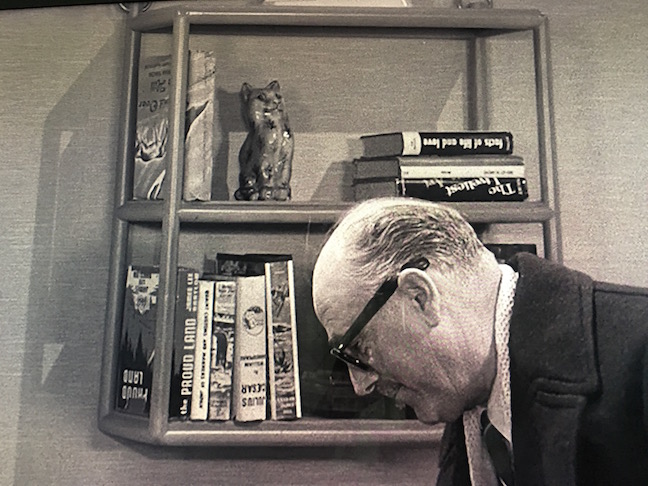 It's all the way on the left of the bottom shelf and upside down but it's definitely the same book you see in The Bad and the Beautiful.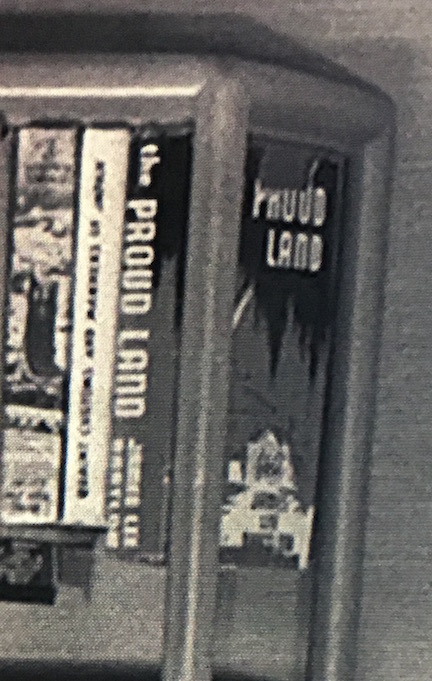 ---
2016 July 13 • Wednesday
There are lots of ways to spend the Fourth of July holiday. One of them used to be watching the Twilight Zone marathon on Channel 11 here in NYC. Does that still happen? I don't know. You'd have to ask somebody who receives a TV signal.
But here at Gutbrain headquarters we decided to throw on some Twilight Zone on Blu-ray and after watching "The Sixteen-Millimeter Shrine", which lays the groundwork for both an episode of Columbo and a Woody Allen movie, we moved onto the next episode, the classic "Walking Distance".
It really is a great episode, one of the best of the series. Bernard Herrmann wrote an original score for it that's one of his most lyrical and affecting pieces of music, while also being a model of subtlety, economy and understatement. (Where he places music is as significant as what music he creates.)
At the end of the episode, the world of 1959 adolescence is manifested by teenagers dancing to rock and roll in a drugstore. The risqué nature of their world and customs is suggested by the presence of pocket paperbacks on spinning racks. We see teens sitting at tables eagerly pawing handfuls of these books, passing them back and forth. They're all hopped up on reading!
So of course I wanted to know what hey were reading. Somebody could do a much better job at this than I did, but I'll get the ball rolling.
The first title to catch my eye was Chester Himes's The Real Cool Killers.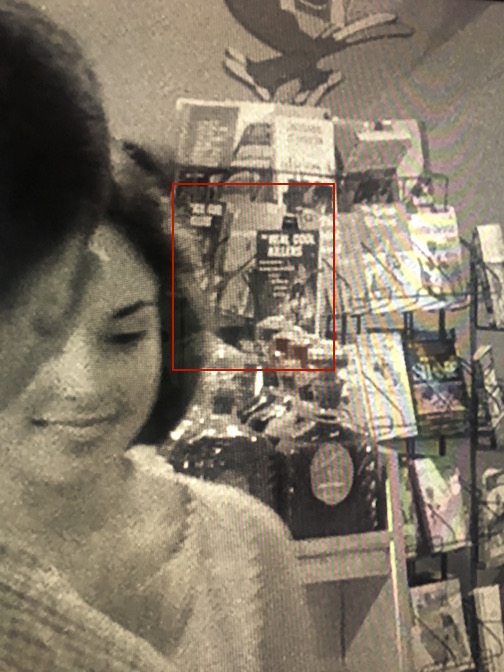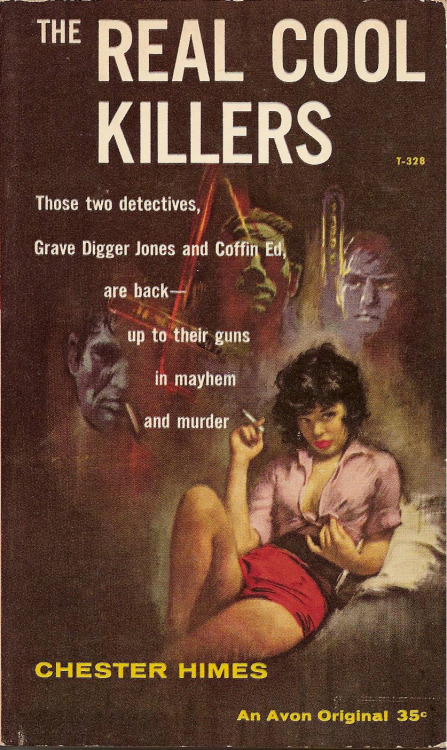 It's been a really long time since I read that but I bet it was pretty hot stuff in 1959. Parents would shake their heads when they saw that on the drugstore rack.
Next one I saw was Carl Reiner's Enter Laughing.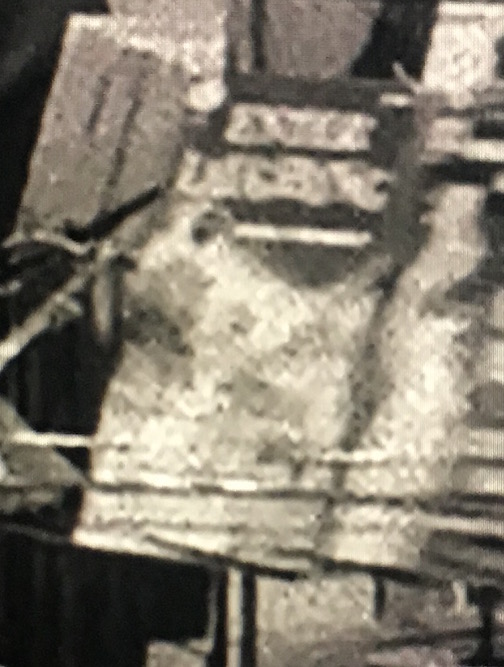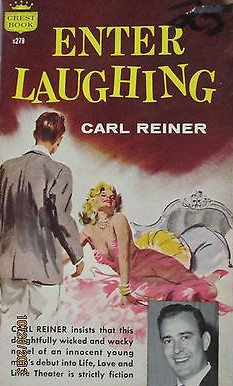 Then there was Doomsday Morning.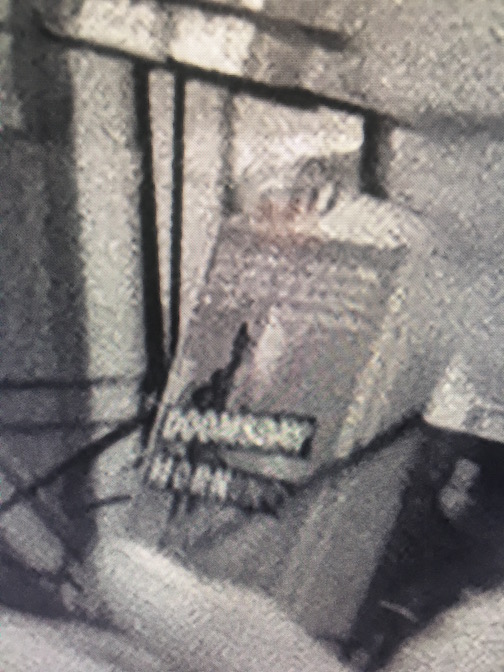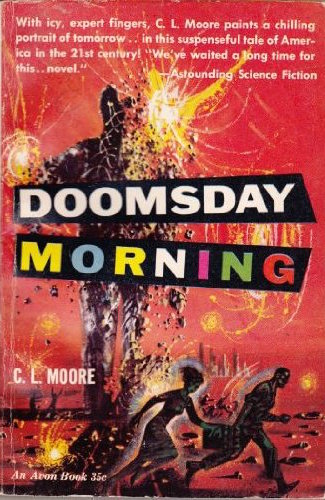 Then I Want To Live!.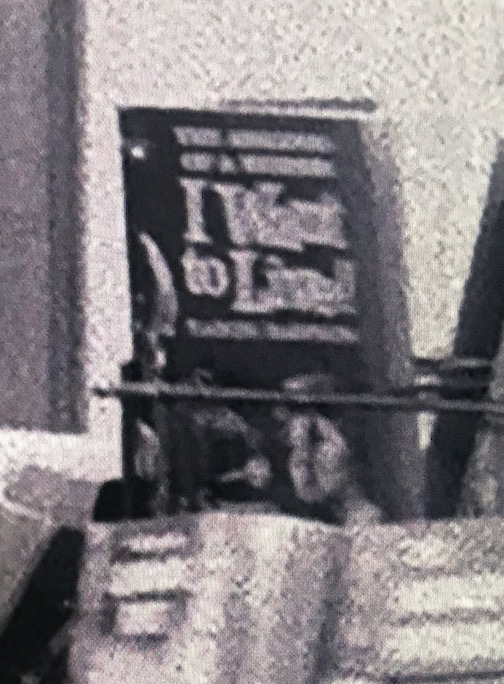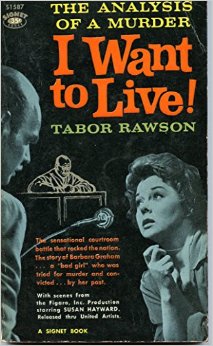 Then Mickey Spillane's The Big Kill.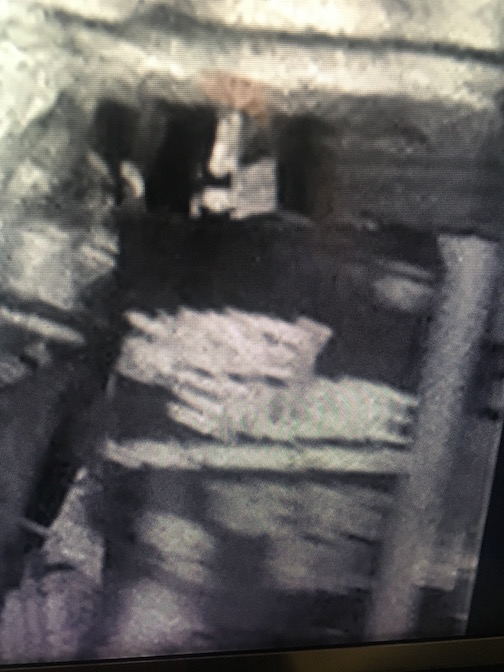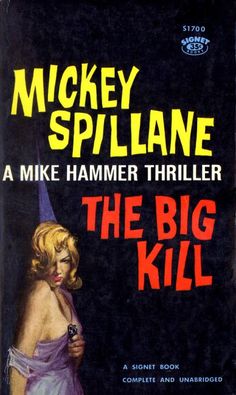 After that, finally some real beatnik stuff: Jack Kerouac's The Subterraneans.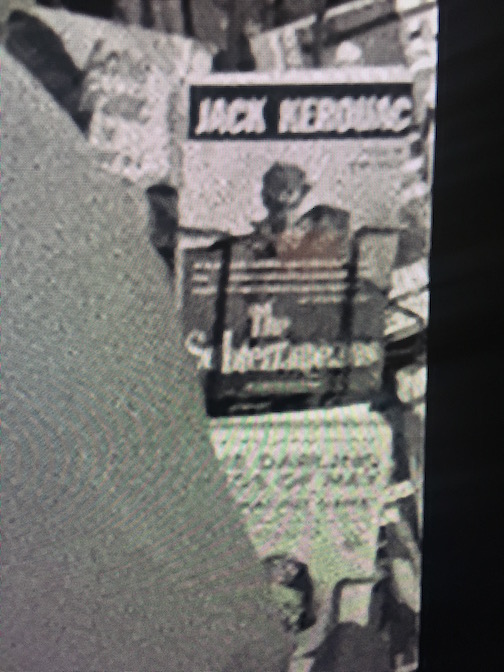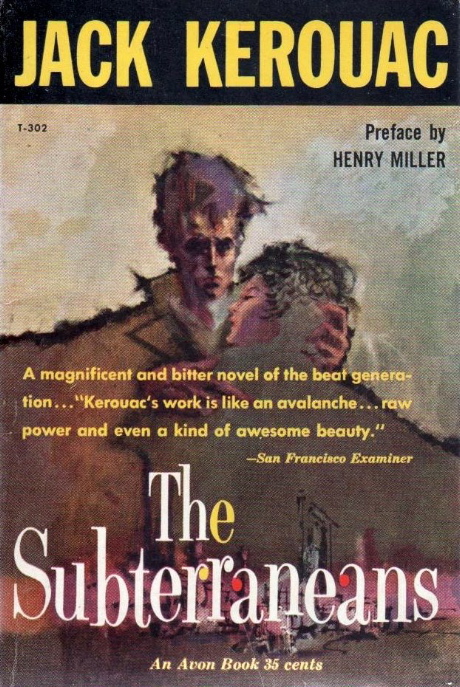 Underneath it in the same shot is the movie tie-in paperback for The Darling Buds of May, filmed as The Mating Game.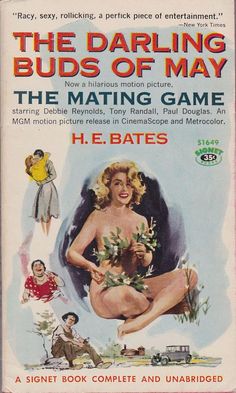 This is followed by a triple feature of Fulton Sheen's Way to Inner Peace— couldn't find an image of this edition online—and Erle Stanley Gardner's The Case of the Crooked Candle and Nelson Algren's The Jungle, apparently a reprinting or reworking of his first novel, Somebody in Boots, presented in this edition as a juvenile delinquent novel.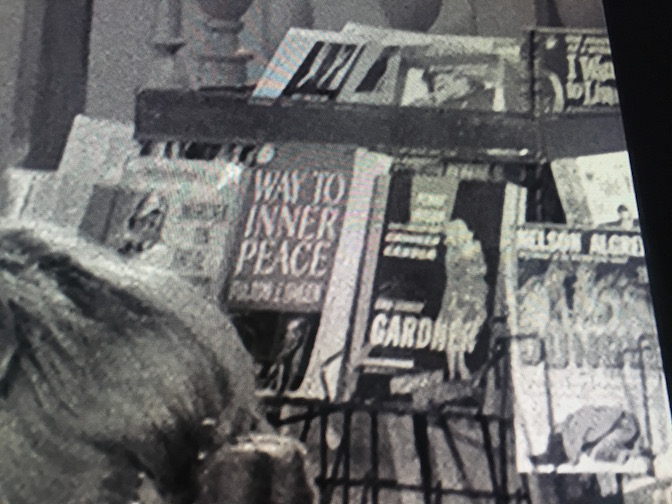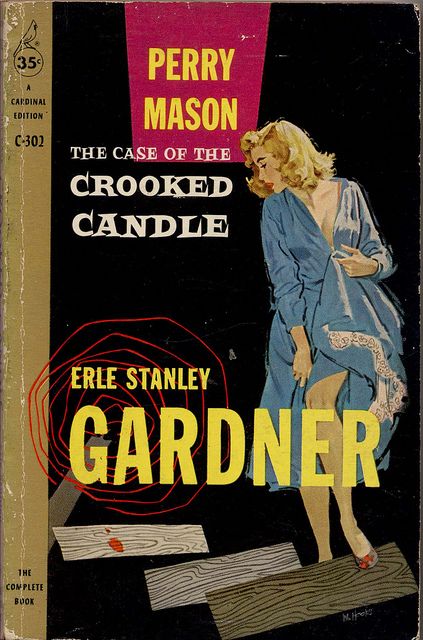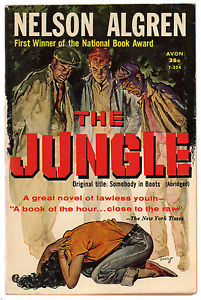 And finally I noticed some of these teens pawing Ray Bradbury's Dandelion Wine.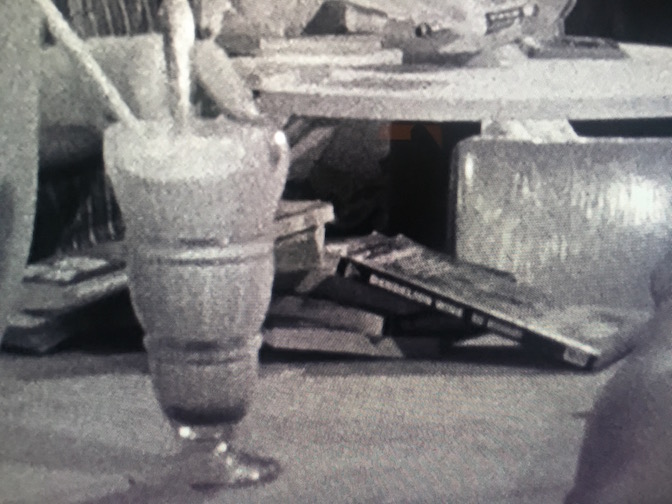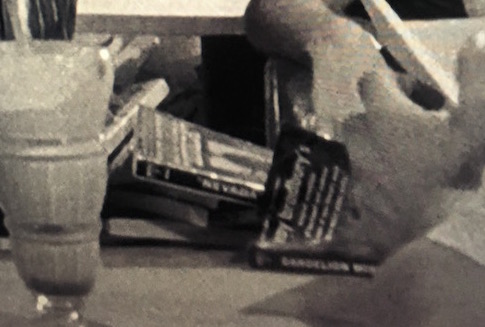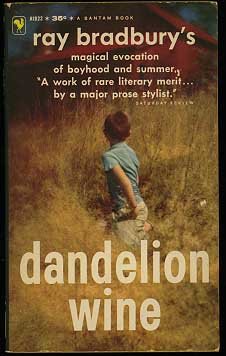 But which issue of TV Guide is this?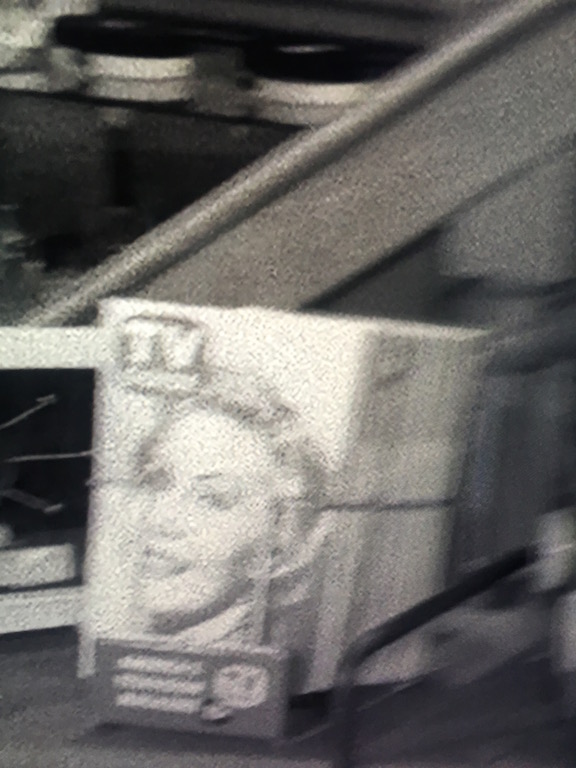 ---
2016 July 11 • Monday
This songs-only edit of a bootleg recording of either a live performance or rehearsal of Lolita, My Love, an ill-fated musical adaptation of Vladimir Nabokov's Lolita, with music by John Barry and lyrics by Alan Jay Lerner, is the 421st Soundtrack of the Week.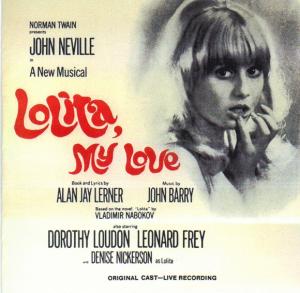 You can hear bits of dialogue before and after the songs. We'll never know what this was really like but it sounds ghastly. I remember being disappointed with Nabokov for selling out in this way, especially since he was already rich and famous. More disappointing than that was his attempt to vouchsafe the artistic integrity of the project by praising Barry and Lerner, when he was a complete ignoramus on the subject of music. In fact, he pretty much didn't like music at all and I would bet that he had no idea who Alan Jay Lerner and John Barry were and had never heard of them. But this didn't stop him from talking up how great they were.

I hope that Nabokov was at least dismayed when Lolita herself ended up being played by a 12-year-old girl. When Kubrick was making his Lolita movie, Nabokov insisted that the actress playing Lolita had to be several years older than the character, because having a girl the same age as the character would be disgusting. (His words were "sinful and immoral".)

Listening to this recording, which can hardly be a fair presentation of whatever the show was really like, is not enjoyable. There are moments when Lerner comes up with some clever rhymes and Barry pulls off some melodically effective figures, but that's really it, just moments.

One of the tricks of the book is to show how even though Humbert is an insane, lying monster whose actions are inexcusable and completely unsympathetic, the reader should not enjoy his suffering. Cruelty is always evil, never desirable, regardless of its target. A detail of the picture painted by the novel shows how dangerous, dismal and despicable it is to destroy life in pursuit of a delusion.

Perhaps some tiny part of Humbert does experience a real love for Lolita. That is definitely not what's mostly going on in the book, but it's something that might be glimpsed. He insists on his true love on every page but you shouldn't believe him. You should look for that yourself and you might glimpse it behind his lies and his declarations.

The best number is the mournful waltz "Lolita". whose sadness and longing express Humbert's phony but convincing performance of love and also suggest a real feeling inside him, a feeling whose reality isn't fully known even to him.
---
2016 July 08 • Friday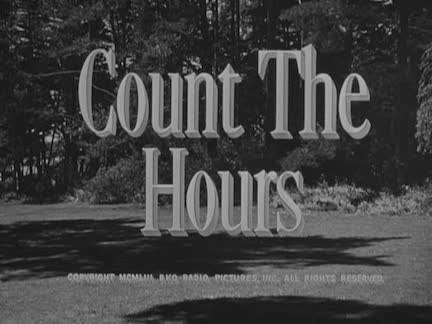 Count the Hours! is another crime/suspense film shot by the great John Alton and with a soundtrack that features the theremin.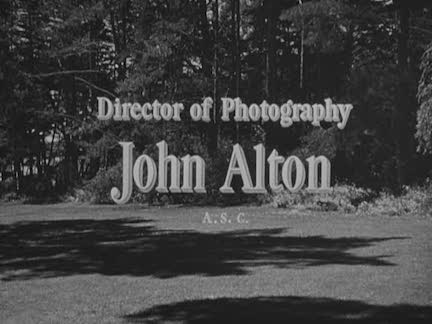 The theremin player doesn't get a credit. Is it Dr. Hoffman again?
Count the Hours! isn't as interesting or as enjoyable as The Pretender but it has some things going for it. The acting is mostly lousy and the movie is dull in spots.
But the story, about an innocent man getting the death penalty for a murder, brings out some unusual elements. Director Don Siegel has an apparent interest in humanity's less worthy, less admirable, more frightening traits.
And so once again due process is abandoned, your supposedly good American citizens turn out to be vicious, horrible people, the world is divided into predators and prey, self-interest governs the actions of almost everybody. Doing what's right is a self-destructive act.
The music is generally tedious and generic. The theremin is the only thing going for it and it's used very effectively. It's the only thing likely to engage your ears.
Much of this movie appears to have been shot on location, which likely presented some challenges for cinematographer John Alton. He works wonders with light and shadow, as always. Many of the compositions are claustrophobic and make use of low or high angles.
The first scene shows the murder, more or less from the killer's point of view, without revealing the identity of the killer. The camera roams around a bit, creeping up to the house and generally conveying a sense of menace.
When the killer opens the front door we cut to inside of the house where the opening door startlingly blacks out the whole screen for a moment.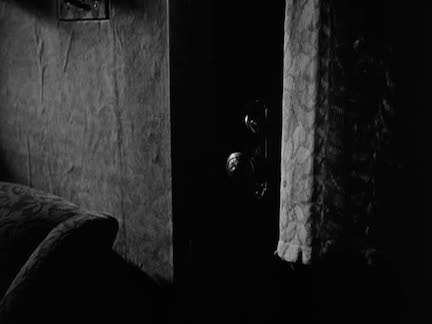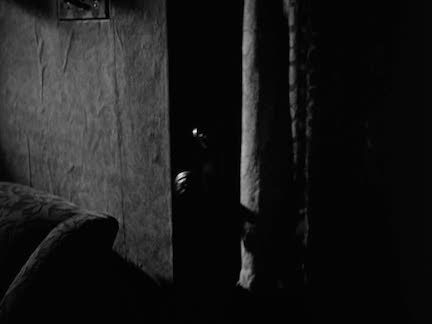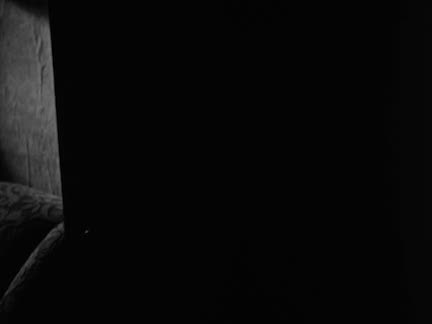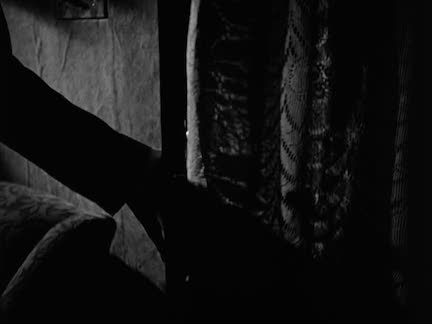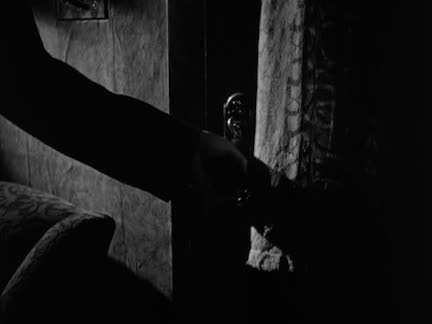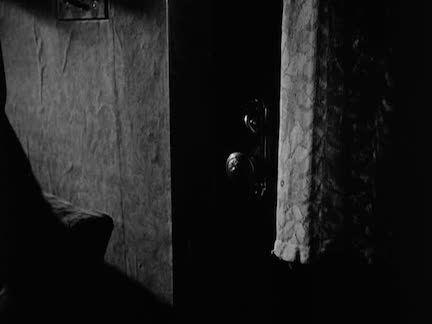 When the body is discovered, there's a strong contrast between the sun-blasted outside world and the dark, shadowy interior of the murder scene. Our view of the bright exterior is blotted out by the horror of the discovery.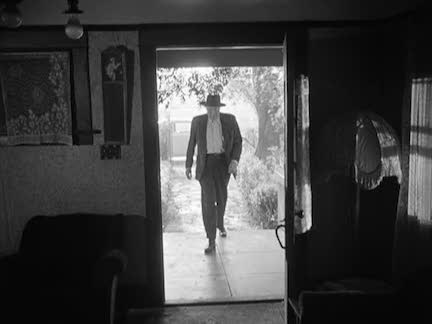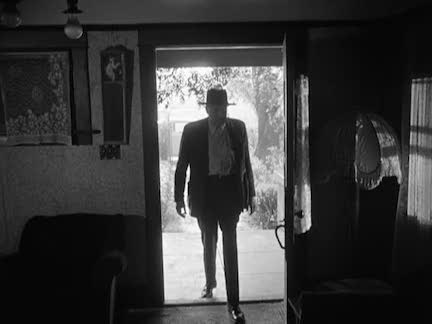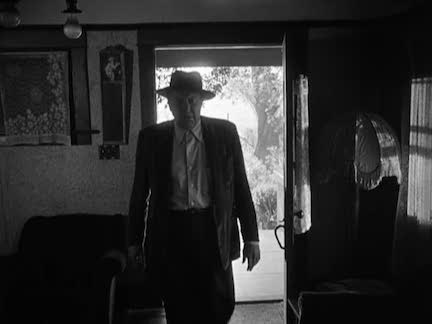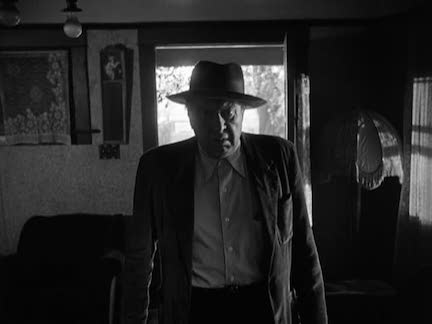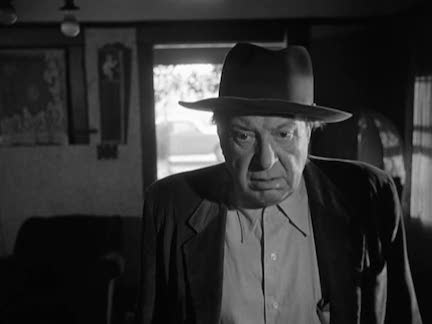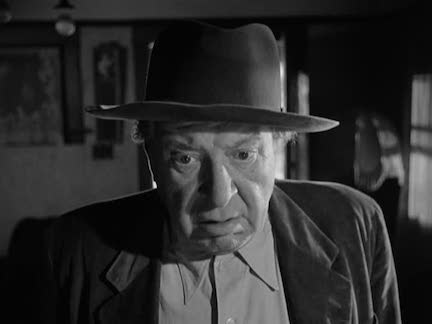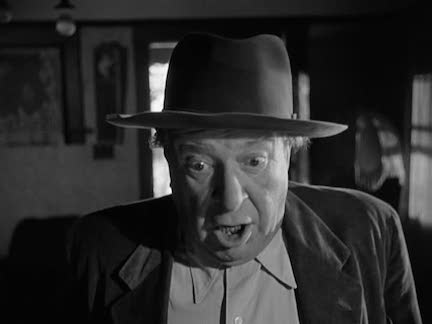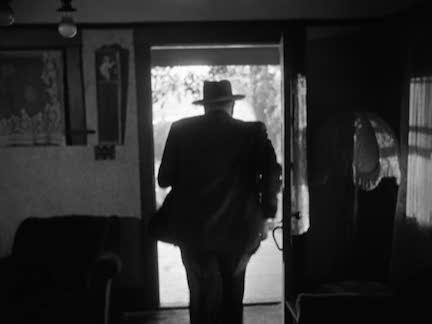 Other notable images include a very creepy nightmarish chase scene with some of cinema's creepiest trees.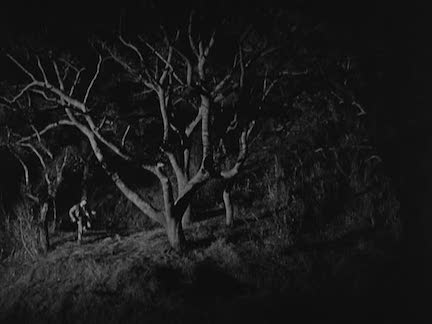 This shot of our hero trying to get assistance from one of the town's many unsavory, greedy, selfish, horrible people is quite lovely.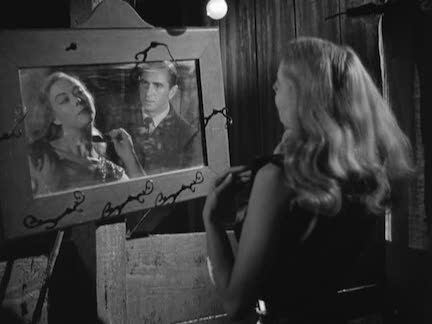 The low angle makes this otherwise boring scene nice to look at.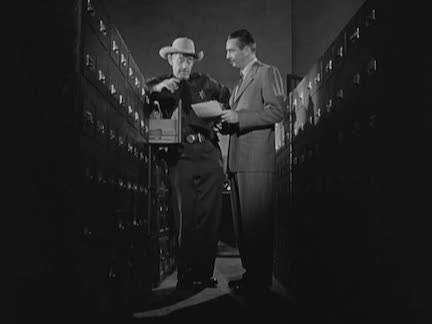 As this man spreads lascivious, malicious and untrue gossip about the condemned man's wife, his face fills the screen as surely as his words saturate the town.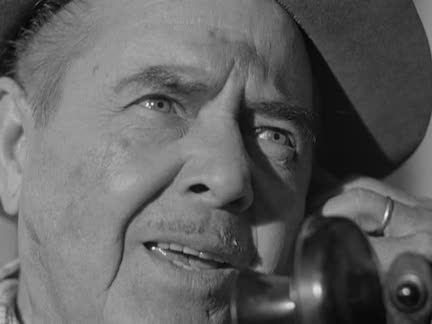 The innocent man agrees to a false confession to spare his pregnant wife, who's being subjected to a grueling interrogation herself. The camera cuts to a high angle to look down on him and the district attorney while the sobbing woman occupies the background space between the two men.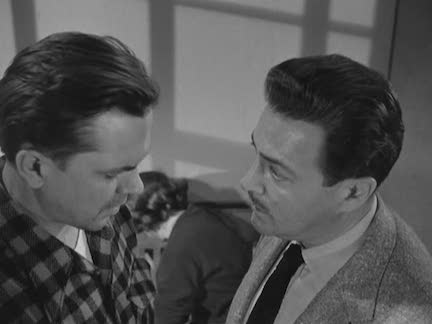 An attractively composed deep focus shot of a horrible man getting drunk.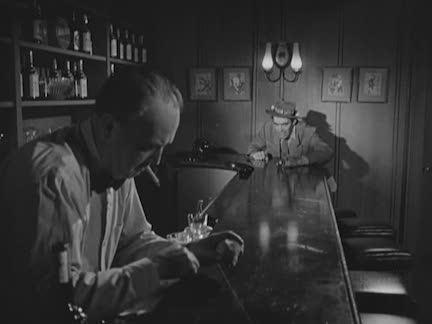 The shadow of the bars on the innocent man's face.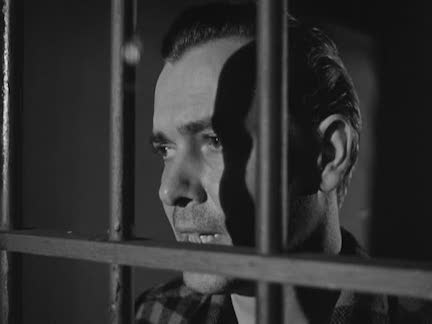 And of course there's a lot more. It's a whole movie, after all!
---
2016 July 06 • Wednesday
Check out David Doobinin's entry in the Filmic Pro Contest! A very short film shot with an iPhone and using the Filmic Pro app.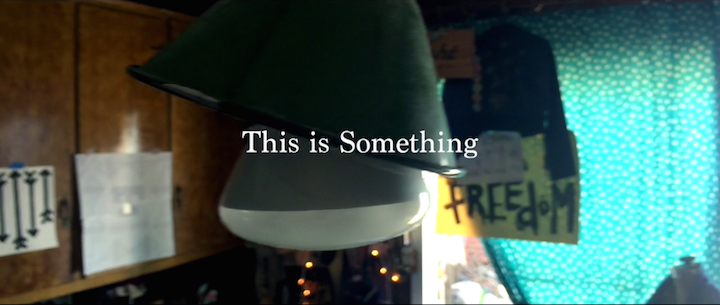 It was a finalist and features music by yours truly in the first half.
---
2016 July 04 • Monday
The 420th Soundtrack of the Week isn't a score but a collection of movie and television themes, as has been the case a few times before. This one is called When You Wish Upon a Star and it's the latest album by the great Bill Frisell.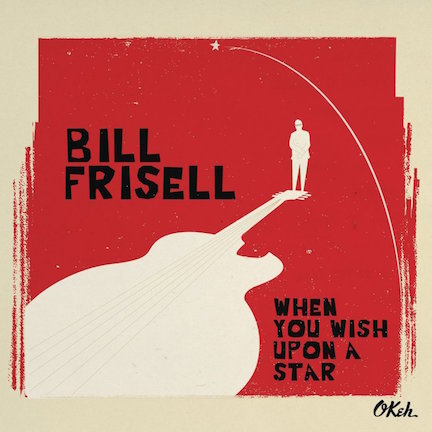 Bill Frisell is on electric guitar and accompanied by Petra Haden (vocals), Eyvind Kang (viola), Thomas Morgan (bass) and Rudy Royston (drums). This is a formidable band interpreting brilliant music. As a die-hard Frisell fan and a soundtrack fanatic, my expectations were high but the record doesn't disappoint.
I saw this band live, too, and the studio recording holds up very well to the concert experience. The sets I saw had some moments of spontaneous intensity, which is something that just happens, and I don't think those moments are on the CD. But the CD makes up for it with a strong, solid, beautiful presentation of an exciting program by some of the best musicians in the world.
The first two tracks are from Elmer Bernstein's To Kill a Mockingbird soundtrack, with the first creating a mysterious and beautifully ethereal atmosphere while the second gets into a deep groove that has a hint of reggae in it. The first track establishes right away that Petra Haden is something of a secret weapon here as her voice, whose virtuosity and versatility were already established in Petra Goes to the Movies (our 360th Soundtrack of the Week), slides into the arrangement and enhances and fortifies everything.
After this comes John Barry's "You Only Live Twice", from the movie of the same name. John Zorn's Naked City used to play this and I'd heard Bill Frisell play it in at least two different other contexts (duo with Thomas Morgan and trio with Tony Scherr and Kenny Wollesen). Hearing these instrumental versions with Frisell's guitar as the "voice" had me skeptical that I'd enjoy hearing a vocal take of it, even with Petra Haden singing. But it actually is quite lovely, with lots of room for Frisell to pay tribute to the melody, this being the thing that he really does so well and so intensely.
From one of my favorite songs by one of my favorite composers we go to music by my favorite composer of all time, Bernard Herrmann. Two pieces from Psycho are perfectly rendered by this group with Haden's voice once again being the right thing at the right time. The combo effortlessly navigates both the manic intensity and otherworldly beauty in the music.
"The Shadow of Your Smile" and the theme from Bonanza are both handled straightforwardly. Effort was apparently made to give the Bonanza theme a self-consciously "country" sort of sound. And again, Petra Haden's wordless vocals are a powerful asset.
One of Ennio Morricone's greatest scores, out of a long career of great scores, is without a doubt—everybody agrees—Once Upon a Time in the West. Morricone had the opportunity to compose the music first and director Sergio Leone created the film with the music as inspiration. The Frisell combo does three cues as a melody, with Haden making Edda dell'Orso's magnificent vocal part her own. There's ample room for Frisell to stretch out, particularly on the guitar-centric "As a Judgement". But like all the tunes, this is really ensemble playing. Every member of the band is crucial. Pick any moment and you'll find something incredible being done by Eyvind Kang, Thomas Morgan or Rudy Royston. Everybody's perfect, though Frisell and Haden are most often the lead voices.
There are three tunes that don't do much for me. The title track, "When You Wish Upon a Star", as well as "Moon River" and "Happy Trails". "Happy Trails" is a cute way to close their live sets, but the other two songs have always been a little too ooey gooey for me and I've heard Frisell play "Moon River" dozens of times.
Frisell's own Tales from the Far Side theme makes a welcome return here, twenty years after its composition, and Raksin's "The Bad and the Beautiful", another one that Naked City used to do, is also given calm but intense attention.
Finally there's nine and a half minutes of music from The Godfather. Frisell used to play this back in the late 1980s and it's a pleasure to hear it again, particularly with this group. This is one where the contributions from Kang, Morgan and Royston are particularly impressive.
So this makes two studio recordings in a row from Bill Frisell that I really loved! Usually it's only the live performances that I'm into. Can he make it three in a row?
---
2016 July 01 • Friday
It's been a while since I read an autobiographical comic. I brought Glenn Head's Chicago on a recent train trip and enjoyed it very much.
It starts out with teenage Glen [sic] in 1970s New Jersey, in between high school and art school. He's struggling to get a grip on where he is and where he wants to go. The one certain thing is his passion for underground comics.
But comfortable, middle-class suburbia has made him deeply skeptical of roads more traveled. Art school isn't a haven or an opportunity to grow as much as it's a windmill to tilt at and, eventually, run away from.

When a fellow student suggests, not seriously, that since he's too cool for school he should just go to Chicago and get a job drawing for Playboy, Glen does just that. He hitchchikes his way there and lands on the street with absolutely nothing. Nobody knows that he's left and nobody knows where he is. He's totally broke and already starting to freeze in the inadequate clothes he's wearing.
This is the meat of the book here, as Glen hustles to survive and confronts the reality of not playing it safe. He's extremely lucky to benefit from unexpected help and he even gets to meet his hero, Robert Crumb.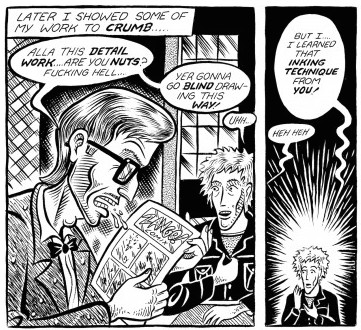 There's also a random encounter on the street with Muhammad Ali.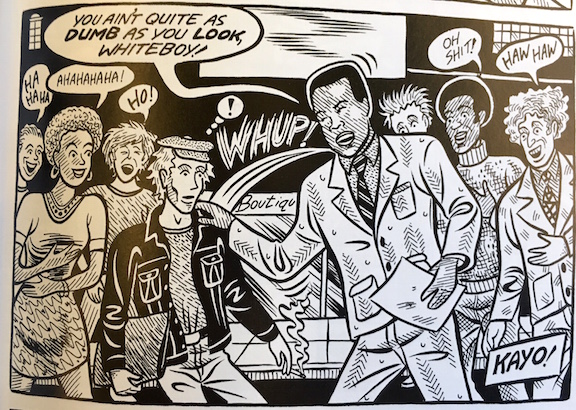 The story comes back to New Jersey and a surreal meditation on death. After that comes a coda that takes place in Brooklyn in 2010, where an adult Glen is a responsible father with one significant relationship from his youth to resolve...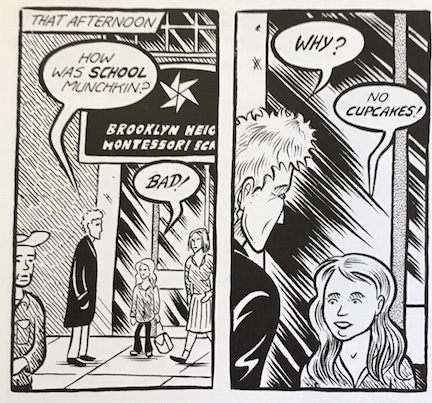 If you're into this kind of book, you'll be into this one!
---