Rob Price
Gutbrain Records
rob + gutbrain.com = email
---
This new CD of Marvin Hamlisch's music for Ordinary People and Save the Tiger is the 415th Soundtrack of the Week.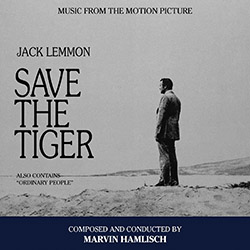 For most of the Ordinary People score Hamlisch used various arrangements of Pachelbel's "Canon in D" to create appropriate atmospheres. He also wrote his own "classical" style cues that mesh well with Pachelbel and various source music pieces for music coming out of radios: light rock, country, classical, jazz, etc.
For Save the Tiger Hamlisch came up with several exquisitely melodic pieces ("Where Are All My Dreams Now?", "Harry's Theme", etc.) that weave around classic tunes like "I Can't Get Started" and "Stompin' at the Savoy".
Hamlisch co-wrote several of my favorite songs: "Sunshine, Lollipops and Rainbows" and "California Nights" for Lesley Gore, for instance, and of course "Nobody Does It Better" for The Spy Who Loved Me.
Thanks to La-La Land Records for making more of this composer's work available on CD!
---