2015 December 07 • Monday
The 399th Soundtrack of the Week is one of the all-time great jazz soundtracks, Jimmy Smith's music for the movie La Métamorphose des Cloportes.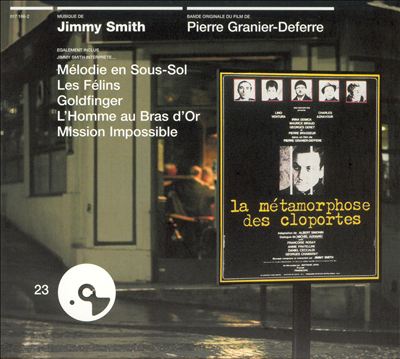 This is classic Jimmy Smith organ trio music, with Smith on Hammond, Quentin Warren on guitar and Billy Hart on drums. According to the director, the music was recored in one night and a lot of it improvised. Quite a bit of it is without the guitar, just organ and drums, giving it a Hansson and Karlsson feel.

The main theme is a perky and quirky kind of number that pops up in various places. When it surfaces in "Requiem pour un Cloporte", Hart builds intensity on the drums in a way that might remind you of Joey Baron's trio with Marc Ribot and John Medeski, if you were lucky enough to hear that band.

The first track is a blues, "Blues pour Alphonse", and this is Jimmy Smith we're talking about, so he hits it out of the park, as you can imagine it.

There are a couple of ballads, too, "Melodie pour Catherine" and "Love Theme", very tender and soothing. The CD uses some other Jimmy Smith recordings of soundtrack themes, covers from other albums, as filler. These are fun but not as interesting as what Smith did for this film back in 1965.
---