2015 November 16 • Monday
Hard Plains Drifter, directed by and starring Clint Eastwood, is an unusual movie, a ghost story, a revenge drama and a Western. Dee Barton's excellent score for it is the 396th Soundtrack of the Week.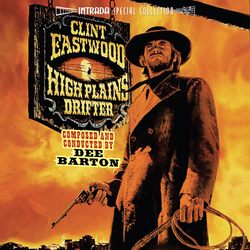 It starts with some creepy atmospheric noises that soon give way to the main theme, a mournful and beautiful undead waltz.
The rest of the music keeps this feeling of dread and horror, with Barton doing wonderful things with textures and ostinati.
The blending of electronics and electronic instruments with acoustic instruments is brilliant..
---