2015 October 19 • Monday
La-La Land Records is the box set champion. First there was the Friday the 13th series box set (6 CDs), then the Star Trek: The Original Series box set (15 CDs and the 248th Soundtrack of the Week), then the Mission: Impossible box set (6 CDs and the 385th Soundtrack of the Week). Now there's the Lost In Space box set from La-La Land, 12 CDs and the 393rd Soundtrack of the Week.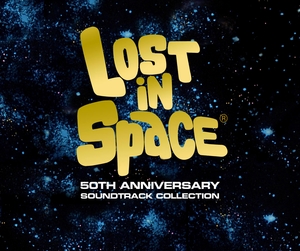 The sonic landscape of the show was created by a young John Williams, who came up with an arrestingly off-kilter main title theme, one that I remember always being excited by when I used to watch the show as a kid.
Other composers got on board, though, an impressive array of talent from the period: Alexander Courage, Cyril Mockridge, Fred Steiner, Gerald Fried, Hans J. Salter, Herman Stein, Jeff Alexander, Leith Stevens, Warren Barker, Robert Drasnin, Richard LaSalle and Joseph Mullendore.
The music itelf sounds less specific than, say the music for Star Trek abd Mission: Impossible. Maybe that's because I have a much greater familiarity with those shows but whatever the reason, this box set is more like a music library than anything else.
Of course I haven't listened to it all yet. But I'm working on it. Right now!
---