2015 May 18 • Monday
Toshiro Mayuzumi's score for the car-racing movie Safari 5000 is the 371st Soundtrack of the Week.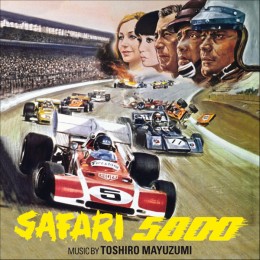 The main theme, which apparently tracks with Yujiro Ishihara's character, is heard in various arrangements, as straight-up dramatic score, as a vocal number, a piano number, a Latin number and so on.
The rest of the album does not disappoint, particularly the "Shake" that Mayuzumi wrote. Thanks to Quartet Records for releasing this gem!
You can hear some of it here.
---