The 370th Soundtrack of the Week is another LP from the WFMU Record Fair last week, Quincy Jones's music for The Lost Man.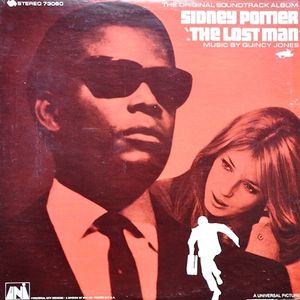 Side One starts with the main title, which has a killer percussion groove, gradually joined by other instruments and the unusual addition of a children's choir. It fades out too soon.
Somehow things get even groovier and deeper with the next track, "Sweet Soul Sister", performed by Nate Turner& The Mirettes. It's incredible how so few instruments can create such a powerful sound.
"Slum Creeper" is the first instrumental, and another tune with an insane slow funk groove. No wonder Quincy Jones has been so successful!
Nate Turner & The Mirettes return, accompanied by Venetta Fields, for the next track, "Rap, Run It on Down", a pop/soul number with a sunnier, more upbeat feel. There are similarities between this song and the theme song to The Jeffersons.
"He Says He Loves Me" is, as its title suggests, a love song, the first slow dance on the record, with great vocals by Ernestine Anderson & The Pree Sisters.
The first album side closes with the second instrumental, "Main Squeeze", which has another killer groove and some writing for horns that points ahead to David Shire's score for The Taking of Pelham One Two Three.
Venetta Fields & The Mirettes return to kick off Side Two with "Try, Try, Try", a cheerful pop number with a bit of a Motown/Supremes thing going on.
Then there are two instrumental numbers, "Need To Be Needed" and "Up Against the Wall". The former is a gentle, atmospheric piece with flute, the first track that really sounds like film score music. Halfway through sax and vibes come in, changing the mood to late-night jazz.
The latter piece gets right back to funky business with the irresistible bass and percussion already prominently featured, as well as more of the bluesy electric guitar that's made several appearances.
After this comed a song that Quincy Jones did not write, "He'll Wash You Whiter than Snow" by Cora Martin, performed by The Church Choir. It's a straight-up gospel number.
The record closes up with the end title, a slow, bluesy number with wordless vocals by Geraldine Jones. Ray Brown is credited with bass on this track and Arthur Adams with guitar. It would be great to know who else plays on this.
---