2015 April 20 • Monday
The 367th Soundtrack of the Week is André Previn's The Subterraneans.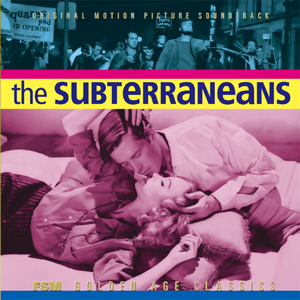 There have been a few releases of this music. I remember listening to one back in the See Hear days. But this Film Score Monthly CD is the only one you'll need: over 79 minutes of music, starting with the original soundtrack album presentation and followed by everything else.

Who cares? Well, take a look at the personnel: André Previn, Carmen McRae, Red Mitchell, Dave Bailey, Russ Freeman, Bob Enevoldsen, Gerry Mulligan, Shelly Manne, Art Farmer, Buddy Clark, Art Pepper, Bill Perkins and Jack Sheldon.

Obviously we're talking about West Coast jazz here, in different configurations such as Previn's own trio, Mulligan's group and so on. Carmen McRae sings a song called "Coffee Time".

While the jazz numbers are the draw, Previn also wrote orchestral underscore, artfully blending it with jazz themes in places. This might be Previn's best film score.
---