2015 April 13 • Monday
Having just slogged through our federal and state income tax returns, I was in need of relaxing. Fortunately I have this double CD Yasujiro Ozu Music Anthology. Let's make it the 366th Soundtrack of the Week.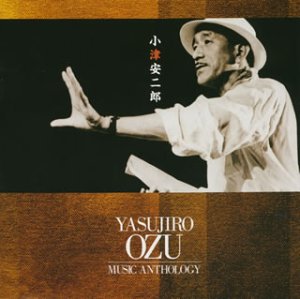 Ozu was famous for caring even less about music than Hitchcock did, telling the composers just to make it the same as it was for the previous movie.

It's true that Ozu mostly stuck to one theme, one story, one movie, one style. But this consistency shouldn't be written off as a shortcoming or a limitation. Ozu belongs to a small group of artists which would also include Giorgio Morandi and Thelonious Monk.

The music is gentle and lilting for the most part. There are similarities throughout the different scores, even with among different composers. Listening to it on its own like this, though, the movies themselves assert their presence, demonstrating that the music is in fact a very important part of Ozu's film world.

Most of the earlier films represented here are scored by Senji Ito. Later on Takanobu Saito becomes the musical voice of Ozu's work. A few films were scored by others.

You'd often see great musicians playing on the show, Gerry Mulligan, Shelly Manne and so on. Many of them are on this soundtrack album also.

"Staccato's Theme" uses the same rhythmic foundation as Bernstein's The Man with the Golden Arm. Everybody else copied it, so why shouldn't Elmer borrow from himself?

"Thinking of Baby" is a sultry and swinging blues number, followed by the West Coast jazz of "Poi and Juice". (For a long time I had this tune stuck in my head and thought it was from Henry Mancini's Peter Gunn soundtrack. The two shows had a lot in common.)

One of my favorite tunes is the slow, sad "Night Mood". This is followed by the agressively tense and menacing "Deadly Game", the tune on the record that, with the similar "Greenwich Village Rumble", sounds most like the score from something.

More West Coast-type jazz is found in "The Jazz at Waldo's". This is a decent composition, well played by great musicians, but it's the most generic and least interesting cut on the record.

"Like Having Fun" sounds like it's title, a gently bubbling jazz confection. The easy-going mood continues with the next track, "One Before Closing", which is similar to "Poi and Juice".

The melancholy feel of "Night Mood" suffuses "Walk a Lonely Street" before the record closes on a sprightly, cheerful, up-tempo note with "MacDougal Street Special", another West Coast jazz special.

Great music for a great show. Happy birthday, Elmer Bernstein!
---