2015 February 23 • Monday
The 359th Soundtrack of the Week is a very unusual one: the music for David Cronenberg's Naked Lunch, co-composed by Howard Shore and Ornette Coleman.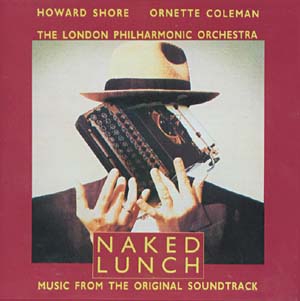 As both an experiment and a listening experience, it's a solid success. Coleman's unmistakable alto playing flows through Shore's lush but subtle orchestral writing. Among the surprises are the overlay of Coleman's "Simpatico" with Thelonious Monk's "Misterioso". There are also quotes from earlier Coleman works, such as his recordings with the Master Musicians of Jajouka.

The movie could have been better but the score is perfect.
---