Rob Price
Gutbrain Records
rob + gutbrain.com = email
---
One more Soundtrack of the Week for 2015, #402, Alfred Newman's music for All About Eve and Leave Her to Heaven.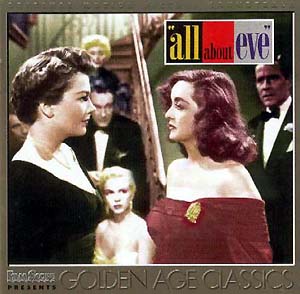 These are both great movies, perfect syntheses of talented professionals working at the height of their abilities.
Of course the music plays a huge part. Newman's score for All About Eve makes use of one of his most lyrical and stirring themes. The variations and orchestrations of it, in combination with the different themes that are spun off of it, are dizzyingly impressive.
While All About Eve is a dazzling drama/comedy set in the world of Broadway theatre, Leave Her to Heaven is an audacious melodrama in which Gene Tierney plays one of the great screen psychos.
The music is accordingly different, with Newman using brass and timpani to prod the viewer with dread and strings to summon up moods of sadness and anxiety.
Of course the whole thing is quite beautiful.
---
2015 December 21 • Monday
Think Italian prog band scoring an Italian horror movie and you're going to think Goblin. But you could also think Libra, the group behind the 401st Soundtrack of the Week, the score for Mario Bava's Shock.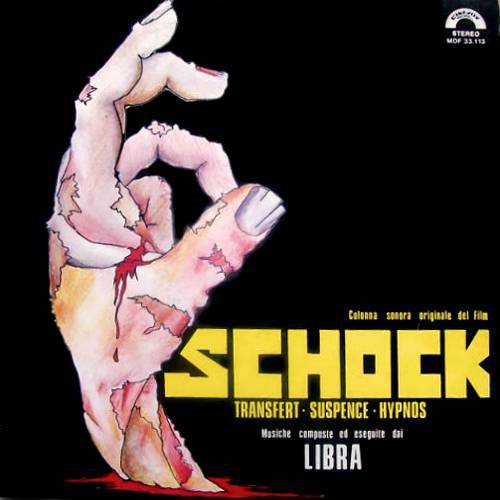 The music isn't very much like Goblin, despite similar instrumentation and context.

There are lush synth atmospheres and propulsive electric bass. Keyboard has more of a voice than guitar, though "L'Atalena Rossa" is an exceptionally pretty acoustic guitar cue.

There are also several numbers of pure mood, like the creepy "L'Incubo.".

Fans of Goblin who also like their more amorphous music from Suspiria are likely to enjoy this.
---
2015 December 14 • Monday
For Soundtrack of the Week #400 we turn to the great Roy Orbison and his music for the film The Fastest Guitar Alive, in which he also starred.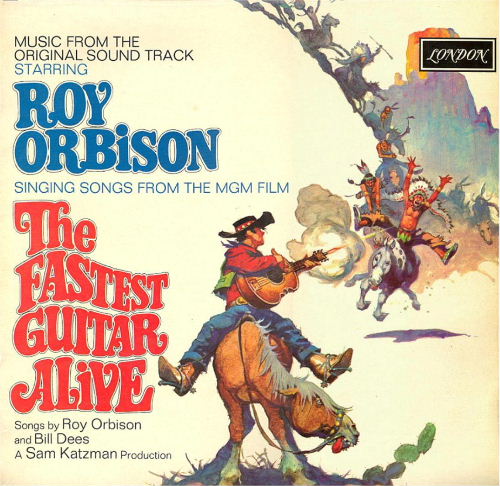 Roy Orbison is really something. Perhaps my favorite male vocalist.

Several of the songs on this record are just really good. Some of them are insanely great.

The first track, for instance, "Whirlwind", is a powerful "classic" Orbison number, similar to his "Ride Away".

Another great one is "Heading South", which starts out misleadingly jaunty before plunging into Roy's haunted landscape. Those are my two favorites but every song has that soaring, stirring, sensitive voice at its heart. The movie is supposed to be pretty bad but the music is excellent.
---
2015 December 07 • Monday
The 399th Soundtrack of the Week is one of the all-time great jazz soundtracks, Jimmy Smith's music for the movie La Métamorphose des Cloportes.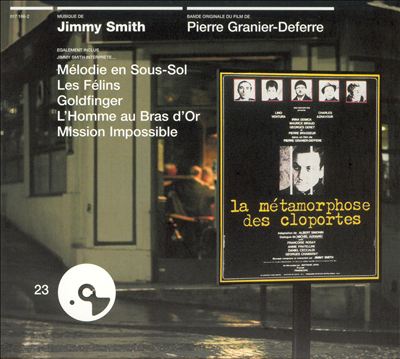 This is classic Jimmy Smith organ trio music, with Smith on Hammond, Quentin Warren on guitar and Billy Hart on drums. According to the director, the music was recored in one night and a lot of it improvised. Quite a bit of it is without the guitar, just organ and drums, giving it a Hansson and Karlsson feel.

The main theme is a perky and quirky kind of number that pops up in various places. When it surfaces in "Requiem pour un Cloporte", Hart builds intensity on the drums in a way that might remind you of Joey Baron's trio with Marc Ribot and John Medeski, if you were lucky enough to hear that band.

The first track is a blues, "Blues pour Alphonse", and this is Jimmy Smith we're talking about, so he hits it out of the park, as you can imagine it.

There are a couple of ballads, too, "Melodie pour Catherine" and "Love Theme", very tender and soothing. The CD uses some other Jimmy Smith recordings of soundtrack themes, covers from other albums, as filler. These are fun but not as interesting as what Smith did for this film back in 1965.
---