Rob Price
Gutbrain Records
rob + gutbrain.com = email
---
2015 May 29 • Friday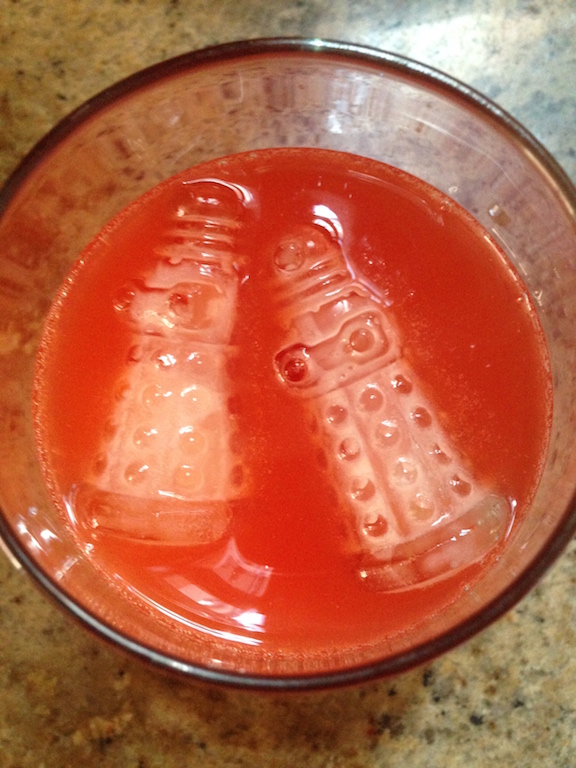 Dalek got your tongue?
---
2015 May 27 • Wednesday
So far John McPhee's Levels of the Game is the best tennis book I've ever read. Timothy Gallwey's The Inner Game of Tennis is still in second place and likely to be rewarding even for readers with no interest in tennis at all. Stephen Tignor's High Strung: Bjorn Borg, John McEnroe, and the Untold Story of Tennis's Fiercest Rivalry is entertaining and well written, mixing deft portraits of the personalities with clear-headed reporting of the action on and off court.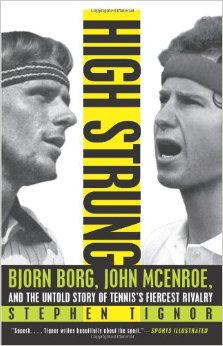 While it's presented as the story of these two players—and that story is the core of the book— High Strung is more about a crucial period in tennis history, from the beginning of the Open era to the end of wooden racquets.
The first line is "In the minds of most tennis fans, when Bjorn Borg took his first rolling, measured strides onto Centre Court for the 1980 Wimbledon final, he might have been stepping down from the clouds".
---
2015 May 25 • Monday
The 372nd Soundtrack of the Week is Ceddo by Manu Dibango.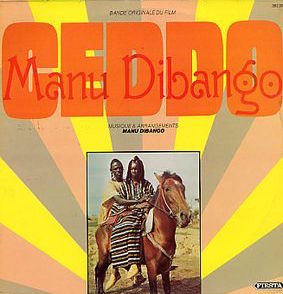 This is a short, groovy record, all instrumental, heavily featuring percussion.
Each track moves seamlessly from one hypnotic rhythm to another. There's an Afro-pop influence but the music is sometimes not quite as sunny and a bit more sedate.
---
2015 May 22 • Friday
It's no secret among my friends, family and acquaintances that I like submarine movies. I even put out a record called Submarine Pictures.
It is perhaps less widely known that I also really like heist movies. Also on my list of pleasures are Frank Sinatra, Duke Ellington, Rod Serling and (to a lesser degree) Jack Finney.
Wouldn't it be wonderful if all of these excellent subjects could be rolled into one movie?
It's been done and it's not wonderful. Assault on a Queen is a movie from 1966, based on a Jack Finney book with a screenplay by Rod Serling, scored by Duke Ellington, starring Frank Sinatra as a guy who uses a submarine to heist a cruise ship in the middle of the ocean.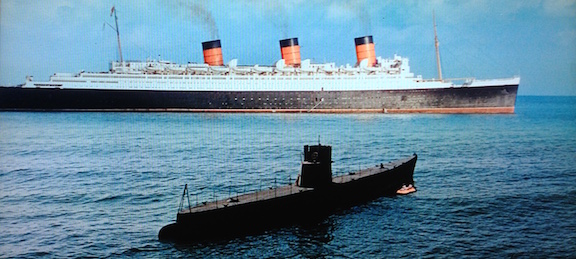 It's a fairly ho-hum affair and probably seemed old-fashioned in 1966. The Ellington score is actually quite bizarre in that it sounds like Duke Ellington. There's almost no effort made to match music to the action or mood on screen. It's like somebody just dropped a needle on an Ellington record whenever they wanted some movie.
It was worth seeing for me but it probably isn't for too many others.
---
2015 May 18 • Monday
Toshiro Mayuzumi's score for the car-racing movie Safari 5000 is the 371st Soundtrack of the Week.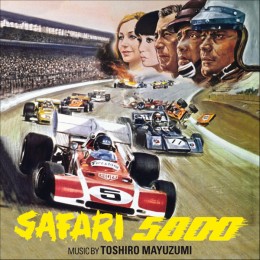 The main theme, which apparently tracks with Yujiro Ishihara's character, is heard in various arrangements, as straight-up dramatic score, as a vocal number, a piano number, a Latin number and so on.
The rest of the album does not disappoint, particularly the "Shake" that Mayuzumi wrote. Thanks to Quartet Records for releasing this gem!
You can hear some of it here.
---
2015 May 15 • Friday
There have been a few bands called The Megatones but this must be the first.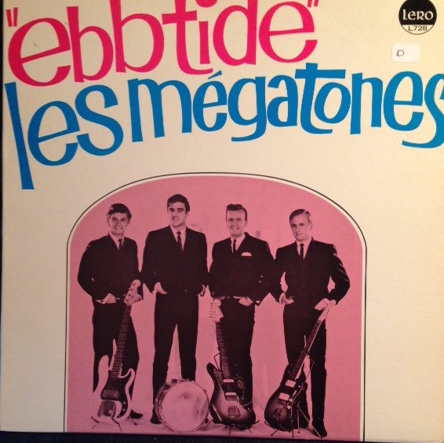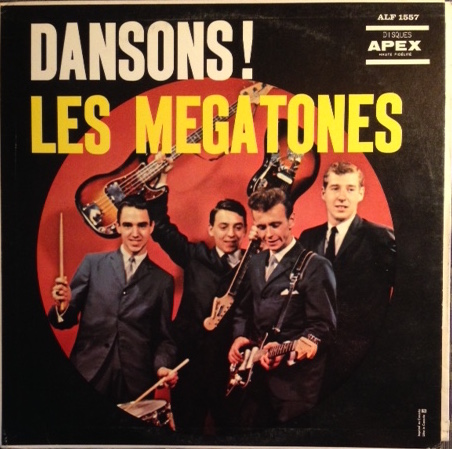 There's some overlap among these three LPs. Dansons! has the most vocal numbers and it's the one I'd give up if I could only have two of these.
But they have a great sound and play some great numbers! In general I'm pretty happy with these records. Their "Ebb Tide" is particularly good.
---
2015 May 13 • Wednesday
Here's more from the WFMU Record Fair. There's this guy that always comes from Canada with a bunch of Canadian vinyl, much of it French language. There are always some good early-1960s guitar records in his collection. Like Les Chats Sauvages.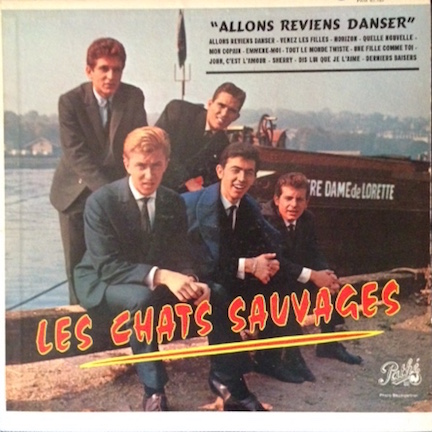 It's mostly vocal numbers, lots of twisting, great guitar tone.
This isn't a record that changed my life or anything but it's pretty good!
---
2015 May 11 • Monday
The 370th Soundtrack of the Week is another LP from the WFMU Record Fair last week, Quincy Jones's music for The Lost Man.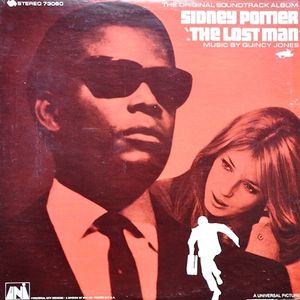 Side One starts with the main title, which has a killer percussion groove, gradually joined by other instruments and the unusual addition of a children's choir. It fades out too soon.
Somehow things get even groovier and deeper with the next track, "Sweet Soul Sister", performed by Nate Turner& The Mirettes. It's incredible how so few instruments can create such a powerful sound.
"Slum Creeper" is the first instrumental, and another tune with an insane slow funk groove. No wonder Quincy Jones has been so successful!
Nate Turner & The Mirettes return, accompanied by Venetta Fields, for the next track, "Rap, Run It on Down", a pop/soul number with a sunnier, more upbeat feel. There are similarities between this song and the theme song to The Jeffersons.
"He Says He Loves Me" is, as its title suggests, a love song, the first slow dance on the record, with great vocals by Ernestine Anderson & The Pree Sisters.
The first album side closes with the second instrumental, "Main Squeeze", which has another killer groove and some writing for horns that points ahead to David Shire's score for The Taking of Pelham One Two Three.
Venetta Fields & The Mirettes return to kick off Side Two with "Try, Try, Try", a cheerful pop number with a bit of a Motown/Supremes thing going on.
Then there are two instrumental numbers, "Need To Be Needed" and "Up Against the Wall". The former is a gentle, atmospheric piece with flute, the first track that really sounds like film score music. Halfway through sax and vibes come in, changing the mood to late-night jazz.
The latter piece gets right back to funky business with the irresistible bass and percussion already prominently featured, as well as more of the bluesy electric guitar that's made several appearances.
After this comed a song that Quincy Jones did not write, "He'll Wash You Whiter than Snow" by Cora Martin, performed by The Church Choir. It's a straight-up gospel number.
The record closes up with the end title, a slow, bluesy number with wordless vocals by Geraldine Jones. Ray Brown is credited with bass on this track and Arthur Adams with guitar. It would be great to know who else plays on this.
---
2015 May 04 • Monday
The WFMU Record Fair was in Brooklyn this year, something I did not discover before leaving Brooklyn to go to the fair's previous location in Manhattan. So there was a little extra subway riding that day but I had my book with me and I got there in time to see Pramrod Sexena. And of course there were records, and some of them were soundtracks. Perhaps some people have been reading this and wondering when I was ever going to mention original music for an industrial film. This one's for you: Marion Evans's score for Race for the Wire, a movie which has something to do with the manufacturing of aluminum, and the 369th Soundtrack of the Week.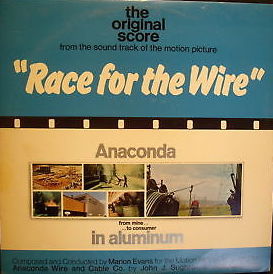 There's one of these on eBay right now, for about seventy dollars. It is not, in my opinion, worth that much money. (But I wouldn't pay that much for any record I can think of).

It's mostly easy listening and loungey music, not especially ear-grabbing or interesting. Some tracks, which have kind of a Bacharach Casino Royale feel, sound extremely familiar and I wonder if they managed to find their way into other soundtracks. Maybe this music ended up in a stock library after this.

(According to the liner notes this is an original score, not library music.)
---
2015 May 01 • Friday
Here's an appropriate book for May Day, Darryl Cunningham's The Age of Selfishness: Ayn Rand, Morality, and the Financial Crisis.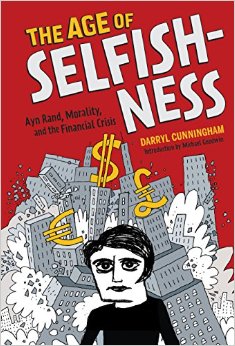 The first part of the book is a biography of Ayn Rand, where she came from, who she was, what she believed, how she acted. Cunningham doesn't go deeply into her story but provides what appears to be a good sketch of the person and how influential she was and still is.

The next part goes into the recent financial crisis and how it came about. This is the strongest section of the book and does a terrific job, as far as I can tell, of explaining in simple terms what happened, why it happened and who was responsible.

Of course the telling of the repercussions is the most infuriating and depressing part. Cunningham doesn't use this analogy, but I always thought of it as if an army of assholes got really wasted, hopped into their Ferraris and caused a massive car pile-up that destroyed millions of cars and hundreds of thousands of highways. And then the government used taxpayers' money to buy them new, better Ferraris and introduced austerity programs to pay for rebuilding the roads.

It's actually that bad.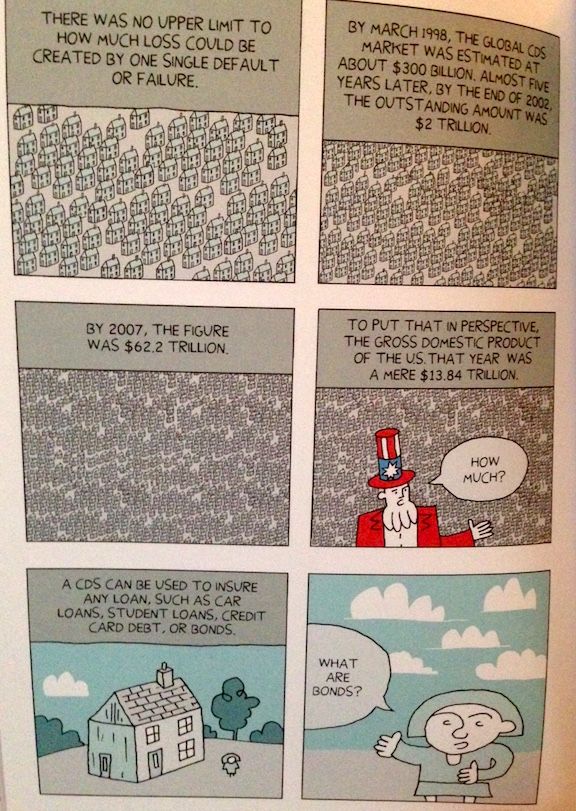 The third section, in which Cunningham not very helpfully sounds off on the differences between "conservatives" and "liberals", is a bit of a muddle and could have been left out, with whatever salient points about health insurance and such worked into the financial crisis section or left to stand as a brief postscript.

You might think that it would help to tell people that they're voting against their own interests, but this generally comes off as condescending. And does it work on you, when the other teams do it?

The Age of Selfishness might have been improved by expanding the sections on Rand and the financial crisis and allowing readers to see for themselves how only the interests of a tiny segment of the population—much smaller than one percent, I believe—are served by deregulated financial markets and the corruption of democracy by wealth.
---