Rob Price
Gutbrain Records
rob + gutbrain.com = email
---
2015 March 30 • Monday
The 364th Soundtrack of the Week is Perrak, a compilation of music by Rolf Kuhn.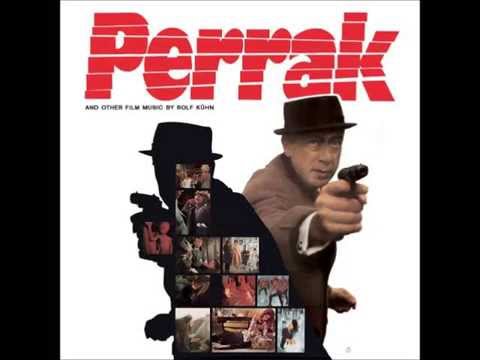 It's loungey stuff, with the occasional touch of jazz or exotica. You can hear the influence of Henry Mancini in places, especially in the writing for strings.
---
2015 March 27 • Friday
Grace McCleen's The Land of Decoration did not immediately grab me. First of all, I'm beyond tired of books that begin with quotations from other books. This has passed beyond pretension into triteness at this point. This book begins with a quote from the bible, one that explains the title. The title is itself explained in the book itself, so this addition is superfluous. Not a big deal, but it's the kind of thing that will delay the drawing in of the reader if I am the reader.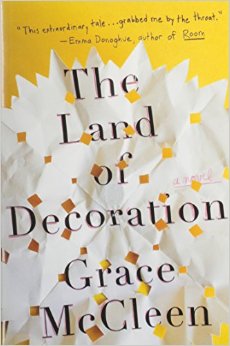 The first part of the book is called "God's Instrument", the first chapter "The Empty Room". The first line is "In the beginning there was an empty room, a little bit of space, a little bit of light, a little bit of time". The echoes of Genesis continue for a bit and gradually the scene is set: a squalid industrial town, a narrator who is the ten-year-old daughter of a single father who is a devout member of a Christian sect who dedicate their lives to preparing for imminent Armageddon. If I hadn't been waiting a while for the subway on a Sunday night, I might not have stuck with this book. But I'm glad that I did. The Land of Decoration shares DNA with Carrie, Welcome to the Dollhouse and Joan of Arcadia but tells its own story. It's hard to know how to take the voice of our narrator, Judith. It's a story told by a waif, who doesn't know as much as we know and expresses things very simply, directly, mildly, naively. It's another device I'm a bit sick of but McCleen keeps the momentum going and the pace more or less perfect.

Judith begins talking to God and performing miracles. Having made her own miniature world in her room, with the people and buildings crafted from rubbish, she finds that whatever she does in her fake world comes to pass in the real world. At first this seems like a great thing but it turns out to have unexpected and unpleasant consequences.

Slow subway service prompted me to start this book. Days later I was on the subway again and so caught up in it that I actually missed my stop!
---
2015 March 25 • Wednesday
Richard Hughes's A High Wind in Jamaica starts slowly. The first line is "One of the fruits of Emancipation in the West Indian islands is the number of ruins, either attached to the houses that remain or within a stone's throw of them: ruined slaves' quarters, ruined sugar-grinding houses, ruined boiling houses; often ruined mansions that were too expensive to maintain".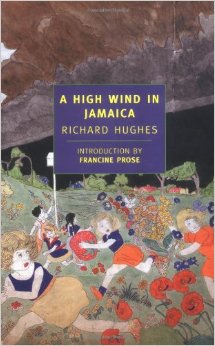 The story concerns the adventures of a group of English children who end up living on a pirate ship. This isn't Treasure Island, though. Piracy is a means of just scraping by and the pirates themselves are a shabby lot who don't even have guns on their ship but use chicanery to board and loot vessels. The children are free to do whatever they want on ship and most of the time is spent inside their heads. This is facilitated by Hughes's assured and ironical writing style. (He has a strange way of using colons. He uses them as commas, semi-colons and even sometimes as colons.)

Once the pirates show up, the book becomes very absorbing, though this is no blood and thunder tale. The children and the pirates both live outside of society's norms and laws, the pirates by choice and the children by nature. As the arc of their voyage gradually descends, the children grow up. The pirates have a different fate.
---
2015 March 23 • Monday
If I ever do a list of favorite movies I watched in 2015, Peggy Sue Got Married will be on it. The score by John Barry is the 363rd Soundtrack of the Week.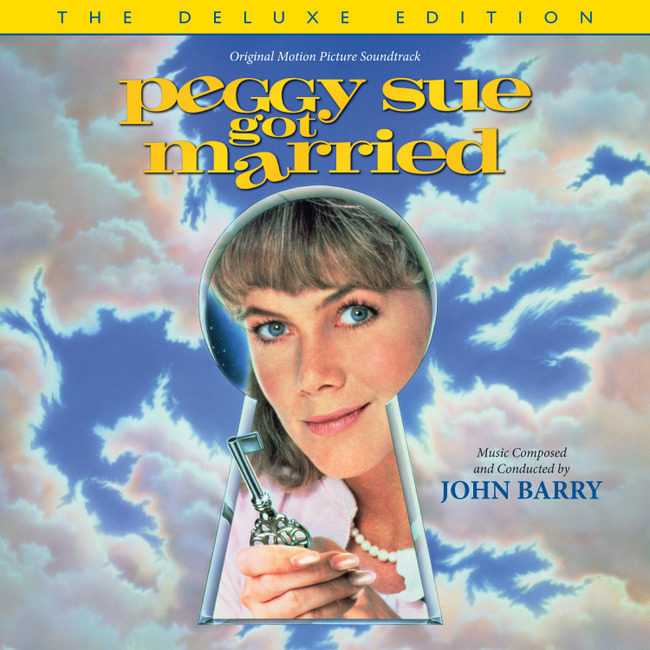 The CD starts as the movie does, with the immortal Buddy Holly singing the title song.

Then there are thirteen of Barry's loveliest and most atmospheric cues. "Peggy Sue's Homecoming" contains a wistful piece in 3/4 time that functions as the main theme for the movie.

It's interesting to note that guitarist Gene Bertoncini is one of the musicians here. You can hear him at the beginning of "Sleep, Baby" and at the end of "The Silent Treatment", for example.

Then there are various songs heard in the movie, including Nicolas Cage singing "He Don't Love You".
---
2015 March 16 • Monday
Some people have noticed that I have not yet posted a list of favorite movies that I watched in the year 2014. I'm not sure I'll ever get around to it. But one of them was So This Is New York. Another one was The Dogs of War, which featured my favorite Christopher Walken performance (so far) and a score by Geoffrey Burgon that will be our 362nd Soundtrack of the Week.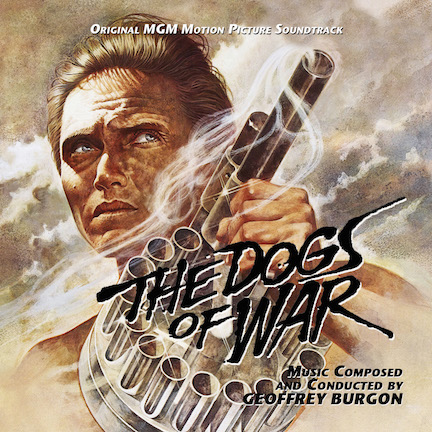 Burgon is so good at writing for strings, winds and percussion that it's hard to say he does one better than the other.

The listening experience on this CD, a new release from La-La Land Records, is one that alternates between the dramatic, the exciting and the hypnotic. The music gets its hooks into you and pulls you inexorably from one cue to the next.

While watching the movie I was so caught up in the story that I didn't pay much attention to the score. Listening to the soundtrack on its own has been a rewarding experience!
---
2015 March 11 • Wednesday
The Publisher's Weekly blurb is quite right. The Getaway Car is "a must-have for [Donald E.] Westlake fans".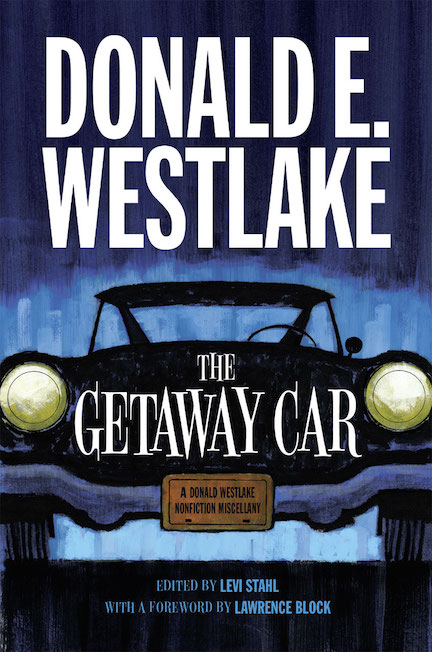 This collection of non-fiction pieces included several I'd read before and it was a pleasure to see them again. Even more of a pleasure were those that were new to me, particularly Westlake's appreciation of Charles Willeford, his analysis of Peter Rabe's work and a talk on hardboiled detective fiction he gave at the Smithsonian Institution in 1982. His introduction to the collection of Levine stories is reprinted here and includes Westlake's reminiscence of listening to an audio recording of an episode of The 87th Precinct that had been based on one of those stories. He had never been able to see the episode.

The editor of the book notes that in 2005 Westlake wrote to Evan Hunter and told him that a fan had given him a videotape of that episode and he had finally been able to watch it. Here's a little known fact: I was that fan. I didn't send it to him, as Levi Stahl assumes, but presented it to him in person at a book signing. In return Westlake inscribed my copy of The Ax, "God bless you for 87".

It saddens me to report that I no longer have that book with its unique inscription. If you see it, please let me know.
---
2015 March 09 • Monday
The 361st Soundtrack of the Week is another compilation of soundtrack theme "covers", this time by Hank Marvin, famous as the guitarist from The Shadows (and one of my heroes).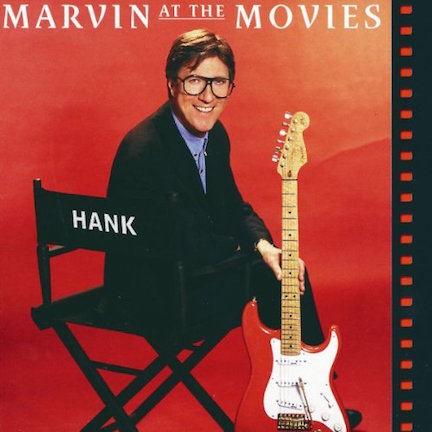 Marvin at the Movies starts with a fairly straightforward instrumental version of "A Hard Day's Night"" and proceeds with "The Sound of Silence" from The Graduate, which Hank gives a surprisingly groovy twist. The main theme from The Good, The Bad & The Ugly is perhaps a good example of the record as a whole. Marvin's guitar has a brilliant clarity and a wonderful sound. His playing is impeccable and tasty. But the arrangements and instrumentation are not his equals. They deserve credit, I suppose, for trying to recreate an orchestral score with a tiny ensemble but they'd be better collaborating with Petra Haden!

Then there are the crowdpleasers: the themes from Goldfinger, Star Wars, a medley of James Bond themes and "My Heart Will Go On" from Titanic.

Soundtrack afficionados who are also Hank Marvin fans will be mostly pleased with this record.
---
2015 March 06 • Friday
The J. G. Ballard project—in which I read Ballard's short stories and novels in chronological order—continues with Hello America.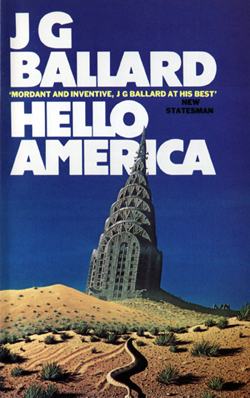 First of all, thanks to my friend James for giving this to me. He found it on the street—Park Slope!—and knew of my interest. In this one, climate change in the future has made the United States uninhabitable. Many years after the last exodus, a European expedition journeys across the Atlantic to explore the old new world.

New York City is a desert. As the group makes its way down to Washington, DC, they encounter tribes of "Indians": Bureaucrats, Politicians, Gangsters, Divorcees and so on.

They make their way west to find that Las Vegas is now in the middle of an Amazon-like rain forest. The city itself is still quite alive, all the bright lights and signs active. An army of Mexican teenagers is presided over by a mysterious figure who lives like Howard Hughes in obsessive isolation.

He is Charles Manson, President of the United States.

Ballard seemed to be having quite a lot of fun with this one and some of his most playful and inventive imagery and metaphors can be found in the pages of Hello America.

The pacing is not as strong as I would have liked, though. It's curious that such dazzling writing is so hard to get through. This isn't the first time I've had that reaction to Ballard. I guess he is a genuine experimental writer, a challenging one, an artist and a projector of uneasy dreams.

The first line is "'There's gold, Wayne, gold dust everywhere!'".
---
2015 March 04 • Wednesday
Here's yet another great mid-century British apocalypse novel, The Death of Grass by John Christopher.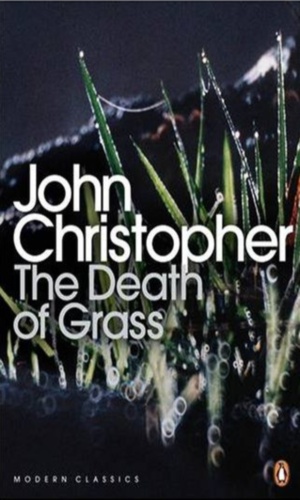 In this one a virus destroys all kinds of grass plants. These include rice, wheat, barley, etc. The resut is famine, rioting, cannibalism and an almost immediate abandonment of all the niceties of civilization and social order. The main plot concerns a small group determined to get to a safe haven in the north of England, a valley where the main character's brother is growing potatoes and beets and raising pigs. The valley is such that a small group could successfully defend it from an army.

It takes almost no time at all for these decent, ordinary people to become murderers and thieves. It takes less time for many others, of whom some are attracted to more vicious crimes.

The Death of Grass is quite gripping, and gruesome and brutal as well, all the more effectively because it's understated and restrained. Once again it's demonstrated that nightmarish situations can be more disturbing if a substantial amount of their content is left to your imagination.

This edition has an introduction by Robert Macfarlane that's worth reading. (Not all such introductions are.)

The first line is "As sometimes happens, death healed a family breach".
---
2015 March 02 • Monday
Let's get one thing out of the way about the 360th Soundtrack of the Week. It is a very strange record. It's technically not a soundtrack but a compilation of new recordings of different pieces of soundtrack music. We have encountered such records before, but not one like this.
We refer to Petra Haden's Petra Goes to the Movies.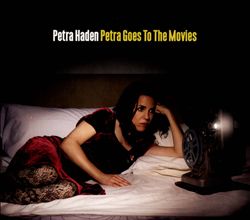 It's not for everybody. I've heard some unkind things said about it. Haden exploits the potentials of multi-track recording to sing the parts of all the instruments needed to interpret the music. This creates a very unusual sound, to put it mildly. It doesn't take long to get used to it. The record starts with a sudden immersion into Haden's concept, with Leonard Rosenman's blaringly modern and dense theme to Rebel Without a Cause. This is a bold move. She doesn't try to ease you into what she's doing here.

But her choices of material and the sequencing is probably flawless, if you ask me. Bernard Herrmann cues from Taxi Driver and Psyscho both receive respectful and faithful interpretations that nevertheless transform the original music into something new.

John Barry's famous theme song from Goldfinger is the first song on the record to be sung with words. Haden's vocal rendition of the original's wailing brass instruments is strangely soothing.

Morricone gets two in a row, Cinema Paradiso and A Fistful of Dollars, both superbly done. (Haden's handling of the percussion parts on the latter piece, particularly the snare drum, is brilliant.)

She could easily have done this all herself but the overall effect is definitely enhanced by a very precise and delicate sprinkling of other musicians.

The first of these is guitarist Bill Frisell, who lends his incomparably tasteful support to the song "It Might Be You" from Tootsie.

Frisell returns with bassist Charlie Haden (Petra Haden's father) for "This Is Not America" from the movie The Falcon and the Snowman.

And finally pianist Brad Mehldau joins Haden for the song "Calling You" from Baghdad Cafe.

The strength of these three pieces is that they could be played live. Haden does some background vocals here and there but keeps the arrangements very spare and spacious. While these tracks don't share the virtuosity on display elsewhere, they demonstrate persuasively that Haden is a great singer.
---