2014 October 24 • Friday

Well, this must be a first. I like Bill Frisell's new record so much I even prefer it to the performance of this material I saw last June. Part of the reason is probably the boomy acoustics up at Lincoln Center. Nice-looking room but the sound quality on this CD is much clearer and better balanced.

And then there's the music itself. For about twenty-five years I've been devoted to both Bill Frisell and mid-twentieth century electric guitar music, especially of the surf and instrumental variety.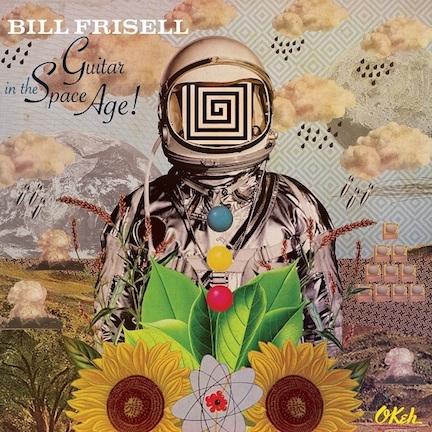 And so here comes Bill Frisell with an album of just that material! Link Wray, The Ventures, The Beach Boys, The Kinks—even Joe Meek's "Telstar"! It's nice to hear him play "Baja" again, which Naked City used to cover. The two Frisell originals are also lovely. I've been a fan of "Lift Off"since I heard Frisell play it at the Vanguard last spring with his "Beautiful Dreamers" trio. I've listened to this over a dozen times already and even though a friend gave me a copy of this record I went and bought my own because I liked it so much. I would definitely like to see this band again, though ideally somewhere like the Village Vanguard.

And a great band it is: Greg Leisz on pedal steel and second electric guitar, Tony Scherr on bass, Kenny Wollesen on drums. Kenny is especially tasty on this. Check it out!
---