2014 October 01 • Wednesday
It hardly seems possible but this is the first David Goodis book I've ever read. I've had some on the shelf for years but never got around to any. This one was excellent, though, one of the most nightmarish and fatalistic novels I've ever read.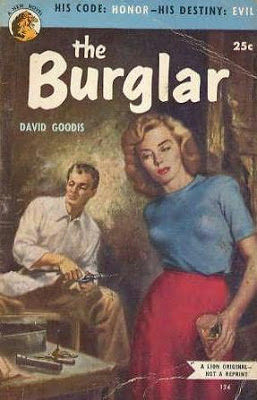 It starts out with a team of burglars stealing a hundred thousand dollars' worth of emeralds. Then the leader meets a woman, falls in love and decides to quit the business. This would be fine if the woman weren't part of a set-up.
From then on it's a series of really horrible things happening to everybody, doom and despair worthy of Woolrich. The quality of the writing is very high, with beautiful yet succint descriptive passages, admirable understatement and flashes of wit. I'm looking forward to reading some more of Goodis.
The first line is "At three in the morning it was dead around here and the windows of the mansion were black, the mansion dark purple and solemn against the moonlit velvet green of gently sloping lawn".
---