2014 September 22 • Monday
New from Intrada is this CD of Elmer Bernstein's Themes from General Electric Theater, also known as the 337th Soundtrack of the Week.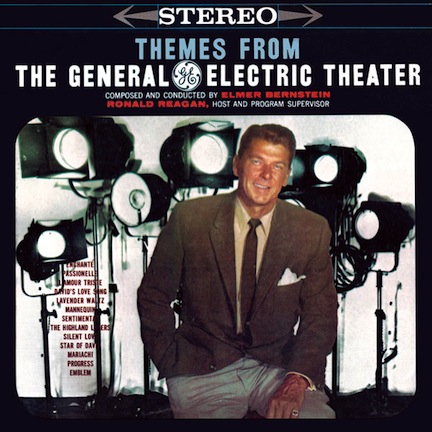 After an impressively grand "Emblem", things move into a light and romantic air with the Parisian-spiced "Enchante".
"Passionelle" is more serious, with strings and piano creating very emotional atmospheres. After this comes "Star of David", which uses Jewish melodies to create stirring themes in much the same way Ernest Gold did for Exodus. "David's Love Song" continues in this vein but more edelcately, with lovely harp playing.
"Lavender Waltz" is a paino-led waltz with a mysterious flavor to it. Then we're into a Nutcracker-like zone with the charming "Mannequin".
A bit of a late-night jazz mood infiltrates the otherwise lush "Sentimental" while "The Highland Lovers" is pure bucolic bliss.
"Silent Love" is almost a whole score by itself, going through several radically different ideas and feelings before resolving into gorgeous harmonies.
The "Mariachi" cue doesn't really sound like mariachi music but is delightfully cheerful and restrained. "L'amour Triste" lives up to its title, with achingly romantic piano lines. Finally the record ends with the grand "Progress", a response to the dramatic "Emblem" that begins it.
---