2014 September 08 • Monday
The 335th Soundtrack of the Week is Serial Experiments Lain, music by Nakaido "Chabo" Reichi.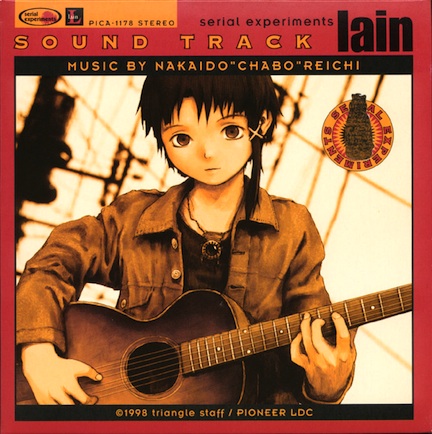 This is music for an anime TV series that I've never seen. Prior to seeing the CD I'd never heard of it. I picked it up anyway, for one dollar at a stoop sale. I ended up liking the music quite a bit!
"Lain's Theme" has a compelling melody that would be great as a surf tune but has more of a hard rock sound.
After that comes kind of futuristic damaged dance music, a piece called "Pulse Beat". Things get laid back and sentimental with "Inner Vision", which features some nice acoustic guitar playing. (Guitar is a big part of the music here and, judging by the album cover, also a big part of the show.) Parts of this cue sound like the music from Blade Runner.
Things get eerie and atmospheric in "Different Dimension of Fog", combining some dreamy guitar arpeggios with industrial sound design.
"Free Zone" is an aggressive but sunny rock instrumental that is, I guess, garage punk with a splash of rockabilly.
Then there's "Working Man's Theme" which is kind of like The Grateful Dead version of smooth jazz—but it's actually good.
"Ballad of Silly Bird" is closer to smooth jazz itself but it's too urgent and keyed up to qualify. It's a cool piece and I bet it works great in the show.
After that comes "Ahodori's Ballad", a reflective and wistful song with nice textures and some unusual percussion backing up the melody.
"Theme of a Hilly Road" is an honest to goodness acoustic blues slide guitar number with some subtle electronic atmosphere sneaking around here and there.
Then we get two proper songs with vocals: "Far Shout" and "Signal of Loneliness". The first one has a swaying rhythm and an earnest, hoarse voice belting out the lyrics. The second one is much dreamier, full of longing.
The theme gets reprised after that and then there's a strange track of mostly distorted electric guitar improvisations, "Wind of Time Zone".
The CD concludes with the delicate and poignant "Family Portrait", mostly just for guitar.
There's a lot of really great stuff here. This one of my best ever stoop sale scores!
---