2014 September 01 • Monday
Happy Labor Day! The 334th Soundtrack of the Week is David Shire's music for Norma Rae.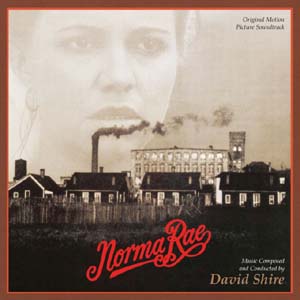 This CD is particularly valuable since it contains a lot of music that didn't make it into the finished film.
It starts with the lovely song "It Goes Like It Goes". This melody appears again, in the end title, of course, but most importantly in a beautiful instrumental version for acoustic guitars, called "Norma's Children". I believe this is one of the cues that isn't in the movie.
"Country Rock" is pretty rockin', though with its wailing Hammond org and acid rock guitar it doesn't sound very country.
Trumpet introduces the theme of lonely heroism that informs the story in "Leaflets". You hear it again in "Leafleting", "Norma to Reuben's Room", "Church" and "Union". The melody is reprised and rearranged in "Vote Counting".
"Ride Home" is a countryish pop instrumental that's quite nice. There are a few other great cues like this: "Hop In", "Work Montage", "The Lobby" and "Country Girl". (Some of them have more of a bluegrass feel going on. "Country Girl" also leans on "It Goes Like It Goes".)
"Picnic Scene" is a lovely piece of pastoral underscore.
Perhaps the most powerful cue of all, though, is "Norma Rae", a solo acoustic guitar piece that recalls both "It Goes Like It Goes" and the trumpet theme first heard in "Leafelts". It's a beautiful piece of music, spare and elegant. This is a magnificent score for a great movie.
---