2014 April 28 • Monday
The 316th Soundtrack of the Week is Bruno Nicolai's music for a movie called Geminus.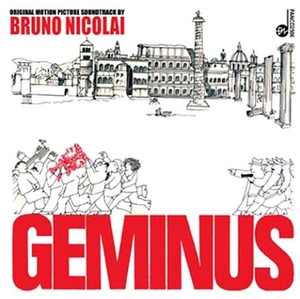 This was, I guess, a six episode TV series from 1969. Bruno Nicolai, a frequent collaborator with Ennio Morricone, came up with some delightful music for it.
First there's the fuzz guitar and backbeat meet baroque stylings of "Giano". The baroque element is given a dreamy and ethereal treatment in "Tema Barocco", with vocals by the inimitable Edda Dell 'Orso.
The same theme is reworked a few other times, in "Teorema", for instance, and "Notti Romane".
There's some spacy avantgarde stuff, too, such as "Eclisse Di Luna", "Il Cielo Cade", "Catacombe" and "Visioni".
"Il Cielo Di Luna" is a rather triumphant sounding theme with some wailing saxophone soloing and soulful backbeat. This could easily have been a Eurospy theme with a slightly different arrangement.
Then there are some groovy pop vocal numbers, perhaps released as singles at the time: "Perche Duo Non Fa Tre", "Beat Boat" and "E Grande Sta Citta". It's an excellent CD!
---