2014 January 27 • Monday
The 303rd Soundtrack of the Week is Gator, scored by Charles Bernstein.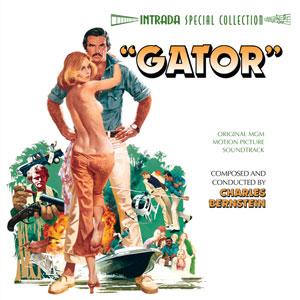 We did White Lightning a while back, so it's time to look at the sequel.
It starts off with a Jerry Reed song, "The Ballad of Gator McKlusky", a satisfying swamp funk number similar to Reed's "Amos Moses". It has the line "Everything's okeydokey in the Okefenokee".
The other song is Bobby Goldsboro's "For a Little While", a tender love ballad whose melody gets woven into the score here and htere by Bernstein.
But the highlight's are Bernstein's tense, funky, action and suspense cues. As soon as the slinky "Fight in the Night" starts up, you know you're in for a treat. Stereo wah-wah percussive guitars with drums, hand percussion and stalking horn lines! (Interestingly Lee Ritenour is one of the guitarists.)
This awesomeness continues in "Swamp Chase", "First Meeting" and "Gator Makes His Catch".
There's also some source music like the straight up funky "Hanna's Club", the anesthetized "Cocktails at the Pool", the square proto-smooth jazz "Society Source" and the psychedelic Eastern-influenced "Erotica".
---