Rob Price
Gutbrain Records
rob + gutbrain.com = email
---
The Strand has always been one of my favorite book stores. I'd love to know how much money I've spent there since moving to NYC in 1990. But it's changed in recent years. You're not going to score any amazing finds at a shockingly low price. I guess you can blame the web for that.
But it's also had something of a facelift. The interior has been signifcantly expanded and redesigned. The lighting is brighter and the selection of books is nowhere near as interesting. There's also a lot of peripheral stuff. Tote bags, t-shirts, mugs, stickers, post cards, whatever. Tourist stuff, I reckon.
There's also a lot of candy for sale right at the the check-out counter, presumable because The Strand is a block away from the Union Square multi-screen theater and lots of movie-goers kill time before the show by browsing in The Strand.
These are the changes that were apparent to me. There were other changes that I wasn't aware of, however, and these are the subject of Greg Farrell's On the Books: A Graphic Tale of Working Woes at NYC's Strand Bookstore.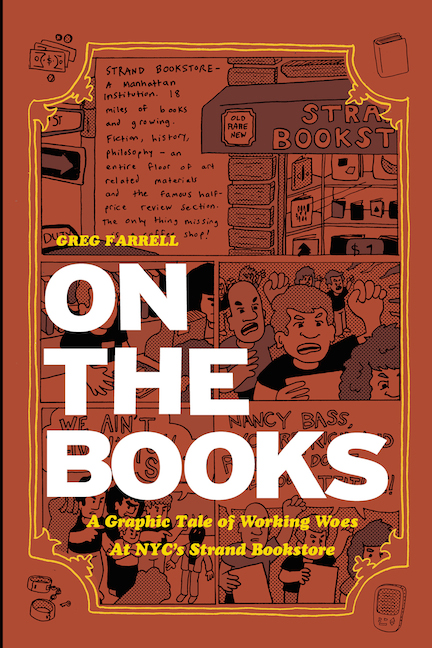 The book, a non-fiction graphic novel, based on Farrell's own experiences as a Strand employee and incorporating interviews with other employees, is a depressingly familiar story of management devaluing labor.