Rob Price
Gutbrain Records
rob + gutbrain.com = email
---
For the 325th Soundtrack of the Week we'll take a look at this Ace Records compilation of spy-movie themes.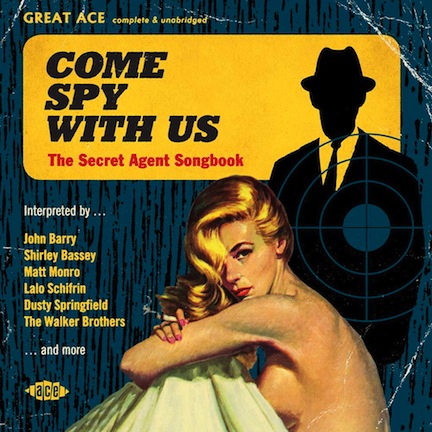 It's a nice mix of familiar and unfamiliar songs. I'd already heard John Barry's themes from The Ipcress File and The Quiller Memorandum, but can't imagine tiring of the former. (I'm already tired of the latter.) Henry Mancini's Arabesque is another favorite, and I hadn't head The Ventures' take on it recently.
Some of these have been part of previous Soundtracks of the Week, such as Astrud Gilberto singing Quincy Jones's "Who Needs Forever" from The Deadly Affair (not a very good movie but a great score). We also touched on Earle Hagen's I Spy, though Roland Shaw's version of the theme was unknown to us.
It's amusing to see Goon Show alumnus Ray Ellington singing a duet with Cleo Laine on the theme from the Modesty Blaise movie. (What a missed opportunity that was!)
Sarah Vaughan's vocal version of "The Peter Gunn Theme" is on a whole record of Vaughan doing Mancini, and if we haven't covered it yet we sure will.
I pr