Rob Price
Gutbrain Records
rob + gutbrain.com = email
---
For the 325th Soundtrack of the Week we'll take a look at this Ace Records compilation of spy-movie themes.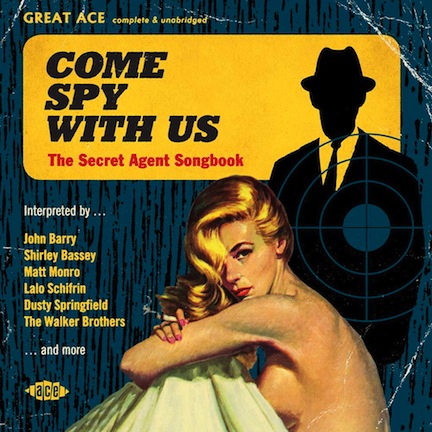 It's a nice mix of familiar and unfamiliar songs. I'd already heard John Barry's themes from The Ipcress File and The Quiller Memorandum, but can't imagine tiring of the former. (I'm already tired of the latter.) Henry Mancini's Arabesque is another favorite, and I hadn't head The Ventures' take on it recently.
Some of these have been part of previous Soundtracks of the Week, such as Astrud Gilberto singing Quincy Jones's "Who Needs Forever" from The Deadly Affair (not a very good movie but a great score). We also touched on Earle Hagen's I Spy, though Roland Shaw's version of the theme was unknown to us.
It's amusing to see Goon Show alumnus Ray Ellington singing a duet with Cleo Laine on the theme from the Modesty Blaise movie. (What a missed opportunity that was!)
Sarah Vaughan's vocal version of "The Peter Gunn Theme" is on a whole record of Vaughan doing Mancini, and if we haven't covered it yet we sure will.
I probably won't ever tire of Jerry Goldsmith's theme from Our Man Flint and this rendition by guitarist Billy Strange was new to me. And it's wonderful to hear the great Al Caiola's instrumental of "Secret Agent Man".
The Supremes' theme from Dr. Goldfoot and the Bikini Machine was also a new one for me. I need to catch up on my Vincent Price movies, I guess. And I had no idea that Wynton Kelly had recorded a cover of the theme from Burke's Law!
My two favorites are probably Jimmy Smith's recording of the the theme from Where The Spies Are and "Come Spy With Me", Smokey Robinson & The Miracles' theme from the movie of the same name.
One correction to the liner notes: discussing The Ipcress File, the author states that Harry Palmer, the main character from that film, is the only character that Michael Caine played more than once, reprising the role in three subsequent films. Caine has, however, played Alfred Pennyworth in three Batman movies.
---
As most everybody knows, Eli Wallach passed away a few days ago. He was one of my favorite actors.
I had the pleasure of meeting him about fifteen years ago. He was looking for a personal assistant and I landed an interview. I went to his apartment on the Upper West Side and presented him with a videocassette of a two-part Kojak episode he had starred in. It wasn't so easy to find such things back then.
We sat and talked for about an hour, I guess, maybe longer, about movies and music and whatever. He gave me a chunk of his record collection as a parting gift: Duke Ellington and stuff like that.
Now that I had his address I sent him a videotape of the movie Baby Doll, another one that wasn't so easy to find back then. I received this card from him. In it he refers to the lifetime achievement award that Elia Kazan received at that year's Oscars. There was a fuss at the time about whether somebody who had named names to the HUAC deserved an award. I guess I must have asked him about his thoughts since Kazan had directed Baby Doll.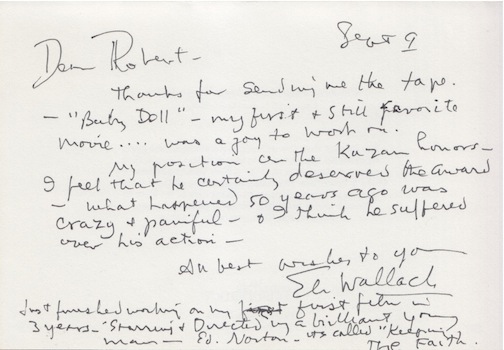 Thanks for sending me the tape — "Baby Doll" — my first and still favorite movie…. was a joy to work on.
My position on the Kazan honors — I feel that he certainly deserves the award — what happened 50 years ago was crazy and painful — I think he suffered over his action.
All best wishes to you,
Eli Wallach
Just finished working on my first film in 3 years. Starring and directed by a briliant young man — Ed. Norton — it's called "Keeping the Faith".
After this I sent him another tape, of an old Lights Out episode, "Rappaccini's Daughter", also starring Wallach. Lights Out used to air late at night on the Sci-Fi Channel. I got another nice letter from Mr. Wallach.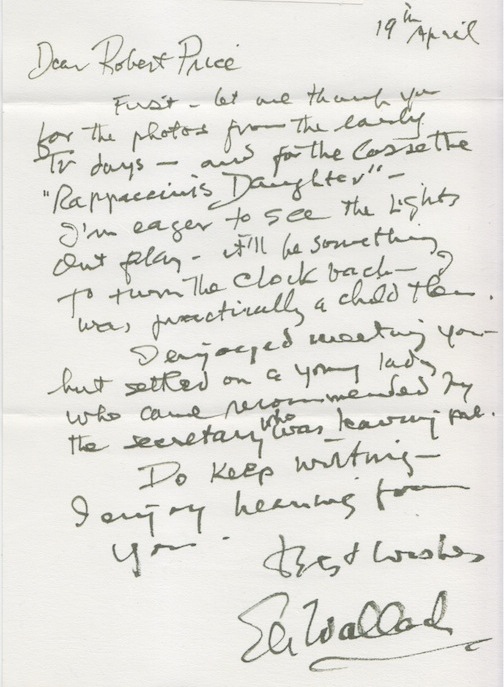 First — let me thank you for the photos from the early TV days — and for the cassette "Rappaccini's Daughter" — I'm eager to see the Lights Out play — it'll be something to turn the clock back — I was practically a child then.
I enjoyed meeting you but settled on a young lady who came recommended by the secretary who was leaving me.
Do keep writing — I enjoy hearing from you.
Best wishes
Eli Wallach
I don't recall what the photos might have been.
It seems that I didn't continue this correspondence. I wish I had. I considered writing to him several times over the years, if only to tell him how much I enjoyed his autobiography, The Good, the Bad and Me.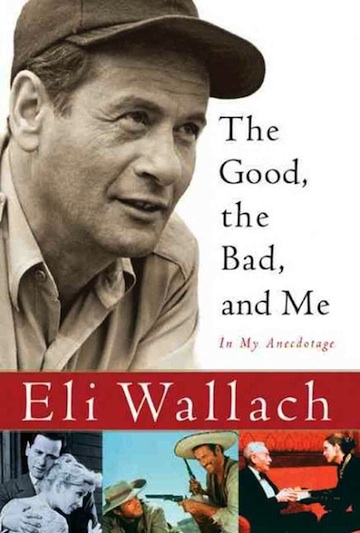 He was from Brooklyn!
---
A few years ago my friend Lucio—hey, we're playing a double bill at Branded Saloon on Sunday!—gave me an Arthur "Guitar Boogie" Smith record. I liked it and came home from the WFMU Record Fair with two more.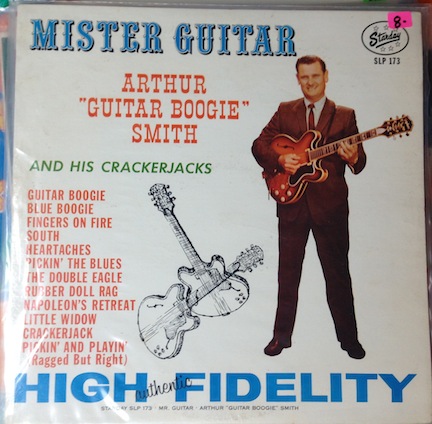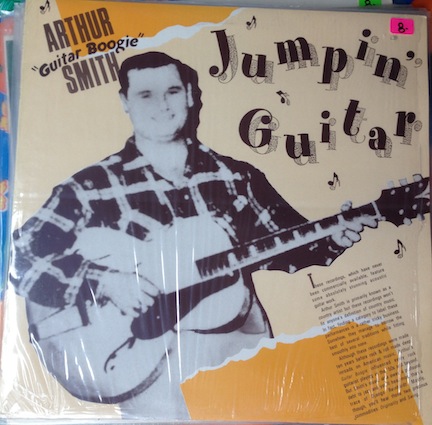 The first one is nimble picking and twanging in a country style. The second one is a collection of older recordings on acoustic guitar, more jazz than anything else. Both great.
---
This CD of music from the six Lone Wolf and Cub movies is the 324th Soundtrack of the Week.
Pretty much all of it is by Hideakira Sakurai. Only one track is by Kunihiko Murai and another track, a song performed by star Tomisaburo Wakayama, has music by Hiroshi Kamayatsu.
Lone Wolf and Cub was an obsession of mine for a long time, beginning when I came upon its first English translations in the 1980s. I've owned all six of these movies in various formats: bootleg videotapes, laserdisc, DVD and now Blu-ray. I have the comic in English and Japanese, a Lone Wolf and Cub cloisonne pin and two copies of the board game. (I used to have a couple of t-shirts also but those have disappeared.)
And of course I'm thrilled to have this CD of the music. This is another soundtrack that ended up on tapes by my recording it directly from a copy of the movie. Much of the music is textural and slightly mysterious, mixing clouds of strings with floating flute lines. There are odd sonorities here and there, some coming from traditional Japanese instruments.
And fans of the fuzz guitar will find much to admire in places. prisingly pleasant with patches of tension and menace. The one track by Kunihiko Murai has a pretty awesome 1970s wah-wah guitar with conga thing going on, perhaps inspired by Curtis Mayfield.
---
After I find all the obscure mid-century Canadian instrumental rock and roll records that I can afford, I go hunting for any kind of mid-century instrumental guitar records I can afford at the WFMU Record Fair. There were several in the last batch. I took a chance on these two volumes of 12-string guitar recordings.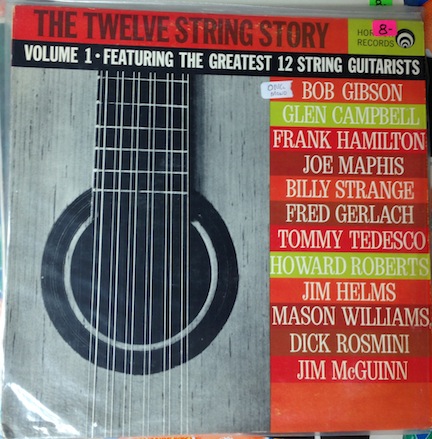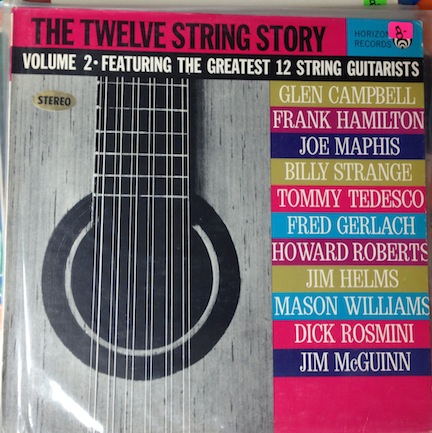 It sounds like the same rhythm section and studio on all the cuts. It would be interesting to know more about how these records came to be and who's on them besides the guitarists. The music's quite nice, very toe-tapping.
---
Here's the other Canadian rock and roll record I picked up at the WFMU Record Fair.
How old is that kid in the middle?
"Jungle Twist" is trying to catch a ride on the "Tequila" train. As a soundtrack person I was of course interested that they did "Never on Sunday" and as a Hank Williams fan I was curious about "Your Cheating Heart". All good, even the polka.
No info about the band on the back cover, just "Autres long-jeux populaires en vente chez votre marchand". It's a glimpse into a vanished world. Leo Benoit plays "Rock-N-Roll dans mon lit" and "La Cha-Cha en Pyjama". Then there are L'inimitable Norman Knight, Rosita et Deno Vous Présentent le Twist, Rock-N-Roll avec Les Hot Jives, Le Bon Twist Avec Pierre Lebon, Les Tune Up Boys, Echos du Far West….
---
The 323rd Soundtrack of the Week is John Harrison's score for George Romero's Day of the Dead.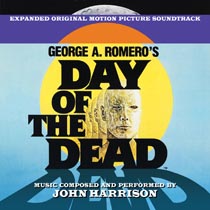 Day of the Dead is the least of Romero's excellent zombie trilogy but it's still better than almost any zombie story that came after it.
Harrison's score mixes synth textures with propulsive rhythms, a recurring wistful theme and even some wailing electric guitar that might remind you of music from Miami Vice. This release contains the original soundtrack recording as well as the album release, which has two songs performed by Sputzy Sparacino.
The music in general is surprisingly pleasant with patches of tension and menace. It's nice to listen to on a cloudy day.
---
Here's another great Canadian record, not instrumental but songs by three different bands, Les Bises, Les Intrigantes and Les Miladys.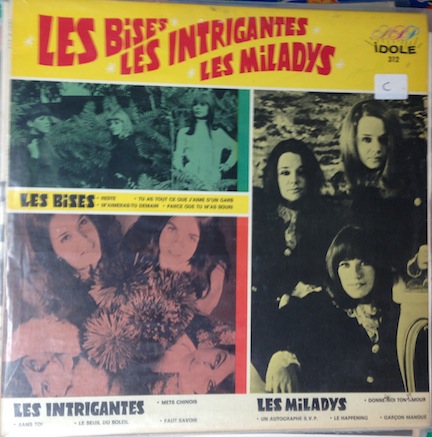 A lot of the songs are covers, ranging from Simon and Garfunkel to The Supremes—and all in French! I liked it.
---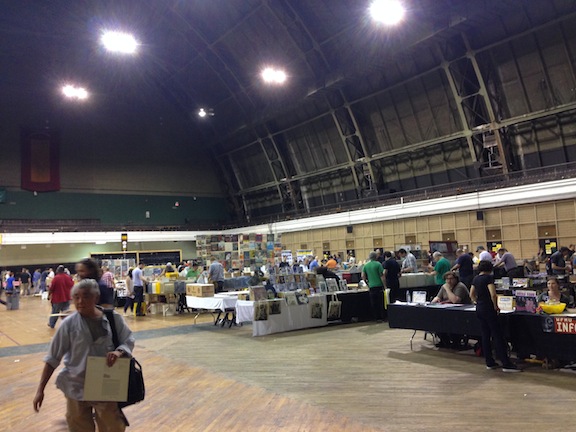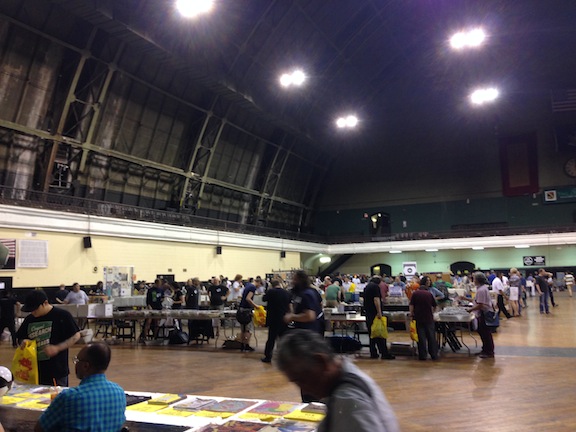 Once again the WFMU Record Fair has come around and we were fortunate enough to attend.
As usual I sought out the Canadian dealer with the old and obscure rock and roll records from Quebec. As always there were some gems.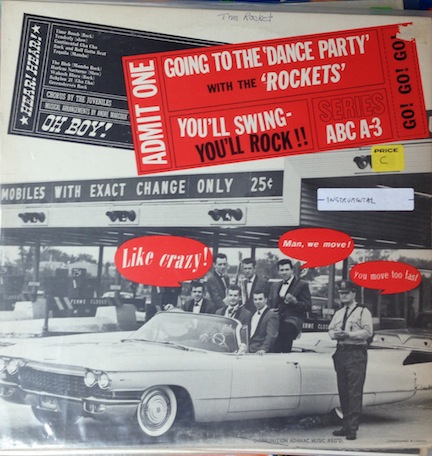 This album by The Rockets might be my favorite from this latest haul. It's an instrumental rock and roll record with some interesting covers. As soon as I noticed that they did the theme from The Blob I was sold on it. (Fortunately it wasn't too expensive.) They also do "The Continental" which is in one of the Astaire and Rogers movies, and cover "Tequila", "Harlem Nocturne", "Tenderly" and "Greensleeves", among others.
The style of the songs is helpfully indicated on the cover: mambo, cha cha and so on. There are some supporting choral parts provided by The Juveniles. It's as good as it looks!
---
For the 322nd Soundtrack of the Week we have Altered States by John Corigliano.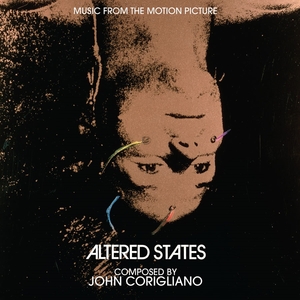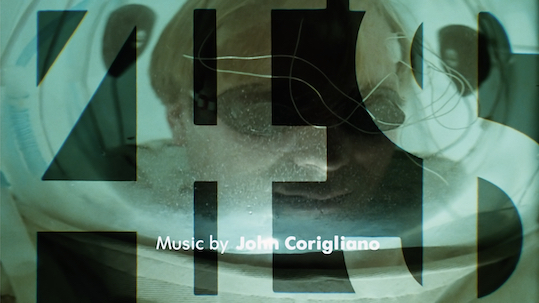 This music is great. I'd love to see the movie again. I remember almost nothing about it.
Corigliano was well known as a concert composer when he got this gig, his first film scoring assignment. He came up with complex, modern, multi-layered and shifting music, inventing ways to notate what he called "motion sonority" to avoid having to write millions of notes.
In addition to the brain-melting avantgarde music there is a simple and beautiful love theme that runs throughout.
This new release by La-La Land—my copy is autographed by the composer!—is a re-issue of the original soundtrack album, in accordance to Corigliano's wishes. It's fantastic.
---
Just for the record, I'm not the only person looking at newspaper headlines in old movies. Once again I have heard from my mysterious colleague and have been given a few more for the collection.
Thank you for the improved Scarlet Street screenshot and thank you for reminding me about Birdman of Alcatraz! You had sent it to me before but it slipped through the cracks somehow.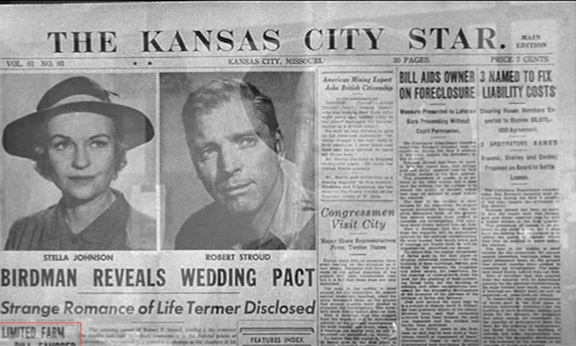 Birdman of Alcatraz (1962)
And special thanks for this great shot from Boomerang!, featuring my two favorites, the ones that got this started, side by side!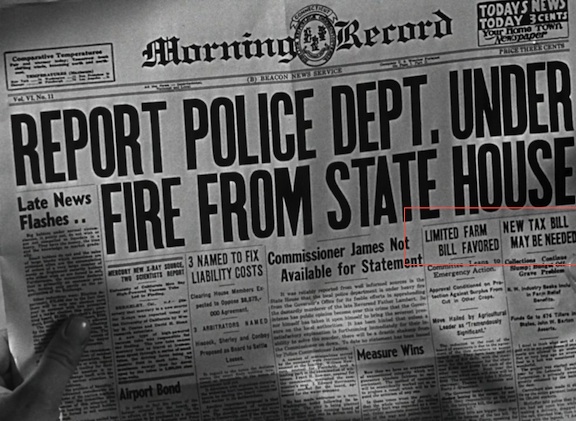 Boomerang! (1947)
---
Ever wonder what happened to the portrait of Captain Gregg from The Ghost and Mrs. Muir (1947)?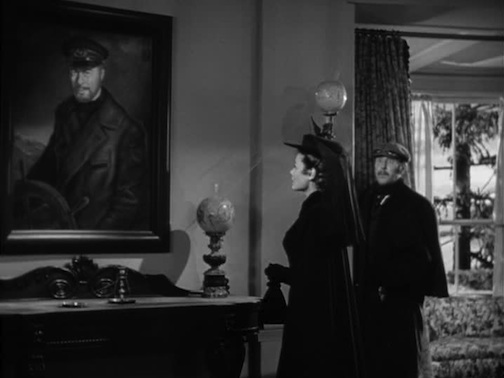 Yeah, neither did I. But now I do.
Here it is in Mr. Hobbs Takes a Vacation (1962).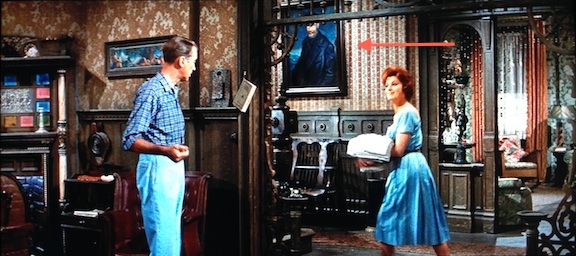 Is it in any other movies? And where is it now?
---
The 321st Soundtrack of the Week is this CD of Stu Phillips's music for the television show Knight Rider.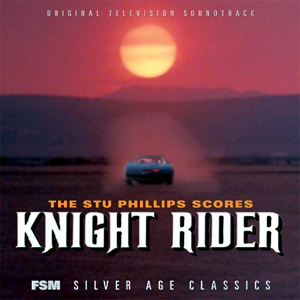 The theme is well known, as well it should be. There are numerous reprises of it and many cues that make use of its pulsating rhythm.
Sometime in the last year I heard a guitarist in a Boston subway station playing it, solo, using a looping device. Whoever you were, you did a great job!
Listening to this music was very nostalgic for me. I used to watch this show during its original run. Phillips's music is great, often creating miniature dramas themselves and covering a lot of different emotional territory while maintaining a stable identity.
---