2013 September 23 • Monday
We haven't done a spaghetti western for a while. Gianni Ferrio's music for Gringo, getta il fucile! is the 285th Soundtrack of the Week.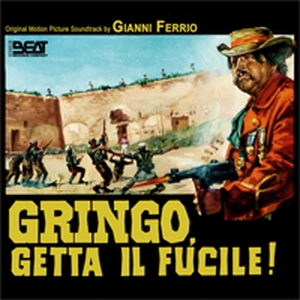 The main title music alternates between tense, almost horror-movie atmospheres and a jaunty, swinging Mexican folksong-like tune with nice use of harpsichord.
A truly killer organ sound and hynpotic harp playing dominate the second sequence, which concludes with a reprise of the swinging tune from the title sequence.
The third sequence is a shake—it's this particularly Italian style of psychedelic, usually instrumental rock/jazz/funk/blues/whatever. This one is very good, with great drumming and organ playing.
Sequence 4 is a tender, sad, romantic and beautiful piece for two acoustic guitars.
The fifth sequence is a percussion ensemble enhanced by some subtle keyboard and guitar. It's very powerful and exciting.
Sequence 6 is another version of the main theme, creatively alternating the instrumentation to give the melody different readings.
Sequence 7 is a frantically swinging 6/8 piece with some brilliant use of different keyboards.
The eighth sequence is mostly marching band stuff, but the ninth sequence finds us back in awesome shake territory, this time a bit more pop than before.
Guitars and strings tell the story of whatever happens in Sequence 10. It sounds dangerous, whatever it is. The same dramatic feel continues in the eleventh sequence.
It's shake time again in Sequence 12, followed by a marching band flourish in Sequence 13.
Sequence 14 sounds like the big showdown at the end, with pounding timpani and other instruments creating suspense but with the bizarre flourish of a sunny waltz that pops up out of nowhere.
Finally there's the fifteenth sequence, which sums up by hitting almost all of these notes one more time.
This is a great spaghetti western score. I wonder how the movie is!
---