2013 May 27 • Monday
This odd record, Mission: Impossible and Other Action Themes performed by, I presume, uncredited session players dubbed The Secret Agents by the label, is the 268th Soundtrack of the Week.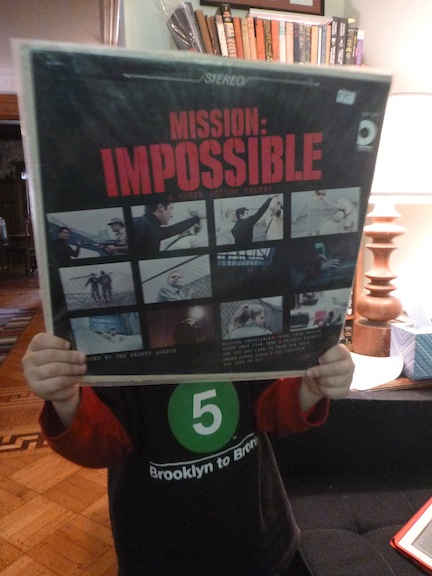 I picked this up at Pandemonium Records, a great shop in Chris Cawthray's Toronto neighborhood.
Not much info about this. The back of the record is boilerplate about how the labels mission is to get anonymous studio musicians to record covers of popular tunes. Cost was an object, I'm guessing.
It starts with the Lalo Schifrin's famous Mission: Impossible theme. This is a tough one. Not everybody can solo well in 5/4. The guitarist and pianist give it their best shot but the band is on more solid ground just playing the written part. In general it's a watered down version of a classic.
Alexander Courage's theme from Star Trek benefits surprisingly well from the Hammond-driven soul/funk treatment given here. It's not an improvement on the original but it is a successful reimagining and it makes me wonder why I've never heard a surf version of it.
Next up is Sol Kaplan's theme from The Spy Who Came in from the Cold. This melancholy tune works very well as a swinging jazz number with harpsichord and nice soloing from the players. This movie and book were hugely popular but I'm not sure if the score ever was. Probably the producers were hoping the title alone would generate interest.
After this comes something called "Win Lose or Spy" which is a swinging version of Charles Gounod's "Funeral March for a Marionette", best known as the theme music for the television program Alfred Hitchcock Presents. It doesn't have anything to do with spies or action and its inclusion here is something of a mystery.
Flip the record and you hear Lalo Schifrin again, this time his theme from Mannix. This is a nice rendition with some cool keyboard sounds.
Then comes something they're calling "Under Cover Agent" but is actually a swinging version of Khachaturian's "Sabre Dance". This is followed by a "Stranger in Paradise" that's calling itself "The Saboteur" here. Another nice rendition but what's up with the title changes?
Finally there's "Majorca Express", which is a jazzed up version of "Danse Macabre" by Saint-Saëns. I was surprised that Majorca Express wasn't a movie or a television show, then realized that it was reminding me of Maroc 7.
A curious but pleasant record!
---