2013 April 29 • Monday
Dimitri Tiomkin's score for 55 Days at Peking is the 264th Soundtrack of the Week.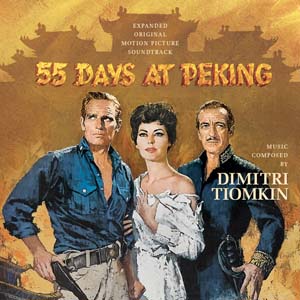 The "Overture" begins with a blast of excited string playing and then runs through several of the score's themes, including an accordion-led, Mancini-like tune and some beautiful romantic music. It ends with a recapitulation of the initial theme.
The "Main Title" music has a surprisingly bucolic, peaceful feel. Suspense starts to build with "'Peking, China, the Summer of the Year 1900'" and "Order from a Prime Minister/In the Palace", the latter half of that cue resolving to a more peaceful theme.
"Oriental" has the expected pseudo-Asian exotica gestures, but the instrumentation and arrangement make it fresh.
An angelic choir accompanied by harmonica creates the ethereal "All Quiet on the Eastern Front". The harmonica returns for the beautiful and wistful "Moon Fire", at almost six minutes the longest cue on the CD
The motif at the beginning of the "Overture" appears as battle music in cues such as the richly orchestrated "Here They Come (Peking First Battle)".
It's a wonderful score, one of the finest I've heard from Tiomkin, and this expanded CD gives it a wonderful presentation.
Several of the cues are included in mono EP and single versions as well, including the great "Moon Fire", treated with jazzy piano, electric guitar and "easy-listening" strings. I wonder if you could hear this in a supermarket at the time!
---