2013 April 15 • Monday
John Barry's score for Ruby Cairo is the 262nd Soundtrack of the Week.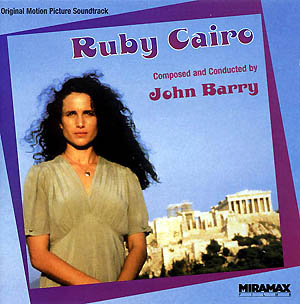 The album begins with the film's main theme, performed by Ottmar Liebert on flamenco guitar. It's a classic Barry piece, lush and darkly romantic yet also driving.
This is followed by "Opening Theme", a less rhythmic approach to the same material. The same melody returns in "Cairo, Kentucky" "Fergus Lamb", "Berlin Fashion", "Raking It In", "The Last Time" and "Closing Theme". The last track is a vocal version of this theme, "The Secrets of My Heart", sung by Kristina Nicchols.
The remaining cues are similar to other high points of Barry's career, mostly Body Heat and Moonraker.
---