2013 January 28 • Monday
Happy birthday! (You know who you are.)
The 254th Soundtrack of the Week is Basil Kirchin's music for Primitive London, presented on a CD with his score for The Freelance.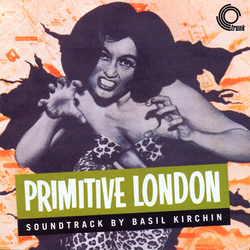 The first track has a really fast jazz feel and an urgency to the rhythm, while an otherworldly melody, somewhat similar both to David Raksin's "Laura" and Bernard Herrmann's theme for Taxi Driver, soars above it. What instrument is it? Sounds like an electronic saw. It has a space-age bachelor-pad feel to it.
The same theme gets an ethereal and bluesy treatment in the next track, with some kind of keyboard and trumpet handling the melody while vibes create a shimmering atmosphere.
A swing version of the same theme comes next, a really nice arrangement with some nice trumpet blowing. It picks up the pace a bit for an Afro-Cuban ending.
The next track departs from the theme to present some haunting textural music, the first half dominated by low organ tones, the second by weird looping electronic sounds. An eerie melody plays over it.
A high-pitched drone and funereal percussion introduce the next track, another textural and atmospheric piece. After this comes another weird piece that sounds like electric bagpipes or something. It's actually probably just electronic keyboard drones and whatever instrument—probably some kind of synthesizer that played the theme in the first track.
The next piece is the first of four tracks for The Freelance. It's a short suite, beg