2013 January 21 • Monday
Duke Ellington's Paris Blues is the 253rd Soundtrack of the Week.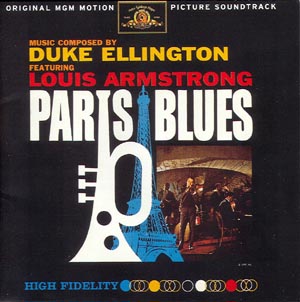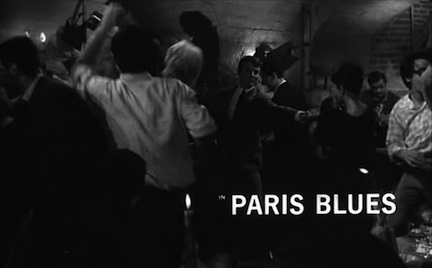 The soundtrack album begins with a train whistle and then a sprightly rendition of "Take the 'A' Train" (a subway train, not a railroad train and thus never having a whistle, I believe). There are brief saxophone and trumpet solos.
"Battle Royal" is another uptempo tune with impressive bass playing and more feature spots for the sax and trumpet. (The movie's about a trumpet player, so no surprise there.) This is presumably a "cutting contest" scene. There's an electric guitar solo, which is pretty unusual for Ellington, as far as I know.
Hand percussion and an exotica mood introduce "Bird Jungle", which becomes denser as it goes on. There's something familiar about the horn line but I can't put my finger on it.
After that comes the sublime "Mood Indigo", with guitar on the intro, making it sound different than other Ellington takes of this tune which I've heard.
"Autumnal Suite" starts out with flute and cymbal, soon joined by other winds. It starts out sounding like vintage Chico Hamilton quintet but soon relaxes into a smooth, relaxed swing that's very Ellington.
"Nite" has a similar structure, starting out chamber-like and then swinging. "Wild Man Moore" is rough and ready from the beginning, a raunchy, swinging shouter. This piece is named after the character played by Louis Armstrong on the film.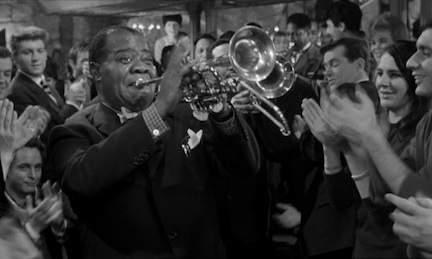 "Paris Stairs" is a pounding waltz with a swirling energy. Guitar takes center stage for "Guitar Amour", which I seem to remember seeing in an Ellington concert video years ago. It starts off delicate but builds to frantic strumming across all strings.
The CD concludes with the melancholy "Paris Blues", a richly textured cue that, like so much of Ellington, you feel as much as you hear.
The other tracks on the CD are bits of dialogue from the movie, an idea I've never liked. The Joanne Woodward asks trumpet player Paul Newman, "Do you write music too?" He replies, "Honey, I live music: morning, noon, the whole night. Everything else is just icing on the cake. You dig?" "I dig," she says. Well, what would you say?
---