Rob Price
Gutbrain Records
rob + gutbrain.com = email
---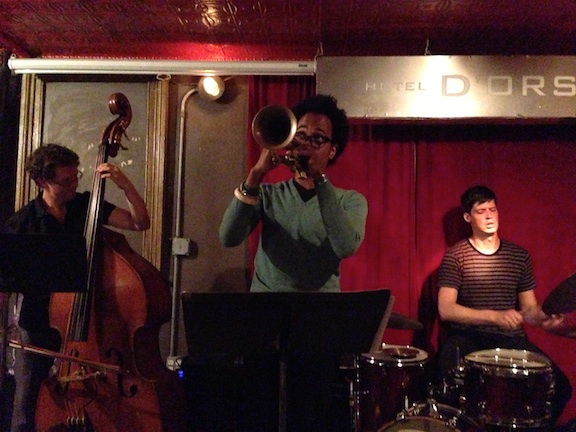 Ches Smith (drums) at Barbès
with Jonathan Finlayson (trumpet) and Stephan Crump (bass)
2013-08-14
---
Based on the two beers I sampled today (thanks to my brother), NYC's best brewery might be SingleCut Beersmiths in Astoria, Queens.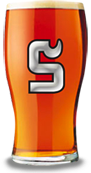 The first one I tried was called Kim, a very low alcohol (3.5% ABV) sour lager infused with hibiscus. Nothing about that sounds good to me but upon actually drinking it I found that it was delightfully like a beer version of rosé.
Next up was Billy Full Stack IPA (not to be confused with the lower alcohol Billy 18-Watt IPA). This was a deliciously fresh, floral and hoppy double IPA, the kind of beer I thought was only made on the west coast.
They seem to have fun naming their beers. They have a milk stout called More Cowbell.
You can go their and drink the beer every day except Sunday. They have meat pies and some other food items also. I'll be making the trip before too long!
---
Ennio Morricone's Il fiore della mille e una notte (Arabian Nights) is the 281st Sountrack of the Week.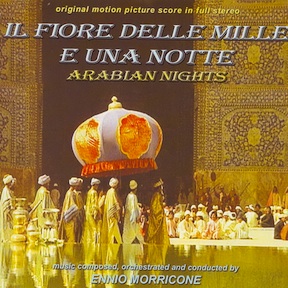 The music cycles through about half a dozen themes. "Tema di Aziza" is somewhat pensive, with a thoughtful harp line. The harp gets flightier for "Tema di Dunja" and is the center of attention before handing off the melody to woodwinds.. As in the first theme, the orchestra creates a subtle background for these lines.
Most of the rest of the themes are for solo church organ. "Tema del Demone — Primo" and "Tema del Demone — Secondo" are both longer pieces, the first is in the upper register, the second in the lower. The "Primo" is reprised as "Tema della battaglia".
Other solo organ cues are "Tema della Montagna di Pietra Nero", "Misterioso", "Mistico" and "Rituale".
This is a great record to listen to if you're in the right mood!
---
The pilot episode of the Gidget television series was much, much better than the Gidget movie.
Somebody realized that the movie didn't make it and got Frederick Kohner, author of the original novel, on board as "Creator & Script Consultant".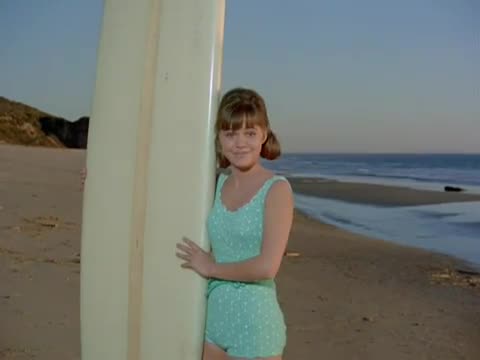 Sally Field is absolutely perfect casting in the title role and the pilot episode draws much of its material from the book. Gidget's mother has been killed off for the TV show, thus allowing Gidget's older sister to have a neurotically maternal concern that, abetted by her psychologist husband, generates much comic relief.
Gidget has an admirably close and honest relationship with her father, who must be one of the most understanding and easy-going fathers in sitcom history. (In the movie, Gidget's father was a hysterical dork with a much smarter and more composed wife.)
The Four Freshmen sing the great title song, written by Howard Greenfield and Jack Keller and very similar to "The Best Is Yet To Come". The excellent score for the pilot is by Dave Grusin.
---
Best-selling novels often serve as the first draft of a screenplay. Such was the case with Gidget.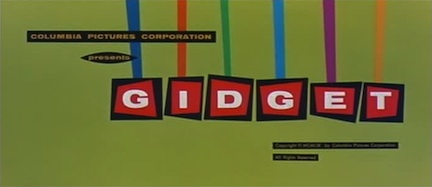 If the book was the first draft, the shooting script must have been something like the twentieth draft. There are traces of the original story and characters but the movie is totally different and vastly inferior product.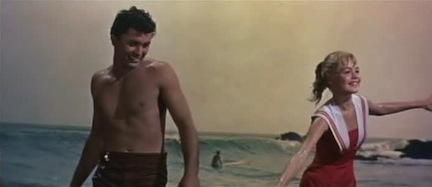 Gone are the confidence, intelligence and independence of the novel's heroine. Our cheerfully risk-taking brunette has been transformed into a shy, child-like blonde. Interestingly, while they bump up Gidget's age by a year they make her much more immature.
In the book Gidget has control over her own sexual development. In the movie she's an ugly duckling who wants nothing to do with dating, resents her more voluptuous friends' and interest in boys and wishes that they could spend the summer just playing like kids.
The movie departs from and betrays the book in so many ways that it must have been a shock to fans of the novel. It demotes Gidget from young adult to child.
---
The 280th Sountrack of the Week is Gino Marinuzzi, Jr.'s score for Mario Bava's Terrore nello spazio, a.k.a. Planet of the Vampires.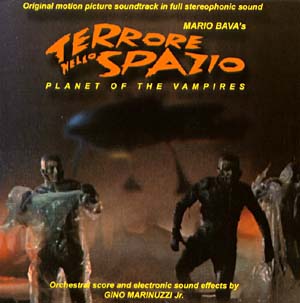 This music is great. A lot of is weird electronic sounds, very ambient and creepy. Out of nowhere will come some conventional instrument like a flute, for instance, playing a dreamy sort of melody, or the orchestra will come crashing in with some dramatic underscore. There's also great use of vibes.
Some cues, like "Another Macabre Discovery/Ship's Abandoned Bridge", remind me of Akira Ifukube's work. A cue like "Astronaut Lands on the Surface" could fit into a few other Italian horror movies from the same time.
But mostly it's the weird and atmospheric stuff that stands out: the main titles music, "The Living Dead", "Inside the Starship", "Evil Spirits" and so on.
I love the movie, too. It's influence on Alien is pretty clear. For some reason a lot of people can't watch it without laughing, however. That's the kind of thing that keeps me from going to the Film Forum more often than I do.
---
Also mentioned in Surf Beat was a certain Gidget. I'm sure you know the name. I did. I remembered seeing bits of re-runs of the Sally Field TV show a long time ago.
What I didn't know was that Gidget started as a book in 1957, a book which was very directly adapted from the real experiences of the author's teenage daughter. It was a bestseller and spawned something of a mini-empire.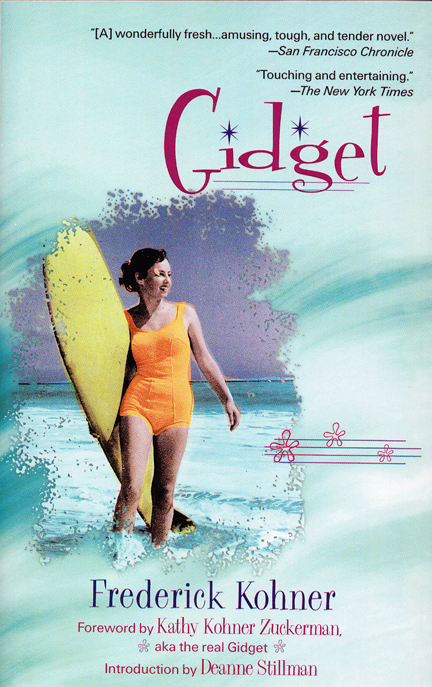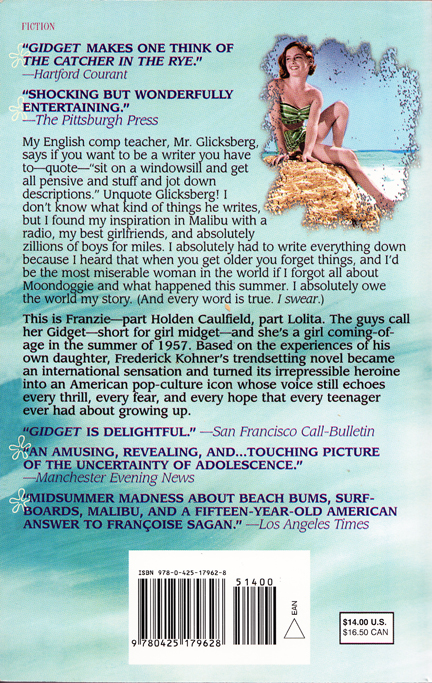 The back cover excitedly declares the heroine to be "part Holden Caulfield, part Lolita". That's half right. Gidget is something of a mirror image of The Catcher in the Rye: California instead of New York, girl instead of boy, focus instead of confusion, surfing instead of fencing. In fact, if you asked Judy Blume to right a reverse Catcher in the Rye, Gidget might be close to what she came up with.
The 1950s always seem to be viewed as the squarest time ever but 15-year-old Franzie—Gidget is her surf name, just as the other surfers, all men, have names like Moondoggie, Kahoona and so on—drinks, gets high, smokes cigarettes, drives without a license, is looking forward to sex and lies to her parents so she can spend all day (and sometimes all night) hanging out with a crew of older, rowdy male surfers.
It's hard to imagine what a 2013 equivalent of this book would be like!
It's a great read, very well written and Franzie's (or Gidget's or Kathy's) voice is clear, honest and compelling. The point of the book ends up being about her independence and personal achievement.
The first line is "I'm writing this down because I once heard that when you're getting older you're liable to forget things and I'd sure be the most miserable woman in this world if I ever forgot what happened this summer".
---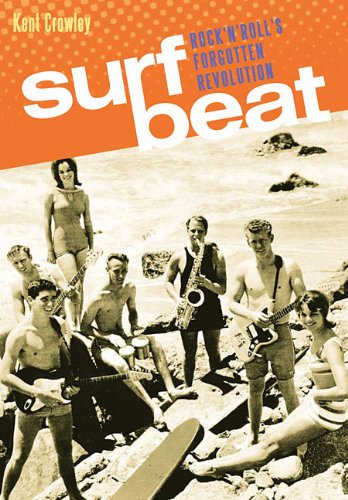 Surf music is a favorite of mine. Slight obsessions with it come around cyclically, and I'm in the middle of one right now. Every time I focus on what's happening in surf music, there's something new and interesting. One such item is Kent Crowley's book Surf Beat.
While it could have benefited from both proofreading and copy editing, the book deserves credit for trying to compile a coherent history of such a poorly documented and fragmented musical subgenre. Crowley's main thesis is that surf music is an indigenous folk music, unique in both its relationship with technology—Leo Fender is as important as Dick Dale—and its creation by and for a narrow audience, namely Southern Californian teenagers.
Crowley also supports the view that surf music—and here we're talking about the instrumental kind, not the Beach Boys or Jan and Dean—laid the foundation for punk rock and heavy metal. Most intriguing is his account of the relationship between Dick Dale and Jimi Hendrix, something I didn't remember from the Hendrix biography I read twenty years ago. (Crowley points out that "Third Stone from the Sun" is basically a surf tune as a psychedelic Wes Montgomery might have played it. Of course the song features the famous line "You'll never hear surf music again".)
Another surprise is the role that Frank Zappa played in the burgeoning surf movement. That's his guitar amp used in the original recording of "Wipe Out"!
---
The 279th Sountrack of the Week is Slippery When Wet, a surf film scored by Bud Shank.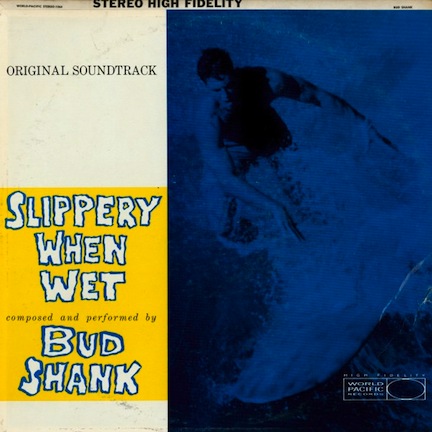 It's a pleasant West Coast jazz record, all tunes played by Bud Shank on alto and flute accompanied by Billy Bean on guitar, Gary Peacock on bass and Chuck Flores on drums.'
There are occasional suggestions of standards in the tunes and the feel throughout is swinging and/or bluesy. It's interesting to hear Gary Peacock in this context. It's probably the most mainstream thing I've heard him play on. His performance is very strong.
Billy Bean's guitar playing is also very impressive. He's somebody you don't hear much about. The drummer, Chuck Flores, is also great. He reminds me of Shelly Manne.
Shank plays very well also, somewhere in between Sonny Stitt and Lee Konitz, I think.
It's a great record and fans of the late '50s West Coast jazz scene will love it.
---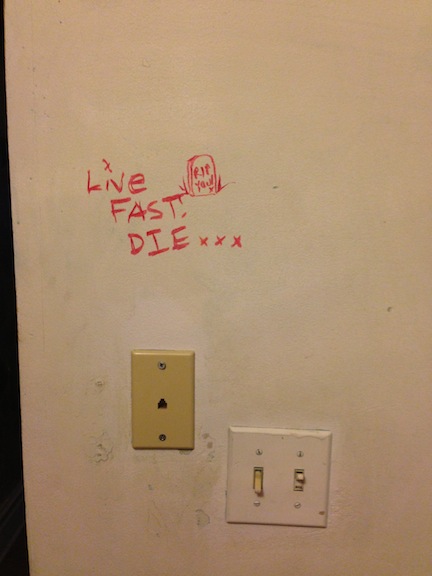 That's a PSA from from the Makespace in Harrisburg, PA, land of the still free to drink, smoke and buy guns, and where Chris Cawthray, Ben Gallina and I just played a show.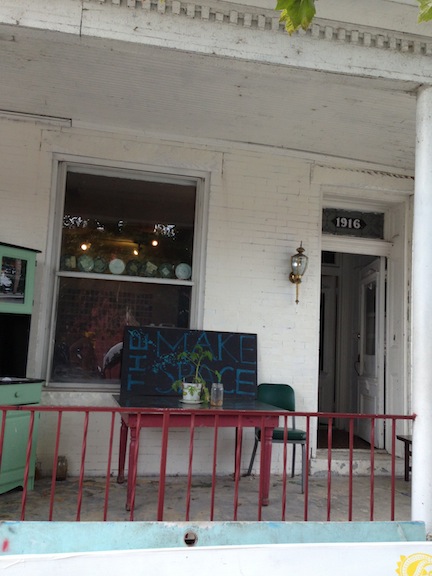 What if you're an early riser? Harrisburg has that covered.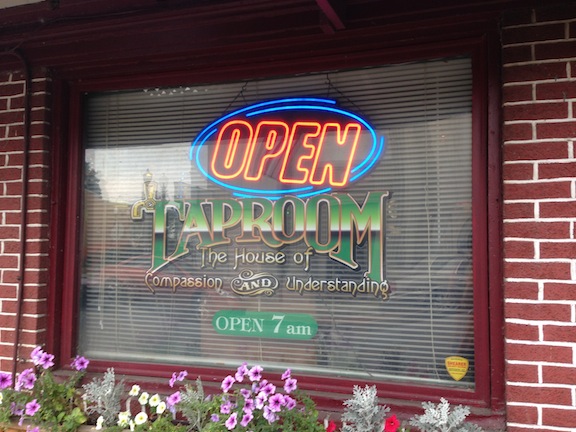 We didn't visit the Taproom, despite their compassionate and understanding ways. Ben and I checked into Shady O'Grady's, which was, thankfully, a little less smoky than usual, and enjoyed glasses of Founder's Mango Magnifico a fruit beer brewed with habañero pepper.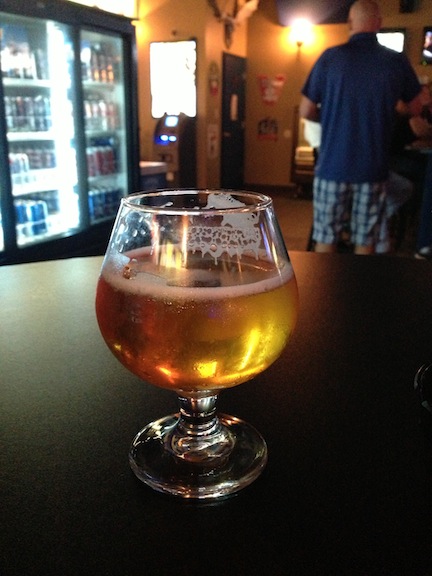 I don't usually like fruit beers but I liked that one.
Again there was a lot of great art at the Makespace.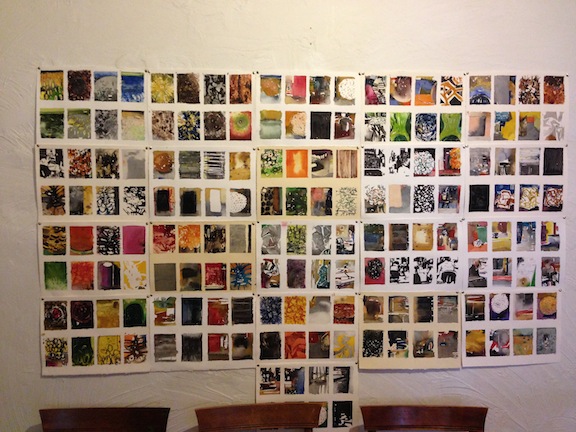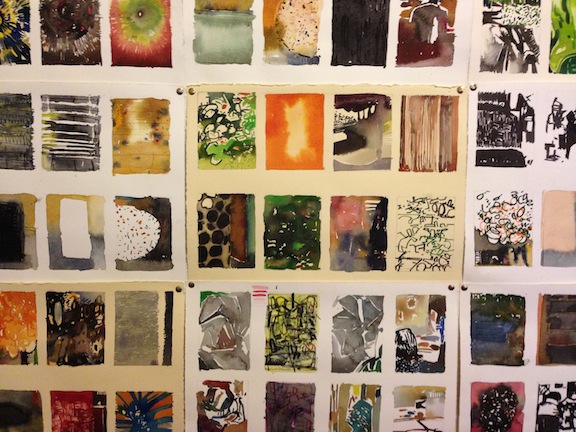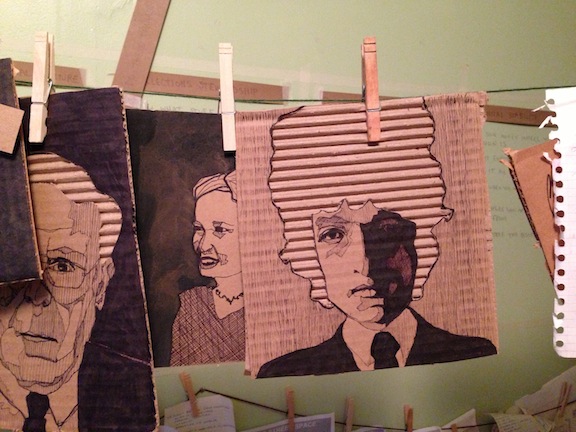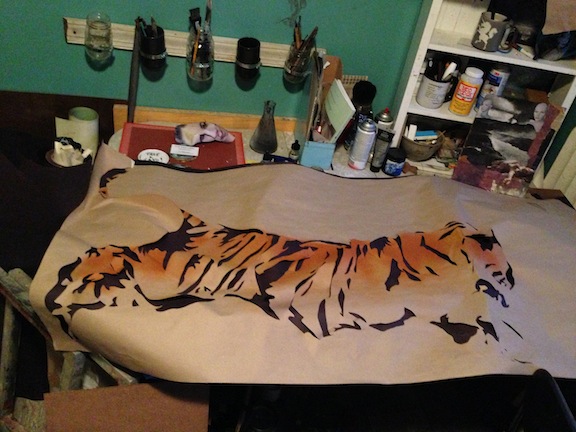 Harrisburg was great, thanks to our hospitable hosts. Then it was on to Rochester and the Abilene Bar & Lounge.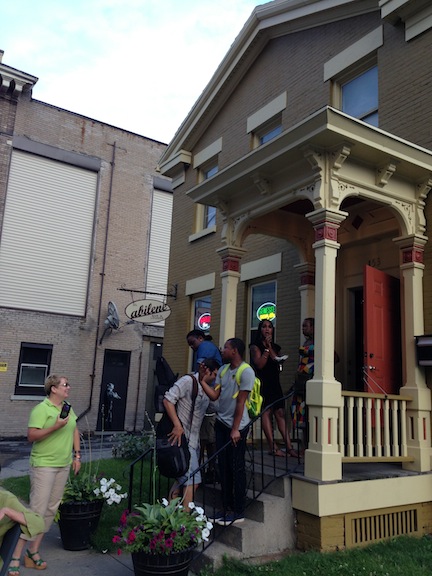 That was a really nice place with even nicer people. We had a great time there as well and at our show in Brooklyn. Thank you, everybody who came to hear us!
---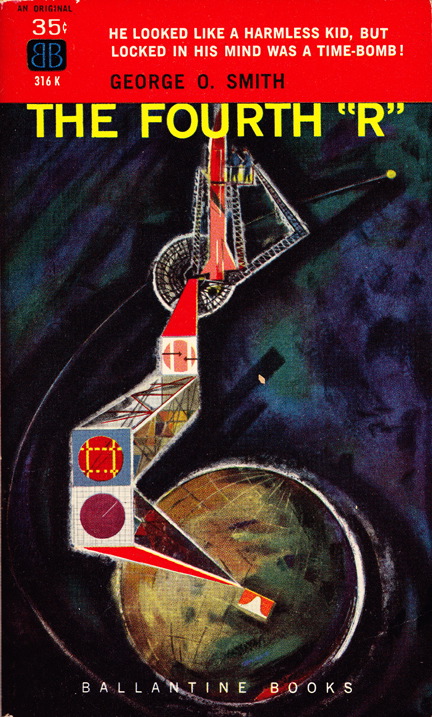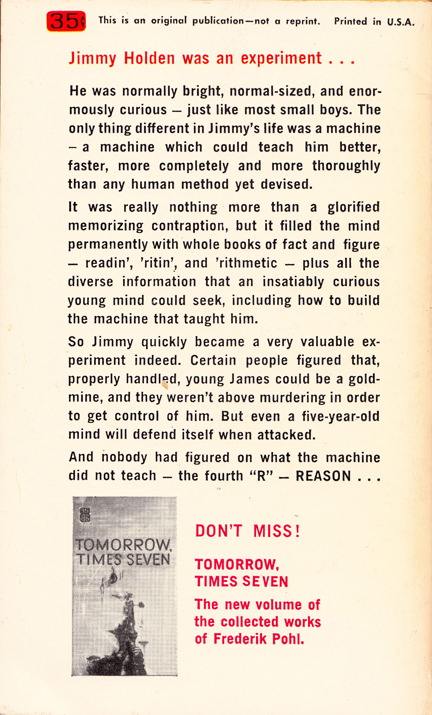 The Fourth "R" by George O. Smith is another book which can be connected to J. D. Beresford's The Hampdenshire Wonder, but only because it also concerns an intellectually advanced child.
"James Quincy Holden was five years old" is the first sentence. He isn't typical of his age group. His parents, one a brain surgeon and the other an inventor of electromechanical instruments, together created a machine that would speed up the process of rote learning. Their child is the first test of the process and the device. At the age of five he is, in learning and manners, at the level of a young adult ready to enter university after graduating from high school at the top of his class.
This is the same idea as the Speed Learn machine used in the Prisoner episode "The General". Also the same is the potential for such a device to do harm as well as good, to increase and consolidate power for those who would govern or dictate. It's something that certain people would be desperate to obtain for themselves.
And so the Holden family's closest friend, young James's legal guardian and godfather, attempts to murder all three of them. The parents are killed; the child escapes.
At this point the book might have you thinking ahead to Firestarter and The Fury, or perhaps thinking back to Slan, other stories of gifted children on the run. There is no supernatural or superhuman element in The Fourth "R", however. Holden's story is more prosaic and also more of a vehicle for its author to consider ideas and lines of thought about law, society and education. There's more talk than action but it's interesting talk that comes from varied and well developed characters.
Just as the Hampdenshire Wonder's name of Victor might have been a pointer to a Dr. Frankenstein of the same first name, so is Holden connected to Mary Shelley's famous scientist. At one point our hero desires a companion just like himself and thus begins to use his parents' educating machine on a girl his age. Two pages later the film The Bride of Frankenstein has a cameo appearance.
Despite the title and the back cover, reason proves not to be a missing ingredient for James Quincy Holden. He reasons superbly. What he lacks is experience, something that cannot be taught or learned, only acquired.
---
Maurice Jarre's score for Dreamscape is the 278th Sountrack of the Week.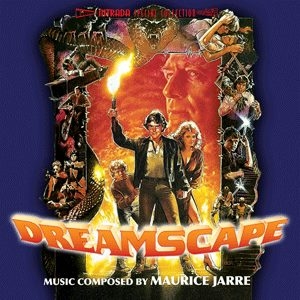 The first track announces the general concept. Very pretty and lyrical figures are intertwined with and menaced by weird electronic noises. It creates an appropriately dream-like feeling.
Then there's the intense "The Journey", which exploits the electronic instruments' capacity for eeriness and fright. "First Experiment" is another showcase for what Jarre can do with electronic instruments, but this time creates a more ethereal mood.
The well-named "Suspense" has some elements that reminded me of the Radiophonic Workshop.
"Jealously Merry-Go-Round" begins with a keyboard chord that made me think immediately of Angelo Badalamenti's Twin Peaks music. It moves from that into a lovely and lyrical passage before ending up with merry-go-round music.
"The Snakeman" is the main threat in the movie and this cue is unsettling, but perhaps less intense than you might expect. "Entering the Nightmare" likewise finds an understated approach to be very effective in creating the right mood. Then Jarre drops the hammer and the terror begins.
A similar strategy is adopted by "Love Dreams", which reprises a theme heard first in the main title. Before we get to it there's interesting and atmospheric electronic music sections.
An often muted intensity and general feeling of dread dominate the next few cues, "Dangerous Moments", "Escape" and "Labyrinth", of which, though there are sections of cranked up terror.
The main theme is revisited once more for the soothing "Endless Dreams". It's a lovely tune.
---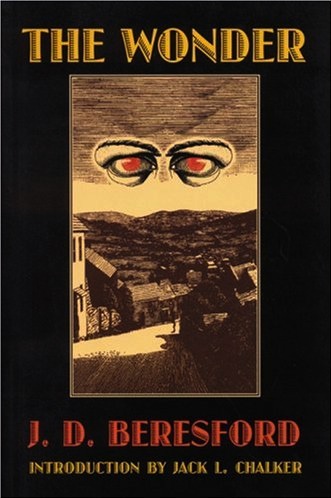 This book was originally published in 1911 as The Hampdenshire Wonder, a title which links it to John Wyndham's similarly named and somewhat similarly plotted The Midwich Cuckoos (1957, and better known by the title of its film adaptations, Village of the Damned).
The Midwich Cuckoos is about children whose fathers are aliens from outer space but whose mothers are residents of a small English village. The children grow at almost twice the rate as human children, and have frightening telepathic powers.
The Hampdenshire Wonder is about just one child, born to human parents, who is startlingly advanced intellectually. He can speak after a few months and has read tens of thousands of books by the time he's nine. He also has something along the lines of telepathic powers. People who look into his eyes can not help but do what he wants to do.
This child's view of reality is as far beyond that of even the most learned person he encounters as your reality is beyond that of your dog's. Try to explain, say, how a radio works to your dog and you have an idea of how impossible it is for Victor (a name that has an obvious meaning in itself but might also be a link to Frankenstein) to discuss his thoughts with anybody.
It's a very well written and engaging book. I sailed through it. You can read the whole thing here.
The first line is "I could not say at which station the woman and her baby entered the train".
One of the themes treated quite well by the author is a clash between science and religion. The first time Victor speaks, he asks his mother who God is. Soon Victor is scandalizing the Reverend Crashaw with "blasphemy". Fortunately Victor is under the protection of the local squire, Challis, himself an anthropologist who is dedicated to learning. The tension between these two forces is symbolized neatly by Challis's library.
The library at Challis Court occupies a suite of three rooms. The first and largest of the three is part of the original structure of the house. Its primitive use had been that of a chapel, a one-storey building jutting out from the west wing. This Challis had converted into a very practicable library with a continuous gallery running round at a height of seven feet from the floor, and in it he had succeeded in arranging some 20,000 volumes. But as his store of books grew—and at one period it had grown very rapidly—he had been forced to build, and so he had added first one and then the other of the two additional rooms which became necessary. Outside, the wing had the appearance of an unduly elongated chapel, as he had continued the original roof over his addition, and copied the style of the old chapel architecture.
Crashaw and Challis have their own churches.
There's really a lot going on this book. The characters subtly but effectively provide the author with opportunities to create a realistic environment for this fantastic tale and also to make some interesting comments about human tendencies and history.
Best of all is that it's a compelling story. There's very little action and the structure of the book deals with this by making some jumps in chronology, all explained perfectly reasonably by the narrator. It's not quite a novel of ideas, more a thorough and satisfying exploration of a "what if" idea.
---