Rob Price
Gutbrain Records
rob + gutbrain.com = email
---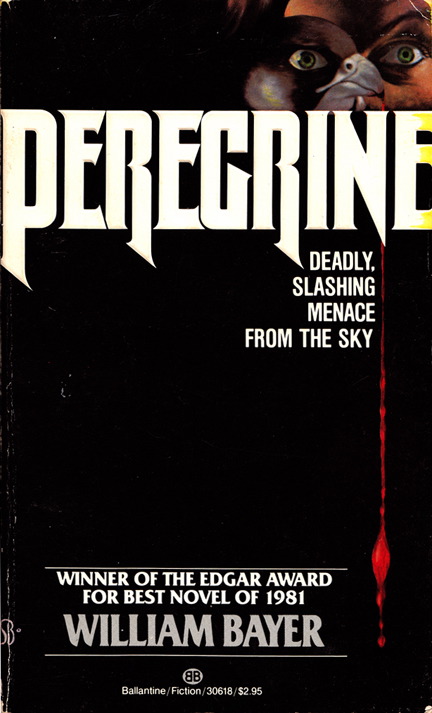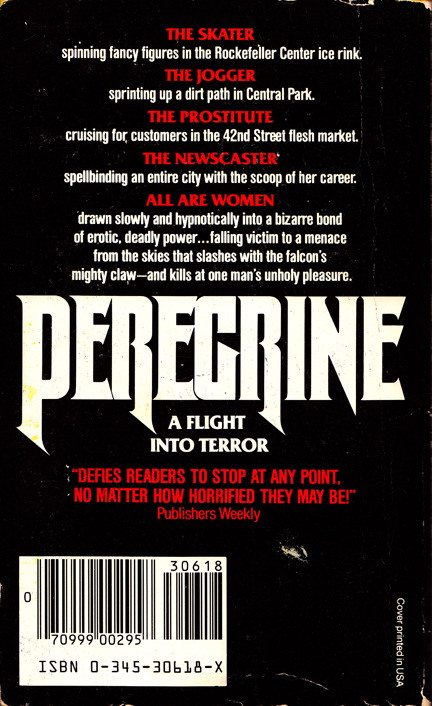 William Thayer's Peregrine won the Edgar Award for Best Novel of 1981.
The first line is "She didn't know where she was going, didn't care".
A freakishly large peregrine falcon is killing women in Manhattan, women of a certain type: young, brown-haired, slender and vulnerable in one way or another. The bird is much larger than normal, freakishly large. From above the skyscrapers she dives at her victims, building speed until she's moving lightning fast. She stuns her prey by smashing into their heads, then attacks their throats with her talons.
No wild falcon would ever do this. The bird has been trained and is being controlled by somebody, a deranged falconer, a most unusual serial killer. Reporter Pam Barrett happens to be on the scene for the first killing and the sensational story makes her star, turning around a career that was about to fizzle out. In fact, Pam was almost the first victim. She's the right type. But the falconer sees something special in her, a potential to fulfill his most desired dream. And she feels the fascination and finds herself drawn almost willingly into his trap.
Peregrine is a slick thriller that I didn't want to put down. I read the first half in one sitting. All of the characters are interesting and individual, including Pam, her boss, her ex-husband, her boyfriend, three different falcon experts and the police detective working the falcon case.The atmosphere of New York City, a character itself, is also very well done.
Bayer reveals the identity of the falconer pretty early on, a move that heightens the suspense, allowing readers to see the villain from inside and out. The plot is a bit similar to the plot of Delacorta's Luna (1979). (At least I think it is, from what I've heard about Luna.)
---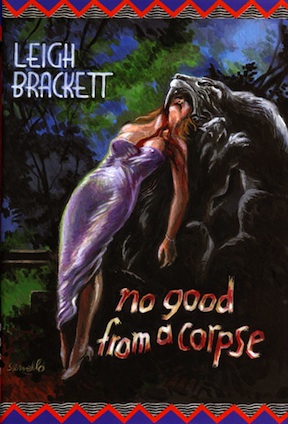 Leigh Brackett is an author who must have several different groups of fans. Film buffs know her as a screenwriter for Howard Hawks and more casual movie goers might recognize her from the co-writing credit she has on The Empire Strikes Back. The movie itself is dedicated in memoriam to her. She also has an avid following for her science-fiction and fantasy writing.
The first Leigh Brackett book I ever read was a satisfying juvenile delinquent novel called The Tiger Among Us. It was made into a terrible movie starring Alan Ladd.
After that I checked out The Long Tomorrow, a gripping novel about life on Earth after nuclear war has destroyed just about everything and science itself is taboo because of it. This book is included in the recent Library of America collection American Science Fiction: Nine Classic Novels of the 1950s.
Not too long ago I read An Eye for an Eye, a Cape Fear-like story of revenge. Of the three novels, this one was least satisfying. It was well written and suspenseful but seemed a bit contrived and treated its subject too gingerly.
No Good from a Corpse is her first novel and apparently what brought her to the attention of Howard Hawks, who, after reading it, demanded that "this guy Brackett" come work on the screenplay for The Big Sleep (which William Faulkner was also working on).
In 1999 Dennis McMillan Publications reprinted No Good from a Corpse (1944) in an edition that included eight other stories: "Murder Is Bigamy", "Red-Headed Poison", "Murder in the Family", "Design for Dying", "I Feel Bad Killing You", "No Star Is Lost", "So Pale, So Cold, So Fair" and "The Misfortune Teller" (which is probably more a short novel than a short story).
All of these works, including the title novel, have lackluster titles. In some cases I wondered if they were stuck on arbitrarily by a pulp editor who didn't bother to read the story.
The writing is excellent, pulp fiction at its finest. Brackett spins a fine tale, has a great eye for detail and atmosphere and handles violence in an understated but brutal way. Dashiell Hammett seems to have been an influence. A character in "Murder in the Family" is described twice as lookling like a "blond Satan", which is how Samuel Spade is described in the first paragraph of The Maltese Falcon. The end of "I Feel Bad Killing You" is very similar to the conclusion of The Maltese Falcon, Spade's speech to Brigid O'Shaughnessy.
Brackett runs with the Satan idea. A character in "The Misfortune Teller" is "a battered Satan" and later on "a brooding Satan". By the end of the story, the putative hero is now the one being called a devil and his reply is "Wait for me in hell".
One thing that's particular to her is how personal the crimes are in her stories, particularly in No Good from a Corpse, in which the detective hero's childhood best friend, who has been an enemy for most of their adult life, is central to the case.
Brackett also knows how to play with readers' expectations. A particular incident in "The Misfortune Teller" seemed like the kind of coincidence a writer shouldn't allow, but is revealed thirty-five pages later not to have been a coincidence at all.
How many more of these excellent stories did Brackett write for the pulps? Somebody please put out a complete volume of her crime writing so I don't have to go hunting for expensive old magazines!
The first line of No Good from a Corpse is "Edmond Clive saw her almost as soon as he came into the tunnel from the San Francisco train".
This McMillan edition has an introduction by Ray Bradbury, who was very good friends with Brackett, who was also a mentor to him, and an afterword by Michael Connelly, who relates how the Robert Altman-directed, Brackett-scripted The Long Goodbye inspired him to become a writer. (A character in "Murder Is Bigamy" is named Bradbury.)
---
Escape from New York by John Carpenter and Alan Howarth is the 260th Soundtrack of the Week.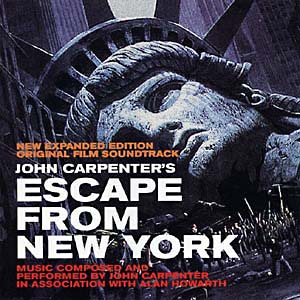 The main title music is surprisingly cheery, with a heroic theme and lots of major chords played on keyboard over a slow and steady rhythmic foundation. "The Bank Robbery" starts out with what sound like electronic seagulls and then gets into the slinky, menacing electronic music that Carpenter does so well. It's hard to say what's best about this. The hand claps? The guitar? The strings? The rhythm? The atmosphere? It's all pretty great.
"Over the Wall/Airborne" starts out very sparse and mysterious before the sound of a helicopter takes the piece into its more urgent and driving section, propulsive and percussive with sustained notes floating above.
"He's Still Alive/Romero" is, appropriately enough, dominated by a bass line that sounds like a heart beat. This is something of a motif, heard in many of the cues, underscoring Snake's race against time to save the president and himself.
"Engulfed Cathedral (Debussy)" is an arrangement or derivation of Debussy's "La Cathédrale Engloutie", which John Zorn's Naked City used to cover.
"Across the Roof" combines a gentle piano figure, not entirely dissimilar to Carpenter's famous Halloween riff, with statements from low-pitched synth sounds.
"Descent into New York" has a lot of space with unexpected sounds swooping out of the speakers, suggesting the various dangers that lurk in the shadows. It evolves into a more textural, creepier piece as it goes along. This is one of the best and weirdest tracks.
"Everyone's Coming to New York" is the deranged show tune seen performed in the movie. Apparently this is written by Nick Castle, who played Michael Myers in Halloween and co-wrote Escape from New York with Carpenter.
"The Duke Arrives/Barricade" is like a demented electronica take on the "Hold On, I'm Coming" rhythm mixed with synthesized lines and textures. "President at the Train" is something of a follow-up.
A variation of the main title theme is heard in "Police Action". "Romero and the President" is an almost playful piece for two conversing musical voices, both somewhat percussive. "The President Is Gone" is also surprisingly fun-sounding.
"69th Street Bridge" (not 59th Street Bridge?) has a really compelling bass line and really fast, toe-tapping rhythm.
The last piece on the CD is "Snake Shake", an outright R&Bish dance number, albeit one with strange electronic sounds.
The CD also includes several tracks of short scenes from the film, dialogue and such. This is not a practice I'm fond of.
---
Here's another remarkable record that just came out: Bill Frisell's Silent Comedy.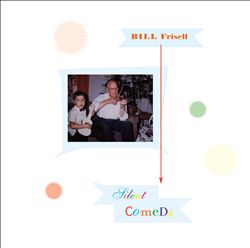 It contains eleven solo electric guitar improvisations, all recorded live without overdubs but showcasing Frisell's talent for creating layers, loops and multiple voices with effects. While noisy in parts and often abstract, the pieces are never shapeless. Those who don't mind a departure from straight-forward song forms will find themselves enjoying brilliantly crafted free improvisations.
Silent Comedy is art. It's the best record Frisell has put out since his 2006 CD with Ron Carter and Paul Motian.
---
This is a very important new record.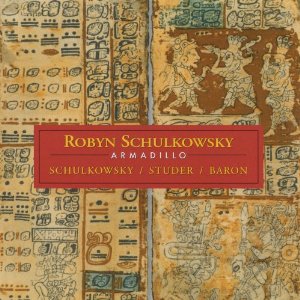 The brilliant percussionist Robyn Schulkowsky started composing this piece over twenty years ago. Now it's available on CD, in a recording featuring Schulkowsky with drummers Fredy Studer and Joey Baron.
The composition was inspired by the Dresden Codex and, as I understand it, Schulkowsky used the symbols that represent numbers to notate the score for this long piece for percussion trio. While the notation is very clear and specific, the music can be shaped and directed by the players and no two performances of the piece are alike.
The music is spellbinding. If you're wondering how much you want to listen to a percussion and drums trio, my advice is that you find out. Immediately.
There's also this video on YouTube of a whole Armadillo performance, courtesy of Drummerworld.
---
In the years from 1959 to 1985 only two television soundtrack albums hit number one on Billboard's Top Pop album charts. The first was Henry Mancini's Music from Peter Gunn and the second, twenty-six years later, was Miami Vice. This complete collection of Jan Hammer's music for Miami Vice, not the two soundtrack albums which presented a mixture of Hammer originals with pop songs, is the 259th Soundtrack of the Week.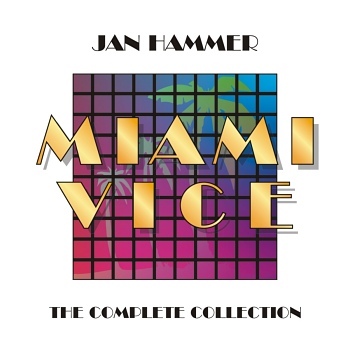 According to the liner notes, when the single version of the Miami Vice hit the number one spot on Billboard's Hot 100 Singles chart, Hammer got the news first from Henry Mancini, who called him at home to congratulate him. Hammer was most honored.
The double CD of this music is long out of print and very expensive on the used market. You can buy downloads of the mp3s from Jan Hammer's web site, though.
It begins with the theme, one of the most memorable in the history of television music. It's a great piece of work. As rocking as it is, a surprisingly large amount of the other material is dreamy and laid-back. There are echoes of the theme in some of the other cues, such as in "Chase".
My personal favorite track from the two CDs' worth of material is "Crockett's Theme". The recording here is different from the one on the first Miami Vice soundtrack album. I suspect the album version is a re-recording, and the one in this collection is the original recording as heard on the show. I'm really not sure which one I like better. It's a great tune and, according to the liner notes, it was a number one hit in Europe. The same melody reappears in "Crockett's Return".
Rico has his own theme, too, in "Rico's Blues", which is a cool, slinky blues with some interesting melodic and harmonic twists. Part of it is a little bit like The Beatles' "While My Guitar Gently Weeps".
Other highlights include the heavy, dramatic and atmospheric "Evan", the wistful "Rain", the half-romantic, half-creepy "Shadow in the Dark", the dreamy and melancholy "The Talk" and the twisted, Jan Hammer take on country that is "Texas Ranger" (from an episode starring Willie Nelson as a Texas Ranger).
---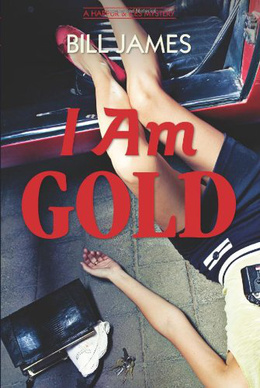 I Am Gold is the 27th book in the Harpur & Iles series by James Tucker writing as Bill James. The first line is "One of the notable things about Iles was he'd get very upset at the death of any child, but especially a child who'd been shot".
Colin Harpur and Desmond Iles are two police officers of high rank and two of the most unusual characters in crime fiction. Iles is second in command on the police force and Harpur is under him. Harpur is a decent person, on the side of the angels, as the harp in his name might suggest, though he hardly plays by the rules or always tells the truth. In Bill James's world, that would be suicide. His house is on Arthur Street, a detail which might propose that we see him as a knightly sort, doing his best to adapt to challenging and confusing circumstances. He is described as looking like Rocky Marciano.
Iles is brilliant, handsome and a very smart dresser. He is also violent, cruel, sadistic and despotic, occasionally insane. These qualities are balanced by displays of genuine empathy and concern, making him a complex character who invites and rewards the reader's attention. Iles also becomes completely unhinged, screaming and frothing, when recalling that his wife had an adulterous affair with Harpur. Iles, for his part, had a disturbing interest in Harpur's 16-year-old daughter, who was, frighteningly enough, actually pleased by the attention.
Harpur and Iles's turf, an unnamed dock town that I imagine is modeled on Cardiff, is rather stable, owing to Iles's unofficial policy of allowing two local criminals, "Panicking" Ralph Ember and Mansel Shale, to control the illegal drugs trade in town. Should one or both of them die or be arrested, the power vacuum would suck in ambitious villains from London and elsewhere, setting off gang wars and resulting in blood on the streets. (This had already occurred prior to Iles's arrangement with Ember and Shale.)
This stability runs parallel with the books themselves, which, with the exception of In the Absence of Iles, the twenty-fifth novel in the series and a surprising and exciting departure form the usual form, for the last eight or nine years or so have been very similar and more like chapters in a much larger novel. (Perhaps this shows the influence of Anthony Powell, whose novels are the subject of a non-fiction work by Tucker.)
Despite the sex, violence and cursing, the Harpur & Iles series is similar to P. G. Wodehouses's Jeeves novels. The books tend to involve the same people in the same setting with the same predicaments. The real job of both Harpur and Jeeves is to control their masters. And James's writing is in the same way alive to language's potential for nuance and wit, particularly in certain kinds of dialogues.
Iles had never been a great one for comfort. On the whole, he preferred rage. Comfort could fuck up and water down rage. Naturally, Harpur had become a tireless expert on Iles's mood swings. He needed to be, in self-defence. 'I see myself as protean, Col,' Iles had said not long ago.
'This is a word with considerable promise, sir.'
'Meaning, capable of endless variety.'
'That's you to a T, sir. Or, because of the endless variety, you to a W or a J.'
'Protean from Proteus, a sea god in classical times, who could alter his shape as he wished.'
'Classical gods were so brilliant at that. One of my kids told me a god turned himself into a swan for a while — the whole thing, feathers, webbed feet, big wings, beak,' Harpur had said. 'Other gods wouldn't have recognized him — might have thrown him crusts.'
At some point in the series the voices of the characters took over what would otherwise be the authorial voice. When Mansel Shale is the feature of a chapter, the book "talks" as he does. When we're with Harpur, Harpur's level-headed and concerned voice guides the text.
I Am Gold begins in the aftermath of the murders of Mansel Shale's son, Laurent, and second wife, Naomi. They were shot while driving to Shale's children's school, Laurent's sister Matilda being the only survivor of the attack. The action cuts between the police siege of a charity shop where the gunman is holding hostages and Mansel's meeting and courtship of Naomi, which began two years earlier. As the past storyline gets closer to the present, the assumption that Mansel was the intended target becomes less certain.
On the second page Iles asks Harpur, 'Is it a mistake, Col?'. By the last page there will be as much of an answer as you get in these novels, but also a reminder—heartbreaking and devastatingly economical, the kind of genius-deft brushstroke James does so well—of how incomprehensibly tragic the death of a child is.
---