2012 October 29 • Monday
Stelvio Cipriani's L'assassino… e' al telefono is the 241st Soundtrack of the Week.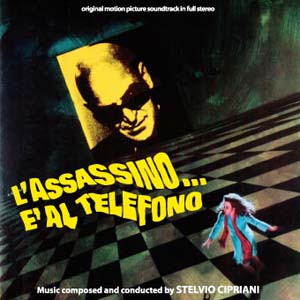 An Italian slasher movie starring Telly Savalas? Of course I want to see it!
The score by Stelvio Cipriani is moody and melancholy and often quite beautiful. There is a tremendously strong fuzz guitar sound at times. (Exactly how do the guitarists on these Italian soundtracks from this period get that sound?)
Most of the cues are variations on "Tema di Anna", which was released as a single at the time. It's a bit similar to songs like John Williams's theme from The Long Goodbye or Quincy Jones's "Who Needs Forever?" from The Deadly Affair.
(The B-side of the single was the placid "Ricordi di nel Bosco".)
Filling the spaces between versions of the theme are some very effective suspense atmospheres, with impresive use of electric bass guitar, flute and percussion (not to mention that fuzz guitar).
---