2012 April 30 • Monday
We continue with Japanese television music with 70's Television's Hits, the 215th Soundtrack of the Week.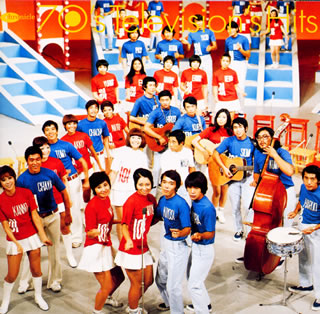 It opens with "Yappon" by a group called Sing Out. It's hard to describe but it sounds like the album cover looks.
This is followed by another maniacally cheerful tune called "V Sign". Perhaps both of these are themes from shows of the same name. I don't know.
The third song is "Attention Please" by a group called The Buzz. It's agreeably swinging and melodically alluring, and sung by a great female vocalist. It seems to be the theme for a show about flight attendants.
The fourth song is the theme for a show called Turn to the Gold Medal!, which was apparently a competitive swimming drama. The female vocalist reminds me a bit of whoever sang the "King Caesar" song in Godzilla vs. Mechagodzilla.
The theme song for 18-Year-Old Wife is a pleasant easy-listening piece with bossa nova influence and another great female singer. And then there's another one, who sounds a bit like Meiko Kaji, who sings the theme song for I Can't Hate You. It's a groovy song given urgency by the singer's voice.
Beauty Challenger is something of a disco/funk assault with another powerful female voice powering through the song.
When We Fell in Love is hard to describe. A gentle female voice handles the lyrics while the music part of it is 1970s easy listening with a bit of Bacharach and some marimba and wah-wah guitar, among other interesting instrumentation choices.
The theme music for the popular Howl at the Sun is one here, too, and starts out sounding a bit like the theme to S.W.A.T. (which came later) before it becomes an acid jazz number with sax, guitar and organ solos. Here it is.
I don't know anything about the show Viva! Eyeful but the theme song is good. You can hear it here.
Meiko Kaji herself sings the theme song for Hagure Bushi. I love her voice. I guess she's probably the star of the show, too, which means it's probably worth watching. Once again, the track is on YouTube.
The theme song for Riding the Wind is one of the other highlights on this CD, insanely catchy and very '70s.
Also worth mentioning are the country-tinged rock ballad theme for Ah, Youth, the slow-groove instrumental theme for Our Journey and the "Ballad of John and Yoko"-like theme song for Beautiful Sand.
---