2012 April 23 • Monday
The 214th Soundtrack of the Week is 60's Television's Hits Vol. 2!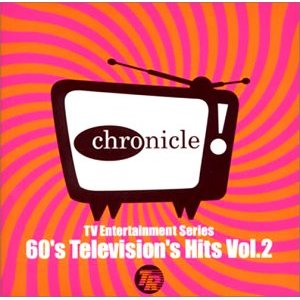 It's very different from the first volume. There's practically no surf music and the moods that prevail are cheer and militarism: brain-meltingly sunny songs and marches, both likely to feature singing by children. The theme song for Tetsujin 28-go (a.k.a. Gigantor) is a case in point.
But there are exceptions. Two of the songs are sung by The Peanuts, who are always enchanting. There's a swinging pop ballad by I George that's quite good and melodically similar to "La vie en rose".
A surf band does provide the backing track for the theme song to Moonlight Ninja Force and the kind of slightly exotic swing and island sound that you hear in Nikkatsu movies from the '60s dominates the theme song for Toward the Clouds.
There's also the theme song for The Guardmen. The CD has the vocal version but you can hear the instrumental, and get a taste of what the series looks like, here.
There are two Ultra Seven themes and a lovely instrumental piece featuring harpsichord that was the theme for Ooku.
---