2011 December 26 • Monday
The 197th Soundtrack of the Week is 99 & 44/100% Dead! by Henry Mancini.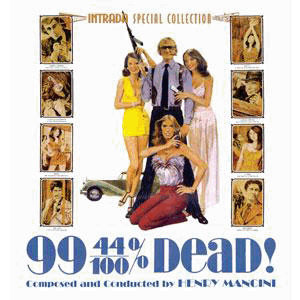 The "Main Title" is a '70s action stomp with blaring horns. "Hangin' Out" is a feature for whistler. "Easy Baby" is a kind of schmaltzy song with lyrics by Marilyn & Alan Bergman. I'm not sure who sings it.
"New Shoes" is a pensive, suspense type of piece and "Buffy" sounds like Mancini's "Slow, Hot Wind" revamped for the '70s with wah-wah guitar.
There are several electric keyboard sounds on the record and two of the tracks, "Up Yer ARP" and "Down Yer ARP" are workouts for the ARP Synthesizer.
There are three source music tunes for a carousel, "Man on the Flying Trapeze", "Over the Waves" and "Listen to the Mockingbird".
Shelly Manne is on drums and sounds great throughout. There's great sax playing on "Dolly's Place" and "A Soft Shade of Red"—I thought it was Plas Johnson but he's apparently not on this record.
---