2011 November 11 • Friday
The music on Bear Family's Charlie Rich box set, Lonely Weekends: The Sun Years 1958–62, is wonderful. Certainly Charlie Rich and Roy Orbison were, in my opinion, the greatest artists who came out of Sun Studios. Sorry, Elvis fans.
Ace recently released Charlie's complete recordings for the Smash label. There isn't that much of it; it fits on one CD. But this is one great CD!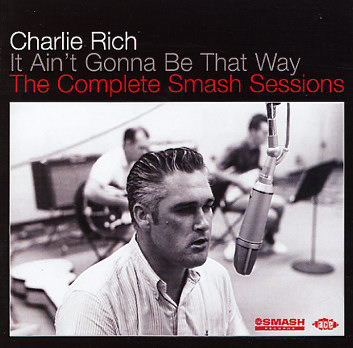 The material, the arrangements and Rich's piano-playing and voice are all in fine form. You can sense the pop and rock world outside the studio from the way the songs are arranged. Here's a bit of Motown, there's some Rolling Stones, some Beach Boys, a bit of country, a bit of rockabilly, some R&B, some jazz, the hullygully, an echo of "Pretty Woman" and so on.
As usual, Charlie is at his best singing from the point of view of the wronged or sorrowful lover. In "Party Girl" he's bitter that he fell in love with somebody who just wanted a good time. "I should have taken your sugar with a grain of salt," goes one memorable line.
"It Ain't Gonna Be the Way" has him declaring that he won't make the same mistake.
"Something Just Came Over Me" has the greatest vocal I've ever heard Charlie Rich do, ranging from intimate to operatic in a couple of lines. The chord changes and melody are interesting and unusual. This is one of several songs here written by Margaret Rich, Charlie's wife, herself obviously very talented also.
"No Home" begins with an ear-catching string quartet intro, possibly inspired by The Beatles' "Eleanor Rigby" since the first bar of the melody is very similar to "And I Love Her". It's soaked in despair, though, which always seems to bring out the best in Charlie.
Almost every song has me wondering if Rich's voice and piano playing were ever better. It's that good. The sophisticated arrangements make you want to listen to it over and over again.
"I Can't Go On" has this alluring piano figure that gives the beginning of the song a swirling sort of feel before going into a pounding beat for the big pop chorus. "Dance of Love" combines a "Pretty Woman" sound with a "Twist and Shout" sound. "Man About Town" mixes an "I Ain't Got You" feel with a "Leroy Brown" sort of thing.
Some of the old Sun hits show up here as well, like "Everything I Do Is Wrong" and the classic "Lonely Weekends". Rich's drawn-out "Hey" at the beginning of "Have I Stayed Away Too Long" is pretty much the same as the "Well" that introduces his Sun recording of "Goodbye Mary Ann".
Every song has something interesting about and they're almost all pure gold. Almost. Charlie Rich's dignity doesn't quite survive "She's a Yum Yum". "Double Dog Dare Me" is also silly and too damn young for him. He wasn't that old when he recorded it but his voice is too mature to be singing about carrying someone's books home from school.
"Moonshine Minnie" and "Hawg Jaw" aren't the kinds of songs that I think Rich does best. Stick to the angry and despondent lovers, I say. But they have a lot of energy—"Hawg Jaw" owes a bit to Bo Diddley—and I can understand why they have their fans.
The last song, "Santa Claus's Daughter", also wasn't a big hit with me but just about anything Rich recorded is worth hearing.
---