2011 October 31 • Monday
Happy Halloween!
The 189th Soundtrack of the Week is a double feature. Giuliano Sorgini's score for The Living Dead at the Manchester Morgue continues our zombie theme while John Cacavas's music for Horror Express reminds us of three of our favorite actors. (And two of them are perfect for Halloween.)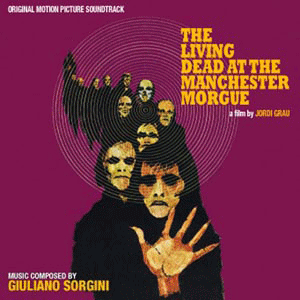 The Living Dead at the Manchester Morgue kicks things off with an instrumental groove rocker, suggesting what a 1970s Italian cop movie scored by Serge Gainsbourg might sound like. It's called "John Dalton Street" and you hear it again as "Strait Jacket" and in different arrangements as "Manchester M2 GLD" and "Edna".
The rest of the music is generally creepy and atmospheric. "Surreal" hints slightly at the main "John Dalton Street" theme and incorporates zombie groans and sighs in the music. "Trance" is a vocal only track, wordless and spooky.
"The Risen Dead" is mostly wind sounds with occasional zombie utterances. "Aggression" starts ominously with organ and electric bass guitar. It reminds me of another piece of music but I'm not sure what. More haunted house-type wordless vocals contribute to the atmosphere.
"The Death of the Dead" is a quiet industrial noise track, like some of the sound design you hear in David Lynch movies. "The Torment of the Dead" is mostly zombie groaning with weird electronic noises.
"Mysterious Country" is the closest the music comes to being straight dramatic underscore, with strings, an acoustic guitar emulating the harp and ethereal flute and organ.