2011 October 24 • Monday

Angelo Francesco Lavagnino's music for Il castello dei morti vivi (Castle of the Living Dead) is the 188th Soundtrack of the Week.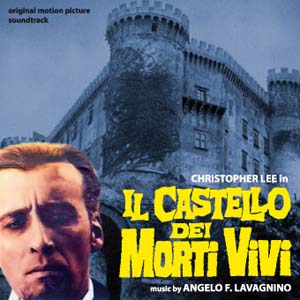 Good old Christopher Lee. I don't think I've seen this movie, but I'd sure like to.
The first track establishes the main theme, which you'll hear several times on the CD. It's a surprisingly beautiful and lyrical piece that blends several different moods: pop, drama, march. The very first few instruments you hear are percussion and harp, my favorites.
Another favorite, harpsichord, is featured prominently on the record. The electric guitar and flute playing are always tasteful and atmospheric.
There's a sustained sense of suspense and dread throughout the music. "Esecuzione ed apparizione" mixes some martial snare and horns with eerie organ.
"Il conte Drago" makes greater use of the organ and reprises the stings from the main title music. Vibes add to the spooky atmosphere.
"Orribile segreto" demonstrates the effectiveness of reverb as very wet-sounding hand percussions provide an intro for a cloud of organ, bass clarinet and vibes. The flute again plays a crucial role, providing a dreamy, lyrical line.
That same line is continued by violins in "Amore nel terrore". That would be the amore part. Then comes the terrore: that damn organ again, vibes and plucked strings.
This is another great rainy-day CD.
"Una spinetta nella notte" is a Baroque-style piece, I guess. I don't really know that much about classical music, so I'm guessing. Spinetta is the instrument played, a member of the harpsichord family.
Talk about promising track names, how does "Misteri della cripta" grab you? Mystery from the Crypt. What else do you need to know? More eerie organ and percussion. Some of this reminds me of Masaru Sato.
"Tenebroso" refers to shadows, I suppose. Cloud-like cymbals and low, resonant drums begin this piece. Then what sounds like bass clarinet comes in with some pensive statements. Vibes and something that might be a harpsichord or spinetta join the party.
"Occhi diabolici" sounds at first like many of the other cues but surprises with a poignant line for clarinet and strings.
Then we're back to the dread with "Marionetti vive" which features that mainstay of the 1960s Italian soundtrack, the percussive electric guitar.
It's impressive how much variety Lavagnino can supply with a small ensemble and a handful of cues and moods. The titles can probably tell you all you need to know from this point: "Nostalgia e tensione", "Atmosfera infernale" and so on.
---