2011 October 03 • Monday
You can't copyright ideas, but George Romero should really get some kind of royalty from everything that makes use of the zombie myth he created in Night of the Living Dead, our 185th Soundtrack of the Week.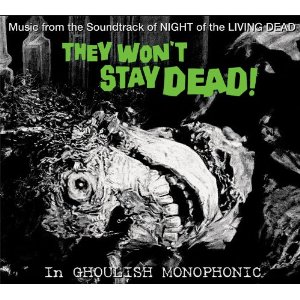 Oh, I know what you're thinking. You're about to point out that the "Romero" zombie myth originated with The Smurfs, or Les Schtroumpfs, in the Black/Purple Smurf story.
Bite me. It's got nothing to do with coming back from the dead. And it's Smurfs.
Night of the Living Dead was a low-budget movie, so for the soundtrack George Romero had to rely on the Capitol Hi-"Q" Production Music Library. He spent $1500 for cues that were perfect for his movie, even though they had been heard in other films. "Eerie Heavy Echo", which was used as the main title music, can also be heard in Teenagers from Outer Space, for instance. It was never more effective than in Night of the Living Dead, though.
"Night Suspense" is well placed after the main titles, a dramatic mood that brings viewers down to Earth after the sci-fi elements of "Eerie Heavy Echo".
Many of the other cues are short and easily imagined by their titles: "Heavy Agitato", "Light Suspense", "Dreary Danger", "Weird Eerie", "Shock Suspense", "Dream", "Mysterious Hour", "Emotional Bridge", "Weird Suspense", "Chase", "Tension", "Serene Heart" and so on.
"Space Drama" is a long cue, about three and a half minutes, that does not suggest outer space to me, but alternates dissonant and martial brass statements on top of a low drone. This music "underscores Ben's brutal tire iron attack on the ghouls", to quote the liner notes. It sounds like it, too.
"Mystery Hour" is almost two and a half minutes long, and creates a pensive atmosphere to accompany scenes of boarding up the doors and windows of the house.
"Mysterioso" is a little over two minutes and has suspenseful woodwinds and string sounds over a pulsating two-note bass line.
"Shock/Stormy" is about three minutes and has a driving bass line that complements the tense and agitated parts for strings, winds and percussion.
There are several "Heavy Dramatic" cues of about two minutes or so and, finally, a couple of other "Eerie Heavy Echo" cues.
This is a great CD, with very informative liner notes that place the music in its context in the film and identify the various composers. My parents-in-law gave this to me when we were visiting them and I listened to it in the car while stuck in traffic on the home, for which it was also an excellent soundtrack!
---