2011 August 08 • Monday
The 177th Soundtrack of the Week is Werewolves on Wheels by Don Gere.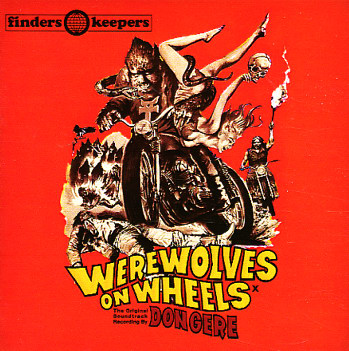 This movie probably isn't that good but the idea of a werewolf motocycle gang is pretty awesome—and so is the music!
The main theme is a stoned-out psychedelic rock stomp with some great guitar playing and nice extra percussion.
After that it's "Mount Shasta Home" which sounds like a few different classic rock hits. Sample lyrics: "On the fourth of July / We'd go down the river side / Lord, it was a dusty, dusty road / There in the blazing sun / There was no place to run / Lord, it was a dusty, dusty road".
"Ritual" has some similarities with the main theme but is sparser and weirder.
Then there's "'One'", which I guess is an incantation or some such moment from the movie. It's a short snippet of dialogue. "Shadows are the sails of night. They soon will come to hide the light."
Okay.
Then there's "Ritual 2", a more rocking continuation of the "Ritual" vibe.
Then there are "The Devil's Advocates" and "The Devil's Advocates (Reprise)", more swampy classic/psych rock instrumental stuff but this time with motorcycle sounds and some crazy violin playing (or something).
"One Foot in Heaven" is another country rock song similar to "Mount Shasta Home". "There was a man / Came into the churchyard / Dirty and tanned from a long time on the road."
"Burning Grass" is another ominous instrumental rock piece, similar to the others. All of these are quite good, by the way.
"Tarot" is a short ambient piece. "Tarot Trail" is more rock with motorcycle sounds. "Dust Bowl" is also rock with motorcycle sounds but with a different feel and also some creepy haunted-house sounds.
Then are "The Devil's Advocates 2" and "The Ritual 3", which probably need no explanation at this point.
These are followed by the end theme, similar to the main theme but spacier and weirder.
The CD ends with two radio ads for the movie. "Here comes the most eerie, the most chilling, the most terrifying motorcycle horror film ever made."
---