2011 June 20 • Monday
Bernard Herrmann fans have been eagerly awaiting whatever new releases might come out to honor the centenary of his birth. Varèse Sarabande's Soundtrack Club is the first across the finish line with two CDs! Even better, our 170th Soundtrack of the Week is only "Volume 1"!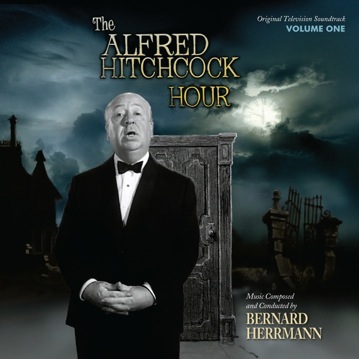 Herrmann's music for The Alfred Hitchcock Hour, Hitchcock's follow up to Alfred Hitchcock Presents, has been on my Most Wanted list for years. The two CDs present Herrmann's music in a series of suites for their respective episodes.
This is quintessential Herrmann, a sort of missing link between his music for Hitchcock's feature films and his music for The Twilight Zone.
I've listened to the CDs but haven't had time to process them yet. I need to listen to them several times more. But what I've heard so far is breathtaking.
Just as Herrmann's score for Blue Denim has been described as a "baby Vertigo", you can hear echoes or anticipations of Fahrenheit 451, Psycho, Marnie, The 7th Voyage of Sinbad, The Ghost and Mrs. Muir and Torn Curtain, among others, here.
The music is from the episodes "A Home Away from Home", "You'll Be the Death of Me", "Nothing Ever Happens in Linvale", "Behind the Locked Door", "Body in the Barn", "Change of Address", "Water's Edge" and "The McGregor Affair". Also included is the theme music, Charles Gounod's "Funeral March of a Marionette", arranged and conducted by Herrmann.
For track listing and music samples. click here.
---