2011 April 11 • Monday
The 160th Soundtrack of the Week is Henry Mancini's score for The Hawaiians.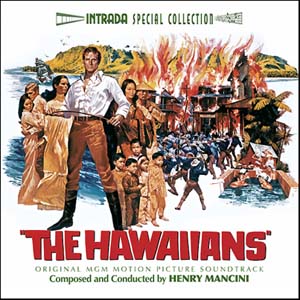 This sequel to Hawaii has music that's very different from the previous film's Elmer Bernstein score.
The main theme finds Mancini using a foundation of island percussion as a platform for one of his most beautiful, soaring melodies. The sounds of the strings, horns and harp are classic Mancini. (One tiny bit of it is similar to a bit of Leonard Bernstein's "Maria" from West Side Story.) It's a good thing it's such a great tune, because you hear it a lot!
Much of the music is quiet and "Asian". Instruments such as a, I think, koto and other Asian reed, wind and percussion instruments are used often.
Occasional pieces sound like they could be fit into an episode of Mr. Lucky without much difficulty. There are also pieces that are mournful, swirling and mysterious, ominous, anxious, and so on.
Mancini's genius as an arranger and also as a creator of atmospheres is abundantly evident in this music. The Intrada CD has both the original soundtrack recording and the album presentation (a re-recording of new arrangements of certain cues).
---